Learning to drive: top tips to help your teen pass their test cheaply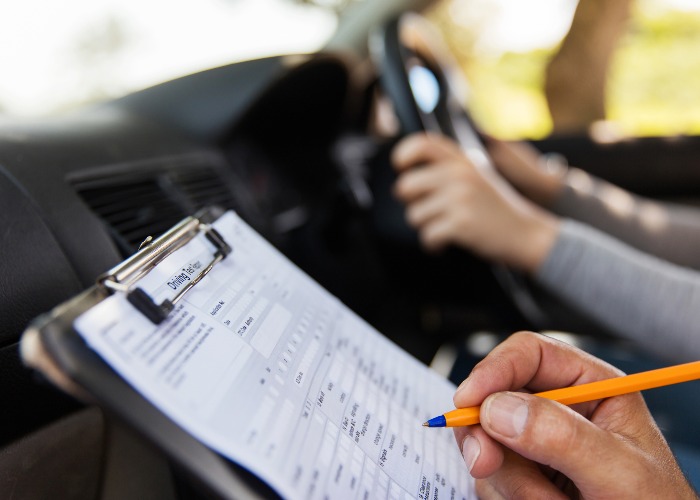 Trying to pass your driving test, especially as a teenager, can be a stressful and expensive experience. Here are a few money-saving tips to help your teen get through it.
Getting married, buying a home and learning to drive, are all significant rites of passage with two things in common, they're expensive and parents often find themselves having to chip in.
According to the Driver and Vehicle Standards Agency (DVSA), learners need on average 40 hours of tuition with a qualified instructor before they pass their test.
With lessons typically costing £24, according to the AA, they could be looking at a bill of £960.
Then there's the cost of taking the driving theory test (£23) and practical test (£62 or £75 on evenings, weekends and bank holidays).
That adds up to £1045 and can be far more if they don't get to tear up their L plates on the first attempt.
The top priority when learning to drive is for the learner to develop the right skills and attitude to become a safe driver for life.
It's not a process that should be rushed or where you should cut corners.
Fortunately, there are ways that financial pitfalls can be avoided and getting your teenager on the road can be made as budget-friendly as possible.
1. Choose a fully qualified driving instructor
Driving tests have become increasingly complex over the years, so think carefully before attempting to teach your teen to drive yourself.
The time when parents could take their children to a deserted airfield, show them a few manoeuvres and get them through a test a week later is long gone.
Examiners now monitor learners closely during the test to ensure they are using the recommended techniques which can only be properly taught by a fully trained instructor.
It's best to learn with an Approved Driving Instructor (ADI) rather than a Provisional Driving Instructor (PDI) who will still be in training. ADIs can be identified by the green octagonal badge in their windscreen whilst PDIs will have a pink triangle.
Search for cheap car insurance now with Confused.com
2. Find the right driving instructor for your child
When looking for a driving instructor, personal recommendations are often the first port of call.
But just because a particular driving instructor was perfect for your nephew or a friend's daughter doesn't mean they will necessarily be a good fit for your teen.
The importance of the personal rapport between the instructor and learner can't be stressed enough.
Shy, nervous learners will relax and learn best with an instructor who is patient and comforting, whilst overconfident ones will benefit from an instructor who can rein in any speed-freak tendencies.
Call up a few instructors and get your teen to talk to them as well to find out which one they prefer.
3. Beware of cheap prices and block-bookings
Although it can be tempting to book the cheapest instructor or take up the offer of a discount for block booking lessons, this can be a false economy.
An instructor might be offering too good to be true prices because they're not very successful. And block booking an unknown instructor can mean that your teen is committed to them even if they're not making good progress.
Block booking lessons can be a great idea once you've found the right instructor but hold off till you're sure.
4. Practice makes perfect
The more hours behind the wheel your teen can clock up, the more confident they will become and the sooner they will be ready for their test. So practice drives are the way forward. But for this, they will need a supervising driver.
Anyone supervising a learner driver must be over 21 and have had their full driving licence for at least 3 years.
It's important to remember that you're not the one teaching your teen, the instructor is the expert here and you're just helping them practice what they've been taught.
It can be really useful to have regular chats with their instructor about how they are progressing and what they would benefit from practising.
The learner driver will need to be insured and the type of insurance will vary depending on whether they are practising in a vehicle they own or someone else's. Research learner driver insurance policies to find the best fit.
5. Increase the chance of a first-time pass
Everyone wants to pass their driving test first time. Because going through it again isn't just stressful, it's expensive.
A driving instructor won't put a candidate forward for their test unless they believe they are ready to pass. So if they fail it will probably be because nerves caused them to underperform on the day.
Here are some tips for helping your teen relax on test day.
Ease waiting-room nerves
The time just before the test when the candidates are waiting to be called can feel very stressful.
Ask your teen if they would like you or another family member to keep them company. If not, suggest they listen to their favourite music or distract themselves with a book or their phone.
Reassure them
Feeling pressured to get a first-time pass can backfire and lead to your teenager making needless mistakes because of nerves. Reassure them that you know they will do their best and that you'll be proud of them either way.
When they do pass
Enjoy their success and celebrate together, whilst knowing it won't be long before they're asking to borrow the car!
Finally, have a read of our guide to finding cheap car insurance for young drivers or just dive right in and search for cheap cover with Confused.com.
Be the first to comment
Do you want to comment on this article? You need to be signed in for this feature