Bank switching UK: Nationwide, Monzo, HSBC the big winners as customers ditch Halifax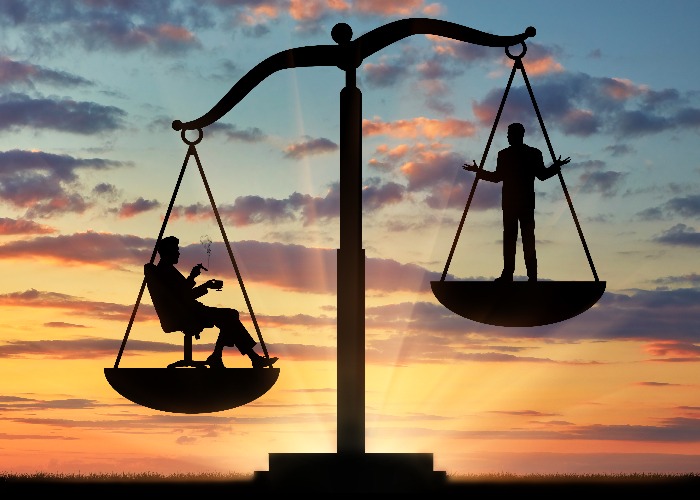 Latest figures reveal the banks most people are switching to – plus those that are losing customers by the bucketload.
People switched bank accounts over a million times in the last year, marking the highest annual figure since 2016, new data has revealed.
This doesn't take into account switches where the customer's old bank account was left open – as loveMONEY readers know, keeping a second account is a savvy move – so the real switching total could be far higher.
The Current Account Switch Service, a bank initiative making it easier to move, now claims to complete 99% of switches in seven working days, although some customers are still being left out.
Not all banks are equal
But the really interesting stats can be found when you look at which specific banks and building societies we all recently ditched and joined.
This data is provided by Pay UK, the retail payments authority.
As it takes a while to pull together, the latest stats available are for the third quarter of 2019 (between 1 July and 30 September).
Best UK banks
The number of banks making switching gains is a little slimmer in the third quarter of 2019 compared to the previous one as NatWest and Ulster Bank have fallen out of favour with customers (more on that later).
Nationwide was once again a strong performer, adding another 40,562 customers over the quarter, although this marked a slight decline from 41,284 new customers in the previous quarter.
Once you factor in customers that left during the third quarter of 2019, the building society is the outright winner, with over 25,000 new account holders overall.
No doubt one of the reasons behind its popularity is Nationwide's Flex Direct current account, which has one of the highest interest rates in the market at 5% and an interest-free overdraft for 12 months.
HSBC remained popular with switchers, with 46,118 new customers joining over the third quarter of last year.
But the fact that nearly 29,000 people left during the same time, means it is just third on the list with net gains of 17,204.
We should stress that the numbers from Pay UK simply lump HSBC's subsidiaries together – notably First Direct and M&S Bank – so it's impossible to say for certain which specific brand proved the most popular.
That said, the fact that HSBC offered a massive £175 bung to join during that quarter, coupled with the ongoing popularity of customer service king's first direct, means these two are likely to have enjoyed decent gains.
Special mention for Monzo
Monzo is probably the standout performer of the quarter, with 22,841 new customers joining over the three-month period and only 1,265 people leaving the bank.
Even accounting for customers who ditched the bank, it means Monzo nabbed around 21,500 new customers.
Put another way, the challenger bank attracted 18 new customers for every one that it lost.
Compare that to HSBC, which lost nearly 29,000 customers compared to the 46,000 or so people who switched over the same period.
Elsewhere, app-based rival Starling continues to attract a raft of customers thanks to its convenience and fee-free holiday spending.
Starling gained 7,075 new customers over the quarter (when those who left the bank are factored in), while losing just 891 people.
This is the fifth quarter since Triodos Bank, an ethical bank, took on enough customers to be named in its own right (as opposed to being counted within 'Low Volume Participants').
Triodos is an ethical bank that offers a current account in addition to savings and investments and grew by a moderate amount over the quarter.
See the table below for the full list of winners.
| | | | |
| --- | --- | --- | --- |
| Brand | Gains | Losses | Net gains |
| | 40,562 | 15,207 | 25,355 |
| Monzo | 22,841 | 1,265 | 21,576 |
| HSBC (inc. first direct and M&S Bank) | 46,118 | 28,914 | 17,204 |
| Starling Bank | 7,966 | 891 | 7,075 |
| Triodos Bank | 455 | 46 | 409 |
Thinking about switching current account? Compare your options
Worst UK banks
Halifax lost the most net customers between July and September as approximately 25,000 customers ditched the bank with less than half that number switching to them.
Worryingly, the amount of people switching to Halifax has nosedived by nearly 50% as there were only 9,377 new customers, down from 17,352 in the previous quarter.
NatWest suffered net losses of 9,885, which could be down to the IT Issues that hit its site over that period.
In the second quarter of last year, the bank was one of the best performers with net gains of nearly 16,000.
Royal Bank of Scotland (RBS) was also hit by the same IT problems and reported net losses of over 5,000.
While TSB continued to lose more customers than it gained following well-documented problems in 2018, its net losses were significantly lower at 4,834, down from around 8,000.
TSB is not the only big name struggling as a significant number of large high street banks are clustered towards the bottom of the table.
Lloyds, Santander, Tesco Bank and Co-operative Bank have lost thousands of customers, on balance.
| | | | |
| --- | --- | --- | --- |
| Brand | Gains | Losses | Net losses |
| Halifax | 9,377 | 25,091 | 15,714 |
| NatWest | 13,927 | 23,812 | 9,885 |
| Lloyds Bank | 12,359 | 20,435 | 8,076 |
| Low Volume Participants | 713 | 8,239 | 7,526 |
| RBS | 9,373 | 14,495 | 5,122 |
| TSB | 8,164 | 12,998 | 4,834 |
| | 566 | 5,066 | 4,510 |
| Co-operative Bank | 1,473 | 5,656 | 4,183 |
| Clydesdale Bank | 3,166 | 6,621 | 3,455 |
| | 21,336 | 23,822 | 2,486 |
| Bank of Ireland | 83 | 2,516 | 2,433 |
| Barclays | 16,976 | 18,080 | 1,104 |
| AIB Group (UK) | 39 | 771 | 732 |
| Bank of Scotland | 3,767 | 4,349 | 582 |
| Danske Bank | 299 | 697 | 398 |
| Ulster Bank | 391 | 723 | 332 |
Read more: the best bank accounts for switching bonuses
What matters to us?
Switching incentives are often seen as a key part of the switching merry-go-round.
We've seen in the past NatWest go from near the top to the bottom of the tables after withdrawing a juicy offer.
At the end of August, NatWest offered £150 to switchers, so its near-bottom position could be linked to a lack of incentives over the quarter as well as IT issues.
Regardless, what unites the banks consistently appearing at the top of switching tables are excellent account features and customer service.
A Government-backed survey of bank customer service last year named Nationwide and first direct in the top five for customer service.
It's worth noting here that while we never believe anyone should stick with a poor-value account or suffer rubbish customer service, it's not always a terrible thing if you don't switch.
It might just be you're happy with your current bank and, while you're always looking around, nothing better has come along yet.
If you are fed up with your bank, compare current accounts on loveMONEY's comparison site.
This article is updated when new figures are released
Read these next:
The best bank accounts for cashback
How to claim compensation for mis-sold packaged bank accounts
Debit cards that are free to use while abroad: avoid foreign usage fees and charges on your holidays
Be the first to comment
Do you want to comment on this article? You need to be signed in for this feature