House prices: biggest risers and fallers revealed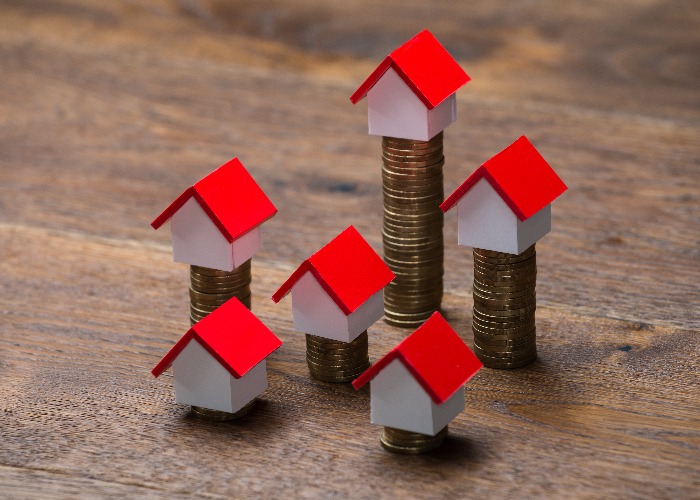 House prices have soared despite the pandemic, but the market could finally be running out of steam. Our exclusive analysis explains why.
Feeling a bit lost with so many house price indices out there? The HomeOwners Alliance House Price Watch looks at all the information from the many indices out there to give you one easy-to-digest round-up of everything you need to know.
So, let's look at how prices have changed over the past month and year.
House prices continue to soar
When you average out the increases reported by all the major indices, house prices have jumped a whopping 11.4% in the last year.
This means the average UK home is now worth £281,161, according to HomeOwners Alliance.
While you might have expected prices to tumble given the pandemic and general economic uncertainty, there is a heady cocktail of factors that have combined to send prices soaring over the last year.
First off, it's no secret that borrowing has been incredibly cheap in recent years.
This has allowed buyers to borrow ever-larger sums to keep pumping pressure into the market, for the time being at least.
Many households have also significantly boosted their savings in the last year or so, given that normal expenses like commuting, going out and holidays all but disappeared.
Next, the Government's decision to scrap Stamp Duty for homes under £500,000 (rates returned to normal levels in October 2021) convinced many people to fast-track their moving plans last year, further ramping up demand.
Finally, with many people expecting to work from home in the long term, homeowners are rethinking where they want to live and what type of home they want and are looking to move into a property that better meets their changing needs.
Throw these factors together and you see why there's been a massive glut of buyers scrapping over properties.
Will house price growth slow this year?
While the property market has seen remarkable rises in recent years, analysts believe the outlook now looks far more challenging.
The Stamp Duty holiday is long gone, and the Bank of England's decision to hike the Base Rate of interest several times – with the potential for further hikes this year – will drive up the cost of borrowing.
"House price growth remains in double digits this month with an ongoing shortage of homes for sale supporting house prices," commented HomeOwners Alliance.
"However, there are early signs that the market is beginning to cool.
"Buyer demand fell for the first time in eight months and mortgage activity has come down."
7 reasons why no one is buying your house
House prices across the UK
Looking at the regional breakdown over the last 12 months, Scotland and Wales both showed the strongest growth at a remarkable 16.2% while house prices in the South West jumped 14.1%.
Even the worst-performing region (London) experienced an increase in house prices at 7.9%.
How did prices in your area perform?
When we look at monthly house price data, which admittedly is a far less reliable metric than annual data as it is more susceptible to freak fluctuations, the picture is more muted.
Two UK regions experienced a decline in house prices in April with the East Midlands suffering the biggest fall at 0.5%.
What the indices say
HomeOwners Alliance: "House price growth remains in double digits this month with an ongoing shortage of homes for sale supporting house prices.
"However, there are early signs that the market is beginning to cool. Buyer demand fell for the first time in eight months and mortgage activity has come down.
"Looking ahead, headwinds including the rising cost of living and rising mortgage rates are expected to slow activity and house price growth later this year."
Rightmove: "People may be wondering why the housing market is seemingly running in the opposite direction to the wider economy at the moment.
"What the data is showing is that those who have the ability to do so are prioritising their home and moving, and the imbalance between supply and demand is supporting rising prices.
"Though demand is softening from the heady levels we saw this time last year, the number of buyers enquiring is still significantly higher than during the last 'normal' market of 2019, while the number of homes for them to choose from remains more constrained.
"We anticipate that the effects of the increased cost of living and rising interest rates will filter through to the market later in the year, and a combination of more supply of homes and people weighing up what they can afford will help to moderate the market."
Nationwide: "House prices posted their tenth successive monthly increase to keep annual house price growth in double-digits.
"Despite growing headwinds from the squeeze on household budgets due to high inflation and a steady increase in borrowing costs, the housing market has retained a surprising amount of momentum.
"Demand is being supported by strong labour market conditions, where the unemployment rate has fallen towards 50-year lows.
"At the same time, the stock of homes on the market has remained low, keeping upward pressure on house prices.
"We continue to expect the housing market to slow as the year progresses.
"Household finances are likely to remain under pressure with inflation set to reach double digits in the coming quarters if global energy prices remain high.
"Measures of consumer confidence have already fallen towards record lows."
Halifax: "The average cost of buying a home in the UK is up 1%, on last month, and has now risen for 11 consecutive months.
"Annual growth also remains in double-digits. However, the housing market has begun to show signs of cooling.
"Mortgage activity has started to come down and, coupled with the inflationary pressures currently exerted on household budgets, it's likely that activity will start to slow."
Zoopla: "Buyer demand remains high but there are now signs that the market is softening, and price growth is set to slow.
"We expect +3% price growth by the end of 2022.
"One in 20 properties listed on Zoopla has been re-priced by at least 5% this month.
"This signals increased buyer resistance to higher prices, and indicates that even amid high levels of demand, price growth may be hitting a natural ceiling."
RICS: "The May 2022 RICS UK Residential Survey results show a slight drop-off in demand over the month, alongside a generally flat trend being reported for agreed sales and new sales instructions.
"Further ahead, sentiment around the 12-month outlook for sales has now weakened in the face of a more challenging macro environment.
"Despite that, prices are still expected to continue to rise, even if the pace of growth is seen to be moderating."
Be the first to comment
Do you want to comment on this article? You need to be signed in for this feature