House prices: biggest risers and fallers revealed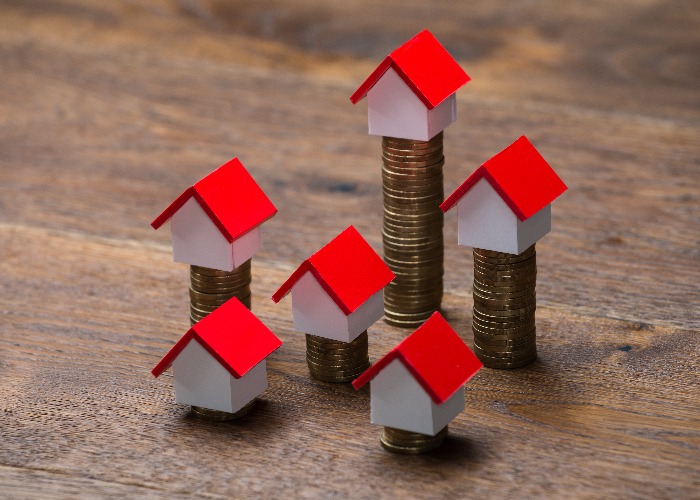 House prices have soared in 2021 despite the pandemic, but the outlook for this year is less positive. Our exclusive analysis explains why.
Feeling a bit lost with so many house price indices out there?
The HomeOwners Alliance House Price Watch looks at all the information from the many indices out there to give you one easy to digest round-up of everything you need to know.
So, let's look at how prices have changed over the past month and year.
House prices continue to soar
When you average out the increases reported by all the major indices, house prices have jumped 10.1% in the last year.
This means the average UK home is now worth £270,708, according to HomeOwners Alliance.
While you might have expected prices to tumble given the ongoing pandemic and general economic uncertainty, there is a heady cocktail of factors that have combined to send prices soaring over the last year.
First off, it's no secret that borrowing is incredibly cheap even by modern standards.
Sub 1% fixed-rate mortgages recently returned for the first time since 2017.
These bargain deals mean buyers can afford to borrow larger sums to keep pumping pressure into the market (but most deals have disappeared after the Base Rate was hiked).
Many households have also significantly boosted their savings in the last year or so, given that normal expenses like commuting, going out and holidays all but disappeared.
Next, the Government's decision to scrap Stamp Duty for homes under £500,000 (rates returned to normal levels in October) convinced many to fast track their moving plans in 2021, further ramping up demand.
Finally, with many people expecting to work from home in the long term, homeowners are rethinking where they want to live and what type of home they want and are looking to move into a property that better meets their changing needs.
Throw these factors together and you see why there's been a massive glut of buyers scrapping over properties.
Will house prices fall this year?
While the property market has seen remarkable rises throughout 2021, it's unlikely to be quite so buoyant this year.
The Stamp Duty holiday is long gone, and the Bank of England's decision to hike the Base Rate of interest – with the potential for a further hike this year – should serve to cool the market somewhat.
"Looking ahead, it seems inevitable the market will ease since the Stamp Duty holiday and pandemic likely brought forward people's plans to buy," commented HomeOwners Alliance.
"With the pandemic still in play, rising inflation and interest rates expected to climb, we could see buyer demand soften."
7 reasons why no one is buying your house
House prices across the UK
Looking at the regional breakdown over the last 12 months, the South West and the East of England both showed the strongest growth at 12.9% and 12.3%, respectively.
Wales also saw strong house price growth over the same period at 12.1%.
Even the worst-performing region (London) experienced a jump in house prices at 5.1%.
How did prices in your area perform?
When we look at monthly house price data, which admittedly is a far less reliable metric than annual data as it is more susceptible to freak fluctuations, the picture is mostly positive.
All UK regions, except Wales, experienced an increase in house prices in November with Northern Ireland enjoying the biggest jump at 3%.
What the indices say
HomeOwners Alliance: "2021 has been an extraordinary year for the housing market.
"Transactions increased 30% on pre-pandemic levels and house prices rose 10.1% this year [2021].
"Looking ahead, it seems inevitable the market will ease since the Stamp Duty holiday and pandemic likely brought forward people's plans to buy.
"With the pandemic still in play, rising inflation and interest rates expected to climb, we could see buyer demand soften.
"New seller inquiries are picking up, so buyer choice could improve.
"The result is likely to be a better balance of buyers to homes for sale in 2022 and modest house price growth of 3%."
Rightmove: "The kind of frenzied market we've seen in the last 18 months happens only a few times in most homeowners' buying and selling lifetimes.
"While the pandemic is still having an ever-changing impact on society, we expect a housing market moving closer to normal during the course of 2022.
"A return to a less frenetic market due to more choice, and forecast slightly higher interest rates, will suit many movers who have held back during the last 18 hectic months.
"With a jump in the number of owners requesting valuations from agents with a view to marketing their homes, it looks like many of this group are now gearing up to make it a New Year resolution to move, so more buyer choice could now be on the cards.
"A rise in interest rates will help the return to more normality that will suit many movers.
"Buyer demand and market momentum remain strong going into 2022, with November showing buyer numbers 41% up on the election-subdued 2019, and still 3% up on booming 2020."
Nationwide: "Prices are now 16% higher than before the pandemic struck in early 2020.
"Demand has remained strong in recent months, despite the end of the Stamp Duty holiday at the end of September.
"Mortgage approvals for house purchase have continued to run above pre-pandemic levels.
"In the first 11 months of 2021, the total number of property transactions was almost 30% higher than the same period of 2019.
"It appears likely the housing market will slow in 2022 since the Stamp Duty holiday encouraged many to bring forward their house purchase in order to avoid additional tax.
"Even if wider economic conditions remain resilient, higher interest rates are likely to exert a cooling influence."
Halifax: "The housing market defied expectations in 2021.
"We saw the average house price reach new record highs on eight occasions.
"The Stamp Duty holiday and the race for space as a result of homeworking will have encouraged buyers to bring forward home purchases they'd maybe planned for this year.
"A lack of available homes for sale, and historically low mortgage rates, have also helped drive annual house price inflation to its highest level since July 2007.
"Looking ahead, the prospect that interest rates may rise further to tackle rising inflation and increasing pressures on household budgets suggest house price growth will slow considerably.
"Our expectation is house prices will maintain current levels, but growth will be at a slower pace."
Zoopla: "After a busy start to 2022, the market will start to move back to pre-pandemic conditions, allowing supply pipelines to rebuild.
"However, the demand/supply imbalance will not fully unwind, and this will be one factor supporting price growth of 3%."
Be the first to comment
Do you want to comment on this article? You need to be signed in for this feature