House prices: biggest risers and fallers revealed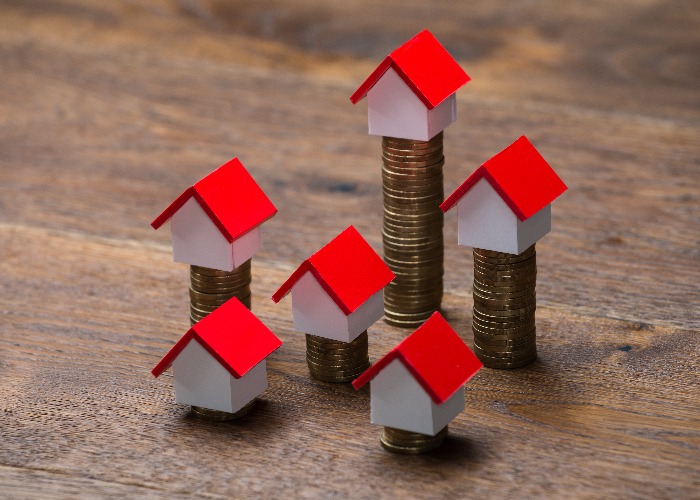 Annual house prices have surged 6% in the last year. Our exclusive analysis explains why values have continued to rise despite the chaos.
Feeling a bit lost with so many house price indices out there?
The HomeOwners Alliance House Price Watch looks at all the information from the many indices out there to give you one easy to digest round-up of everything you need to know.
The House Price Watch looks at how prices have changed in different regions over the past month and year.
Shouldn't house prices be falling?
Over the last year, house prices have jumped 6%, meaning the average UK home is now worth £244,513.
While you might expect prices to tumble given the pandemic and general economic uncertainty, analysts believe that the increases are down to three factors.
First, there was the short-term boost as buyers rushed back to the market after they were frozen out during the first lockdown.
Second, the Government's decision to scrap Stamp Duty for homes under £500,000 until March 2021 has convinced many to fast track their moving plans, further driving up demand.
Thirdly and finally, with many people expecting to work from home in the long term, they're now rethinking where they want to live and what type of home they want.
While this has led to a massive glut of buyers scrapping over properties for the time being, analysts have warned that broader economic uncertainty and job insecurity could see demand rapidly decline.
House prices across the UK
Looking at the regional breakdown over the last 12 months, the South West showed the strongest growth at 6.4%.
The North West and Yorkshire and Humber also enjoyed strong house price growth over the same period at 6% and 5.4%, respectively.
Even the regions with the weakest growth (North East and Wales) experienced a decent increase in house prices at 3.3% and 3.8%, respectively.
How did prices in your area perform?
When we look at price moves over the last month, which admittedly is a far less reliable metric than annual data as it is more susceptible to freak fluctuations, the picture is positive.
House prices in all regions increased over the last month with the weakest rise recorded in the East Midlands (0.5%) and London (0.8%).
What the indices say
HomeOwners Alliance: "House prices accelerated this month at the fastest rate in four years and agents are reporting a sellers' market with demand outstripping the supply of homes for sale.
"Mortgage applications are at a 13-year high further pointing to buyer demand.
"Home mover activity looks set to continue in the near term but with predictions of rising unemployment, we are likely to see a dampening effect on activity and house prices in the medium term."
Halifax: "Overall we saw a broad continuation of recent trends with the market still predominantly being driven by home mover demand for larger houses.
"Price inflation is underpinned by unusually high levels of demand, with latest industry figures showing home-buyer mortgage approvals at their highest level since 2007, as transaction levels continue to be supercharged by pent-up demand as a result of the spring/summer lockdown, as well as the Chancellor's waiver on Stamp Duty for properties up to £500,000.
"Though the renewed lockdown is set to be less restrictive than earlier this year, it bears out that the country's struggle with COVID-19 is far from over.
"With a number of clear headwinds facing the housing market, we expect to see greater downward pressure on house prices as we move into 2021."
Nationwide: "Annual house price growth rose to its highest level since January 2015.
"Data suggests that the economic recovery has lost momentum in recent months with economic growth slowing sharply in August.
"Labour market conditions also weakened with unemployment rising. Nevertheless, the housing market activity remained robust.
"Mortgage approvals for house purchase climbed to the highest level since 2007.
"The outlook remains highly uncertain and will depend heavily on how the pandemic and measures to contain it evolve as well as the efficacy of policy measures to limit the damage to the wider economy."
Rightmove: "Despite the effective market closure between late March and mid-May, 2% more sales have been agreed so far this year than in the same period in 2019, so this is not just a release of delayed pent-up demand.
"There is new demand too, which is continuing at pace, although there are some signs of it easing slightly.
"Average time to sell of 50 days is quicker than ever before, leaving agents with more properties marked as sold than available for sale for the first time ever."
RICS: "The October 2020 RICS UK Residential Survey results point to another strong month for housing market activity across the country.
"Moreover, with current guidelines permitting the market to stay open during the second lockdown, respondents expect this latest upturn to continue over the near term.
"However, the longer-term outlook for sales remains subdued, with the difficult economic backdrop expected to weigh on activity once government support measures are withdrawn further down the line."
Be the first to comment
Do you want to comment on this article? You need to be signed in for this feature