The best bank accounts for switching bonuses
Santander, HSBC and Royal Bank of Scotland (RBS) are among the banks offering over £100 cash to encourage people to switch. We look at the switching incentives on offer.
Banks have long used juicy current account switching bonuses as a way of enticing new customers.
They can be an easy way to boost your bank balance, especially if you're looking to change banks anyway.
What's more, they often come with other perks like interest-free overdrafts and access to savings accounts with excellent rates.
After several switching bonuses disappeared over the last few months, more banks are now offering switching incentives, which we'll run through below, including the latest from RBS, Santander and HSBC.
Starling Bank a popular choice among switchers: click here to see if the bank is right for you
Switching bonuses: watch out for fine print
Before we jump in, be warned: while the incentives are great, you need to ensure the account you're switching to meets your specific financial needs or you could end up significantly out of pocket.
For example, if you're constantly in the red and the account has no interest-free overdraft, you could quickly rack up hundreds of pounds in interest and charges.
Now that we've got the warning out of the way, let's take a look at how you can easily bag some extra cash or freebies.
RBS – £150 cash
RBS is offering £150 to new and existing customers that switch their bank account and stay. This offer ends on 18 November – you must request a switch by 5pm on this date.
Unlike other switching offers, you'll have to stay with RBS for a while to get the full £150 bonus, which we'll explore in more detail below.
New customers must open an RBS Select, Reward, Premier Select or Premier Reward account online or via the app and switch through the Current Account Switch Service (note: this means the account you're switching from will be closed).
Only the Select account is free but with the Reward account, you can earn £3 a month (after the £2 fee) as long as you have two Direct Debits and log into the app once a month.
Existing RBS customers with a Select, Reward, Reward Silver, Reward Platinum, Premier Select, Premier Reward or Premier Reward Black account (opened before 13 September) must transfer a bank account from a different bank to the existing eligible account.
To be eligible for this offer, you must pay in £1,500 into the account and log into online or mobile banking via the RBS app before 30 December.
Anyone who switches to RBS will also get access to its Regular Saver Account, which currently pays 3% – a generous rate in the current savings market.
You'll receive £100 by 28 January 2022 (provided you haven't received a cash incentive for switching since October 2017). You'll get paid an extra £50 if 10 debit or credit transactions are made each calendar month between 1 January and 30 September 2022.
Santander - £130 cashback
Santander now offers £130 cashback to new and existing customers who use the Current Account Switching Service (CASS) to switch to a 123, 123 Lite, Everyday, Select or Private current account.
You can also get cashback on your household bills with the 123 or 123 Lite accounts ­– you can find out more here.
Santander also offers Retailer Offers, offering customers up to 15% cashback when they spend on their debit or credit card, as well as 123 World.
To qualify for cashback, you must complete the full switch within 60 days of requesting one, set up two active Direct Debits, deposit at least £1,000 and login to your account using online or mobile banking.
You should get paid £130 into your Santander account within 30 days of completing the above.
If you're an existing Santander customer, you can get £130 cashback as long as you complete a full switch from an account with a different bank via CASS.
HSBC – £110 & £30 Uber Eats voucher/Dining Out gift card
HSBC is offering £110 to those who switch their current account to an Advance or Premier account plus a £30 Uber Eats voucher or Dining Out gift card, which are valid for six months after account opening.
This offer can be pulled at any time, so if you're interested, it's better to switch sooner (via CASS) rather than later.
If you're eligible, you'll be paid £110 within 20 days of the switch completion, but you need to move at least two standing orders or Direct Debits and must pay in at least £1,750 a month (or £10,500 every six months).
This account does offer access to a 1% Regular Saver and Home & Away, but the Advance account might not be suitable if your income fluctuates. You would also need to qualify for an overdraft of at least £1,000.
Unfortunately, you won't be eligible for this bonus if you already have a HSBC current account or have held one since 1 January 2018. But if you opened a first direct account before 1 January 2018, you could get the switching bonus.
HSBC also offers this incentive if you switch to its Premier Account, but this account isn't for everyone. For example, you must earn at least £75,000 a year and have a mortgage, investment, life insurance or protection product with the bank.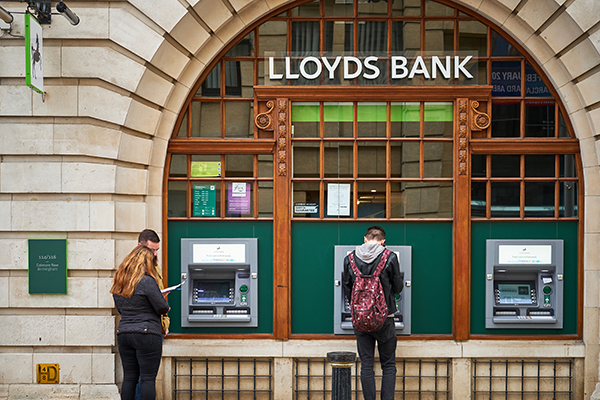 Lloyds Bank – £100 cash
You can get £100 when you open a new Club Lloyds or Club Lloyds Platinum account and use the Current Account Switch Service to switch (and close your account with the other bank).
It's worth considering that you'll be charged £3 a month for the Club Lloyds account (if you pay in less than £1,500 a month) or up to £24 for a Club Lloyds Platinum account.
Both accounts offer interest of up to 1.5% and rewards, while the Club Lloyds Platinum account includes worldwide family travel insurance, UK breakdown cover and mobile phone insurance.
To be eligible for this switching incentive, you need to open a qualifying account and start the switch by 19 October. You'll get paid £100 within 10 working days.
You won't get £100 if you switch to or change an existing Lloyds account or if you've received a switching offer since April 2019. You also won't be eligible if you open a joint account with someone who received a switching offer since April 2019.
Be Clever With Your Cash says you can get this incentive if you've already got a Club Lloyds account by downgrading your account to a Lloyds Classic account, applying for an eligible account and setting up the switch from a different bank.
Nationwide – up to £125 cash
You can get £100 for switching to Nationwide or £125 if you're an existing member (with a current account, savings account or mortgage) switching to FlexPlus, FlexDirect or FlexAccount.
This offer can be end at any time, so you should apply soon if you're interested.
To get your cash, new customers must use the Current Account Switch Service and switch with at least two active Direct Debits.
Existing customers will need to use Nationwide's internet banking to switch, which must be completed within 30 days of requesting it.
Alternatively, you can open a FlexAccount, FlexPlus or FlexDirect account via the website, internet bank or app and switch a current account with another provider to it.
It's worth noting there are some terms and conditions to be aware of, which you can find here. You should get your payment within 10 calendar days of the switch completing.
Virgin Money – free £150 gift card
Virgin Money has recently changed its switching bonus and now offers a £150 Virgin Experience Days gift card (instead of 12 free bottles of wine).
This offer can be withdrawn at any time so if you're interested, it's advisable to apply as soon as possible.
The Virgin Money Current Account offers a table-topping 2.02% interest on the first £1,000 in your account, plus you get access to a savings account offering 0.35% (this was recently cut from 0.5%).
You'll need to switch via the Current Account Switch Service, register for the Virgin Money app, transfer at least two Direct Debits and credit your savings account with at least £1,000 – within 45 days of opening your account.
You must keep this money in your savings account until you get your gift card.
It's worth stressing that you can't get this offer if you already have a Virgin Money, Clydesdale Bank or Yorkshire Bank current account (or have had one since 28 February 2021).
Triodos Bank – £60 voucher or charity donation
Triodos Bank will make a £25 donation to an existing customer's chosen charity (Friends of the Earth, RSPB or Soil Association) when they recommend someone.
The existing customer must be over 18 and have a Current Account, Savings Account, Cash ISA, Investment ISA or joint account to qualify, and must use the Refer a Friend scheme.
It's worth flagging that existing customers can recommend as many people as they want but they will have a maximum limit of 30 charity donations within a 12-month period.
New Triodos customers will be able to choose from a £60 voucher for Ethical Superstore or Neal's Yard, a charity donation or a combination of both.
They need to open a Personal Current Account (which costs £3 a month) using the email address they used to register for the referral scheme, within 60 days of registration.
The new customer must use the unique link from the recommender and deposit £100 within 30 days of opening the account. If someone opens a joint account, only one £25 donation will be made and Triodos employees and their family/household members are not eligible for this offer.
Coronavirus: what's covered by travel insurance policies, exemptions & more
TSB – £40 cashback
You can get £40 cashback when you open a Spend and Save Plus account at TSB (which costs £3 a month) via Quidco.
The offer could end at any time (or the amount of cashback could change), so you should apply soon if you're interested.
The Spend and Save Plus account offers £5 cashback every month if you make at least 30 payments each month. To qualify for cashback via Quidco, you must keep your account open for at least 120 days.
Also, within the first 90 days of opening the account, you must register for Internet Banking and paperless statements and correspondence.
On top of this, you'll need to pay in at least £500 each month and have at least two Direct Debit payments for three out of four calendar months after you've opened an account.
Unfortunately, you won't get your cashback if you already have an account with TSB or if don't meet the criteria – and your cashback won't come through until after you have the account for 120 days.
As this incentive is offered via cashback (to be paid into your Quidco account), make sure your cookies are enabled before you apply and that you use the Quidco link.
Finding the best deal
We mentioned this at the start, but it's worth repeating – make sure you consider what your long-term needs are, as well as the short-term gains a cash or voucher bonus can provide.
Some accounts will pay a decent rate on any small sums of cash you keep in them, while others will pay you cashback on various monthly bills, and the value of these can really add up over time.
Want more stories like this? Head over to the loveMONEY homepage, follow us on Twitter or Facebook or sign up for our newsletter and let us send the news to you!
*This article contains affiliate links, which means we may receive a commission on any sales of products or services we write about. This article was written completely independently

Be the first to comment
Do you want to comment on this article? You need to be signed in for this feature