Winter-proofing your vehicle: cheap and easy tips to help prepare your car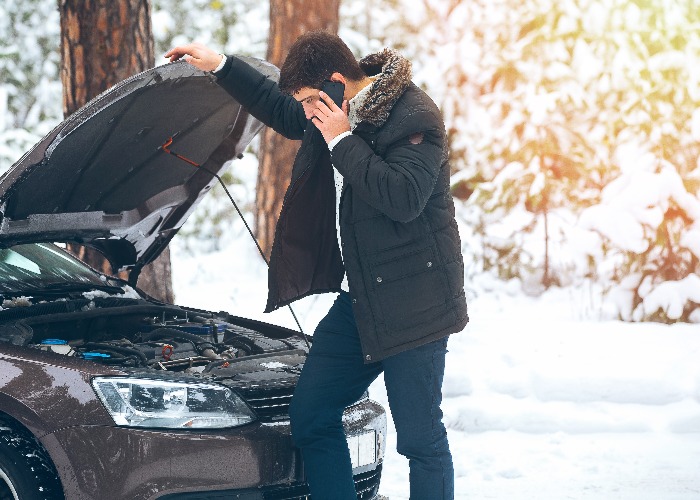 Make sure your car is ready for winter with these handy tips, including checking your vehicle, driving with care, and stocking up on essentials.
As the evenings start to get darker and the temperature drops, having your car break down is the last thing you need.
We look at checks you can do to winter-proof your car, what you should keep in the car in case of a breakdown or accident, and reveal our top driving tips.
Compare car insurance quotes at Confused.com
How to prepare your car for winter
Are your tyres up to scratch?
Making sure your tyres are in good shape is a quick job and ensures your car is safe for the road.
Under or over-inflated tyres can burst and are more susceptible to general wear and tear, meaning you'll have to fork out for new tyres sooner.
Unroadworthy tyres can also land you with a fine of £2,500, as well as three points on your license per tyre.
Below is a video by RAC that shows you how to check your tyes are safe and legal.
Price of check: you can buy a pressure gauge for under £10 to check your tyres at home.
Alternatively, you can use services at your local petrol station, which should cost less than £1 or you can book a free tyre check at Halfords.
Time: less than 5 minutes.
Cost of a quick fix: if you do need to inflate your tyres, it can be done at home with a pump, which can cost anything between £10 and £100, or you can do it as you check the tyres at the petrol station.
Cheap breakdown cover: RAC vs AA vs Green Flag
Check your anti-freeze
Keeping your coolant topped up is vital to keep your car at a good temperature.
Low coolant levels can lead to a frozen engine, so regularly checking your car and making sure it has enough coolant is particularly important during winter.
Coolant is usually a 50/50 mix of antifreeze and water, but this varies from vehicle to vehicle.
Price of check: free.
Time: less than five minutes.
Cost of a quick fix: a two-litre bottle of ready-made coolant will set you back around £11.
Cars most and least likely to fail their MOT
How clean is your car?
Keeping your car dirt-free doesn't only improve how it looks.
Regularly giving your car a scrub ensures your lights or windscreen aren't being covered, and it also makes it more likely that you'll spot any blown bulbs or cracked lenses.
Catching these early means you can get replacements quickly and prevent any visibility problems in the future.
Price of check: free.
Time: Between five minutes and half an hour.
Cost of a quick fix: between £1 and £10 depending on whether you get your car hand-cleaned or use an automatic car wash.
Learning to drive: cheap tips to help your teen pass their test
Check your engine oil
Checking your engine oil levels is one of the easiest ways to look after your car, and changing to a lower viscosity level oil is better for the winter months.
Leaving your car without enough oil can lead to a costly breakdown, or even lasting engine damage.
Below is a helpful video from AA showing how you can check and top up your car's oil levels.
Price of check: free.
Time: less than five minutes.
Cost of a quick fix: one litre of 5W engine oil costs around £13.
Can the wipers move?
Particularly cold weather can cause your wipers to freeze to the windscreen, which can blow a fuse and cause problems in the motor.
Keeping your car covered at night should help protect the screen from harsh conditions and keep your wipers in good condition.
Price of check: free
Time: less than five minutes.
Cost of a quick fix: an old blanket or sheet will do the job, or if you don't have one of these around, the price of a car cover starts at around £10.
Best used cars to replace your old banger
Safety tips for driving in bad weather
As the evenings start to get darker, it's important to think about how we drive as well as what we're driving.
The RAC recommends taking the following extra precautions during winter, particularly if it's snowing, including:
Driving gently, so accelerating, braking, and even changing gears should be done as smoothly as possible to ensure you stay in control of your vehicle;
Seeing and being seen: good visibility is key as the dark evenings start to set in. The Highway Code says all sidelights and rear registration plate lights have to be lit between sunset and sunrise;
Minding the gap: if conditions are bad, maintaining a safe stopping distance between your car and the car in front is key – up to 10 times the normal recommended gap is recommended if the weather is severe;
Watching out for wheel tracks: it can be tempting to follow the paths of other cars, but snow that has been compressed by other drivers is likely to be slippier than fresh snow.
Find parking in seconds with JustPark
What winter essentials do you need?
Each driver has their own essentials they may keep in the car at all times, but these extra items could get you out of trouble in the winter months:
A blanket, rug or sleeping bag – this can be a lifesaver if you get stranded somewhere due to bad conditions by keeping you warm;
Ice scraper and de-icer: the Highway Code states 'windscreens and windows must be kept clean and free from obstructions to vision,' so having a scraper to hand is the easiest way to get rid of any ice or snow;
Extra screenwash can help keep your vision clear, and is vital as bad weather makes it much more likely that your windscreen could get covered in mud or debris;
A torch and batteries might seem old-fashioned, but a good battery-powered torch will do a much better job than a phone light on a dark road;
Snacks, including non-perishable, high-calorie ones are ideal in case you get stuck somewhere unexpectedly;
Sunglasses: it may not be the first thing you might think of when planning for winter travel, but the low winter sun can dazzle you when you're at the wheel.
If you found these tips and checks useful, make sure you read our money-saving checklist to protect your home before winter sets in.
*This article contains affiliate links, which means we may receive a commission on any sales of products or services we write about. This article was written completely independently.
Be the first to comment
Do you want to comment on this article? You need to be signed in for this feature