The ESSENTIAL winter money-saving checklist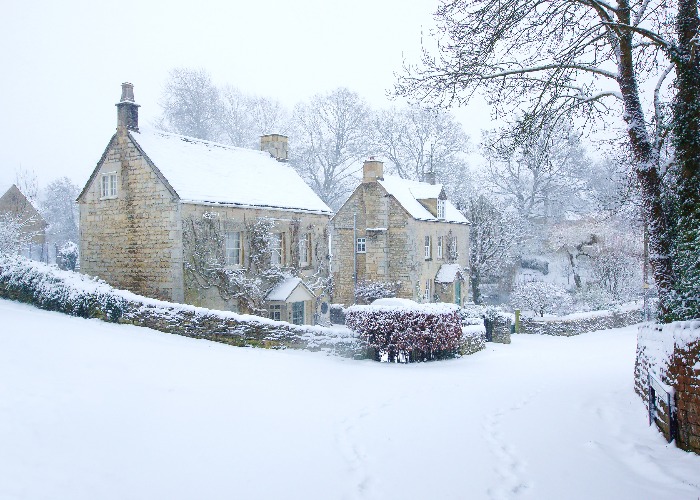 With temperatures falling and lockdown looming, these small steps could lead to big savings when winter eventually arrives.
The winter can be a big drain on your finances.
Not only will you be using much more energy (especially now that we're going back into lockdown), but you're also far more likely to experience problems with your home and car.
It may only be November, but taking small steps in the coming weeks to winter-proof your home before winter arrives could end up saving you a fortune.
Here's our comprehensive checklist to ensure you are prepared for when the colder, damper, darker days roll in.
Switch your energy supplier
You may have heard this one before, but the savings you can make in the high-consumption winter months really do make it worth repeating: you need to switch to the cheapest possible deal in your area.
Some simply assume the energy price means they're guaranteed not to be ripped off, but the reality is you could still save hundreds of pounds a year by switching to the cheapest energy deal (warning: these will generally force you to get a smart meter).
To understand how you could save compared to your current energy deal use a price comparison service. If you find a deal that works for you take a look at this piece on how to switch energy supplier for all you need to know about making the move.
Find a better deal on oil
If you are one of the 1.1 million homes that rely on heating oil in the UK, you can also save by shopping around and getting a better deal.
Read 'how to save money on your oil bill' for more advice.
Get free insulation (if you're eligible)
The 'Big Six' energy companies are working with the Government to offer free energy efficiency measures to make homes warmer and bring down energy bills through the Energy Company Obligation (ECO).
Improvements on offer include free loft insulation, cavity wall insulation and/or a replacement boiler.
You just need to request a survey to see what energy measures could be installed and whether you can get them for free.
There's no obligation to carry out the changes and you don't have to be a customer to qualify.
The Energy Savings Trust estimates a semi-detached home could save £160 a year with cavity wall insulation and £140 with up to 27cm of loft insulation.
Get a boiler service
It might be a good idea to get your boiler serviced before the cold weather takes hold to ensure it works properly.
If your boiler is acting up, and repairs are becoming more frequent, it may be time to replace it.
If you don't qualify for help replacing your boiler from the ECO scheme mentioned above, take a look at 'save money on your new boiler' for some tips on how to lower the cost.
Alternatively, you could consider getting boiler cover, with costs starting at £9 a month from the likes of Your Repair or 24/7 Rescue.
Use energy-saving tricks
There are plenty of simple things you can do to cut how much energy you use and save money on your bills.
Here are just a few you can try:
Wear extra layers instead of turning the heating up
Time your heating for when you get up and for a couple of hours in the evening
Switch off lights you don't need and use energy-saving light bulbs
Exclude draughts with heavy curtains and sausage-shaped draught excluders near doors
Turn down your thermostat by one degree (it can reduce your heating bill by 10%)
Turn off heaters in rooms you aren't using and shut the door
Don't leave electrical appliances on standby
Match the saucepan size to the hob ring (otherwise, you're paying to heat the air)
Wash your clothes at 30 degrees
For more read: how to save money on your energy bills.
Get a grant to make your home more efficient
As we explained in this guide to property incentives, the Green Homes Grant is a new voucher scheme providing homeowners with financial support if they make their homes more energy efficient.
The vouchers are available for two-thirds of the cost of qualifying improvements, up to a maximum of £5,000.
However, if you or someone in the household receives certain benefits then you may qualify for a voucher covering the entirety of the improvement work, up to a maximum value of £10,000.
Head to the Government's Green Homes Grant page to learn more.
Get winter money help
Winter can be a massive drain on your money, but there is help available.
If you were born on or before 1954 you could get between £100 and £300 tax-free to help with heating bills through the Winter Fuel Payment scheme.
Those on certain benefits may also be eligible for a Cold Weather Payment, which offers £25 for every seven days that temperatures are below zero.
The payment is issued automatically from 1 November this year until 31 March next year.
You can also get £140 off your electricity bill with the Warm Home Discount Scheme.
Pensioners that meet the criteria get this benefit automatically but energy companies will also apply the discount for other vulnerable people on low incomes so it's worth checking what you could get.
If you're struggling to pay your energy bills you may be eligible for other financial help or special tariffs. Take a look at where to get help with paying your energy bills for more information.
Bleed your radiators
If a radiator is colder at the top than at the bottom this usually means it needs bleeding.
This process releases the trapped air that stops radiators heating up properly, impacting the efficiency of your heating system.
Bleeding a radiator is a simple maintenance job that you can do yourself as this video from British Gas shows:
Clean or block the chimney
If you have a chimney, make sure you get it swept so you can use it to heat your home this winter.
Alternatively, if you have an open chimney that's not in use you should take steps to block it off to prevent losing heat.
You could get your chimney capped, but this can be pricey. A cheaper option is to use a chimney balloon. They cost around £20 and are easily installed.
Protect your pipes
Pipes carrying water into your home are vulnerable to freezing and bursting during the winter months.
If you are away when temperatures are likely to plummet, you can avoid damage to your pipes by leaving the central heating on for a few hours a day.
Read how to protect your water pipes for more ideas on how to prevent any disasters occurring as the temperature drops.
To avoid major damage should the worst happen, make sure you locate where your stopcock is. This controls the mains water tap in your home.
With this, you can turn off the mains water quickly to prevent flooding and limit the damage to your home.
Clear your gutters
It's important to clear your gutters of leaves regularly.
Leaves that fall into gutters can block pipes and drains and cause them to overflow, which can damage brickwork and foundations.
It may also be worth pruning back any branches that hang near your home to prevent future build-ups.
Fight damp and mould
Once the temperature drops it's natural to keep the windows shut and turn up the heat. However, these conditions are perfect for condensation which can lead to damp and mould problems.
Make sure you check extractor fans and window vents are working in bathrooms and in kitchens.
To avoid damp when drying clothes indoors, leave a window open a crack in a spare room with the door closed to ensure moisture is carried out and doesn't linger.
Good insulation can also help prevent damp elsewhere in your home.
Check the roof
Keeping the rain out is an important task for the winter so you should make sure your roof is in good shape.
You should check for missing or cracked roof tiles and get them fixed as soon as possible to avoid letting water in.
Use a ladder for a close-up inspection or just walk around the outside of your home with some binoculars.
If you spot some damage that could be made worse by wintry weather get a professional in to fix it.
Check your home insurance
It's important to have the right protection for your home.
A decent home insurance policy will cover you for things like flooding, burst pipes and storm damage, which are more likely in the winter months.
A policy doesn't have to be expensive. Have a look at our guide to cutting your home insurance costs and then jump straight in and get a cheap home insurance quote.
If you live in a flood risk area, it may be harder to insure your home. This guide will explain where to get home insurance for high flood-risk homes.
Remember that things can also go wrong with your boiler and central heating. So you might want to look out for a deal that includes home emergency cover, unless you are thinking of getting separate boiler cover.
Read How to find cheap boiler cover.
Deter burglars
There is often a rise in burglaries in the winter months as it gets darker earlier.
According to Aviva, household thefts rise by 5% the week the clocks go back, while malicious damage jumps 160% over Halloween.
Make sure outside lights are working properly to deter thieves and close the curtains to stop crooks eyeing up your valuables.
If you're planning on leaving your home unoccupied for a while, it's a good idea to leave a light on to make it seem like someone's in.
Also read: six ways crooks gain access to your house
Make a home emergency kit
You should also be prepared for any winter disasters in the home with an emergency kit that can help in case of things like a power cut, dodgy radiators or damage to your home.
Your home kit might include a torch, batteries, candles, matches, spare fuses, radiator key and important numbers like your insurance company helpline and 24-hour local plumbers.
Winter-proof your car
Don't pay through the nose for your breakdown cover.
Many households allow their policy to auto renew without checking what they're paying. If yours is coming up for renewal make sure you shop around for a better deal
If you want to stick with your existing provider, try haggling for a better deal. Take a look at how you can haggle and save a fortune.
Get AA breakdown cover from £6 a month
Make a car emergency kit
Be prepared for any winter mishaps when driving with an emergency kit to keep handy in your car.
The AA recommends winter car kits should include a torch, batteries, shovel, ice scraper, de-icer, tow rope, battery jump leads, bottled water, snacks, salt, extra screen wash, snow chains, blanket, bits of carpet or thick cardboard and reflective jackets.
All this is on top of the year-round essentials you should keep handy like warning triangle, roadmap, spare bulbs, first aid kit, in-car charger, sunglasses to deal with glare and breakdown membership details.
Use cashback sites to save more
Finally, don't forget to use cashback websites like Quidco and TopCashback to save money this winter.
When you shop through the tracked links on these websites you'll earn a percentage back on what you spend.
There are savings to be had on insurance, breakdown cover, energy tariffs and more.
*This article contains affiliate links, which means we may receive a commission on any sales of products or services we write about. This article was written completely independently.
Be the first to comment
Do you want to comment on this article? You need to be signed in for this feature