How to cut your energy bills
As the temperature plummets, we look at the simple ways you can save on your energy bills.
500,000 facing hikes – just as cold weather sets in
Temperatures have fallen sharply in recent days, with the Met Office warning parts of the UK will drop as low as -5C this week.
That will lead to higher energy bills as households turn up the thermostat and keep heating on for longer periods to keep warm.
Many households will be hit with a double whammy of price rises: research from price comparison site CompareTheMarket showed around half a million households will pay an extra £114 as a load of fixed energy tariffs come to an end this year.
What can you do about it?
We are at risk of sounding like a broken record, but you can reduce your bills by simply switching your supplier when the time comes.
You can get a quote and begin the switching process here. The next section will explain a little more about how to choose the cheapest deal for you.
For those who don't fancy shopping around for a new best deal every time one expires, you could look into an auto-switching service such as Look After My Bills or Flipper.
Pay the right way
When you're busy shopping around for a cheaper energy deal, here are a few things to look out for.
Choose an online tariff
If you want to get the best deal for your money, make sure you choose an online tariff. Many suppliers offer discounts on these because online accounts cost less to manage.
Some suppliers will even give you a discount for not giving them a call. It's worth mentioning at this point that many of the cheapest deals will force you to have a smart meter installed, which most loveMONEY readers aren't too keen on.
If you're sure you don't want one, you might need to go for a slightly pricier deal, but it'll still be hundreds cheaper than a standard variable tariff.
Pay by direct debit
It's a good idea to pay by direct debit as, again, this should help you to save the pennies. In fact, paying by direct debit could save you between £70 and £90 a year.
Plus, Ofgem's energy price cap requires suppliers to charge a lower amount on standard variable (default) tariffs if you pay by direct debit.
It's easy to set up and means you'll always pay your bills on time.
Just be aware that energy companies particularly like fixed monthly direct debit payments, as they can be sure you won't default, and they earn interest on any overpayments.
Pay for dual fuel
Finally, it's worth checking to see whether paying for dual fuel – in other words, using the same company for your gas and electricity – works out cheaper. This isn't always the case, but usually is.
Check your bills
When you receive your bill, make sure it's showing an actual reading rather than an estimated one (again this is only relevant to households without a smart meter).
It's far too easy to assume the reading is accurate, but in fact, you may be paying far too much. If the reading is estimated, take the time – it'll only take a few minutes – to check your meter and submit the reading to your supplier.
Your supplier should then recalculate your bill and re-issue it.
Alternatively, you could get a smart meter...
Search for a cheaper energy deal: see if you could save hundreds
Get insulation
It might sound obvious, but if you've got proper insulation in your home, you'll keep more energy in and therefore save money on your bills.
In fact, according to the Energy Saving Trust, loft insulation could save you up to £240 a year, while cavity wall insulation could save you up to £275 a year, depending on what kind of property you live in.
If you're worried about how much this will set you back initially, it's worth finding out whether you are eligible for a Government or local authority grant.
If you're over 70, you can have your home insulated for free, and if you're over 60, there's also a good chance of getting financial help.
However, even if you don't fall into these age categories, you may still find you're entitled to some form of grant, so it's worth checking to see whether you are eligible.
Claim what you're entitled to
It's also worth remembering that if you're aged 60 or over, you may get a Winter Fuel Payment to help cover your heating costs.
Exactly how much you receive will depend on your personal situation, but it will range from £100 to £300.
There's also a Cold Weather Payment for some people who receive benefits such as Pension Credit, Income Support, income-related Jobseekers' Allowance and income-related Employment and Support Allowance.
What's more, if you're struggling financially, all energy providers must offer a Warm Home discount to help their most vulnerable customers.
This is a discount of £140 off your electricity bill.
And you are struggling to pay your bills, make sure you talk to your provider and see if you can be moved to a cheaper tariff.
Search for a cheaper energy deal: see if you could save hundreds
Stop those draughts
Research suggests that around 20% of the heat in an average home is lost through ventilation and draughts. Follow these steps and eliminate the chills!
Fill those gaps: Install draught-excluding brushes in letterboxes, and insulation seal around badly fitting windows and doors.
Open and close the curtains: Lined curtains are incredibly useful when it comes to blocking out draughts. Make sure they're open during the day to let in as much heat as possible (especially for south-facing windows) and shut them at night to keep that extra heat in.
Stop heat escaping up the chimney: If you never use your fireplace, block up the opening with newspaper, a sheet of cardboard or a special chimney balloon to stop chilly air coming in and warm air leaving!
Cut your energy usage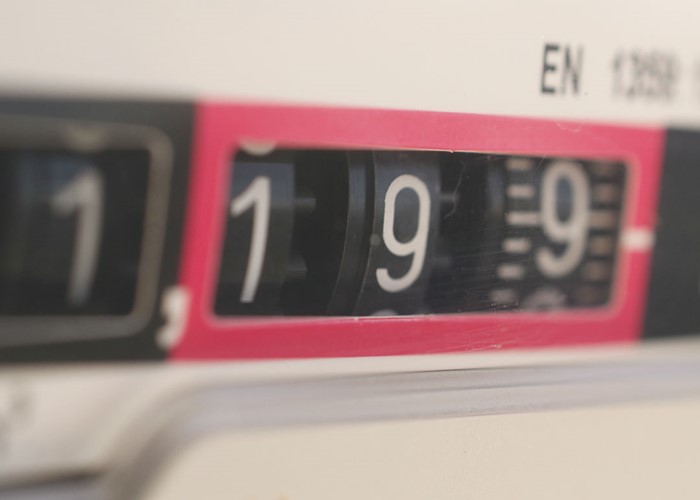 There are loads of simple things you can do to cut your energy spend, such as:
Wash your clothes in cold water;
Defrost your freezer regularly and don't overfill your fridge (this increases efficiency);
Vacuum the dust off your radiator coils;
Turn your microwave off at the wall (simply powering the clock can use more energy than heating your food!);
Turn off the hob or oven a few minutes before the food is fully cooked (there should be sufficient heat for the food to continue cooking). Just make sure it is definitely cooked before eating it!;
Match the saucepan size to the hob ring (otherwise, you're paying to heat the air);
Turn your hot water thermostat down to around 60 degrees;
Use energy-saving light bulbs;
Don't leave electrical appliances on standby.
Make your radiators work for you
Don't keep all the heating off and make yourself ill. Instead, target the energy you do use so it heats the space – and you – in the most effective way possible:
Don't cover your radiators
Wet clothes on your radiators prevent the heat reaching the rest of the room.
Air them on a clothes horse in an unheated room instead. And make sure your radiators aren't languishing behind sofas – or under curtains – which suck up all the heat!
Bleed your radiators regularly
This releases any air trapped inside them and improves their efficiency. By making your radiators more efficient, you should find you can reduce the number of radiators that you have on.
To bleed the radiator, turn off your heating and let the radiators cool. Then put your 'bleed key' into the valve at the top of the radiator and turn it to release the air.
Be warned, water may escape once the air is released so you might want to have a cloth or towel (or jug) to hand.
Reflect the heat
Put foil behind your radiators (you can get specially-designed radiator foil). This will reflect the heat back into the room, rather than letting it get absorbed into the wall.
Add thermostatic valves to all your radiators
And only turn them on in the room/s you're in (make sure you keep all the doors closed!).
Use an electronic heating timer
And make sure you know how it works!
Or your smartphone
You can do pretty much anything from your smartphone these days, including controlling the thermostat away from home.
Set different temperatures for different rooms and if you're on your way home and it's a bit nippier than expected, whack the heating up. All you need now is an app to put the kettle on.
Cut your heating bills: tips for your radiator, thermostat, boiler and more
Layer up
Dress warmly indoors and you could turn your thermostat down by a couple of degrees, save a packet and still be comfortable.
Lots of layers are far more effective at keeping you warm than one enormous jumper.
Get a new boiler
If your boiler is old, it may have become inefficient at heating up your home.
According to the Energy Saving Trust boilers account for around 55% of what you spend a year on energy bills, so it's important yours is performing at its best.
Well maintained boilers tend to last up to 15 years, but if you find yourself on the phone to the repairman every other week, it's probably time you got a new one.
The Energy Saving Trust estimates upgrading an old gas boiler without controls, with a new A-rated condensing boiler with a programmer, room thermostat and thermostatic radiator controls (TRVs) could save you between £70 and £570 a year, depending on the type of home and how bad your boiler was in the first place.
To limit the cost of getting a new boiler read our guide: Save money on your new boiler.
If you can't afford the outlay but want to avoid a big bill if your boiler packs in, you can get boiler cover from £9 a month from the likes of Your Repair or 24/7 Rescue.
Be the first to comment
Do you want to comment on this article? You need to be signed in for this feature