Trialling new ways to save energy
We have a four-bed house, often work remotely, and have a six-year-old, so we're at home frequently and often use the washing machine.
We have installed many of the usual things, like loft and cavity wall insulation and energy-efficient lightbulbs, plus we also have a condensing boiler.
But I wondered what else we could do to save energy that might also be a bit different.
After doing my research I tried a few of them out – some quirky, others pretty common – and here's what I learned.
Before jumping into what I learned from trying out these offbeat ways to save energy, I looked at how much electricity is used by some items when we were not in the house.
Phantom energy usage
I knew our electricity bills in particular had become expensive, but I was shocked to see how much electricity we were using when we were not even in the house.
The Hugo app, which analyses smart meter data, was able to show us exactly how much power we were using each week, month, year and even on a daily basis. It also showed us spikes in usage during the day.
Some of the weeks we were away on holiday, the electricity bills for phantom items were as much as £24 – a shocking waste of money and energy.
I looked around the house to find what was still plugged in while we were away. I discovered that the smart TV was one culprit – accounting for 6% of our energy bill and up to £36 a year, according to Confused.com.
Heating
Our previous energy supplier installed smart gas and electricity meters in our home, so I used the Hugo app to analyse the data.
While it is difficult to isolate exactly how much each appliance is costing you, the smart meter data switches between electricity and gas use and shows spikes in usage and allows you to compare different days' usage.
Anything in a home that heats water using electricity costs money these days. For example, heating and hot water account for 62% of household energy bills on average, according to the Energy Saving Trust.
As it's getting colder, I wondered what we could do to cut our bills.
The joy of thermals
I've previously been shocked by how much our lounge gas fire uses on full-blast – I actually thought I was saving money by using it instead of the heating!
Apparently, most gas fires are only about 50% efficient, as much of the heat gets lost up the chimney. Condensing boilers, on the other hand, are 90% efficient.
Once, when we rented a freezing house, my husband got me into thermals. Sexy they are not but wearing them can really make a difference!
I wondered if digging out my thermal top (£12.50 in Marks & Spencer at the time) and leggings (£16) might help, so I have worn them on colder days.
On cold days, I have managed just to top-up the household heat with a quick extra hour's heating at lunchtime. Our system allows us to do this without remembering to turn it off again – and without putting the fire on.
We didn't put the heating on again until it came on automatically in the evening.
From the smart meter, we actually halved our gas bill that day by doing so. We used 76-kilowatt hours (kWh) or £5.31 – when the previous cold day we had used 151 kWh of gas putting the heating on, costing £10.55.
Of course, it's easier to deny yourself heat but harder when you have children.
Luckily, my son is always much warmer than me and wanders about in a t-shirt most of the time.
Cut your heating bills: tips for your radiator, thermostat, boiler and more
Washing
Washing machines, dishwashers and driers can be some of the biggest culprits and account for 14% of our annual energy bills, according to the Energy Saving Trust.
After one particularly high bill, I realised I had to ban using the drier – something that had become a lazy thing to do to deal with the endless school uniform washes.
By hanging the washing outside (when it's warm) plus washing the clothes at 30 degrees on a shorter cycle, I shaved £50 off our bill in one month.
Washing your clothes at 30 degrees uses 50% less energy than washing at 40 degrees and I was surprised to find that even my son's clothes managed (mostly) to come out clean, with a healthy dose of stain remover before the wash.
I also switched to the eco setting on the dishwasher, which takes twice as long at three hours but uses half the energy.
Storing and cooking food
On average, cooking accounts for 13.8% of electricity use in homes, according to the Energy Saving Trust.
We have an electric cooker and hob and on my app, it was clear the energy usage spiked every day at dinner time.
I wondered if it was time to use something less energy intensive.
Slow cooker
My friend Becca swears by her slow cooker and the time it saves her, as well as the low energy usage, so I decided to get one.
I picked the Morphy Richards 3.5 litre model after reading a review on BBC Good Food which described it as a good all-rounder and the right size for a family of three. It cost me £22.99 from Argos.
Slow cookers are designed to use the equivalent amount of energy to a light bulb or about 100 watts an hour versus 2,000 for a standard electric oven. Mine was a 163-watt slow cooker.
I made a beef-in-beer stew, putting it on a medium setting, and left it to cook for seven hours – slightly longer than anticipated as my husband was late.
The stew was delicious, and the flavours came through much stronger than with a conventional oven.
Just be careful not to add too much liquid as it doesn't evaporate.
According to our Owl energy monitor, the slow cooker used 0.3 kWh, costing us 8p an hour. So over seven hours, it cost us just 58p, or 2.1 kWh, to cook dinner.
Usage versus a fan oven
As a comparison, I measured the output of our conventional electric fan oven. This used 2.1 kWh and cost us 58p an hour.
And although the stew would only take about two and a half hours in our oven, it still cost us £1.45 – more than twice as much as with the slow cooker.
As such, if used every day, it would pay for itself in a month and a half.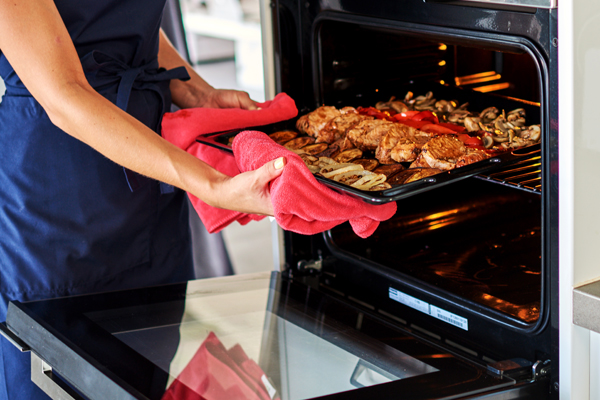 Wonderbag
Another friend told me about a more unusual method of energy-efficient cooking – the Wonderbag.
Developed by South African entrepreneur Sarah Collins, this portable slow cooker uses the residual heat in a pot to cook soups and stews.
My friend Vicky kindly lent me hers – they retail for £40-£50.
That said, I was a bit dubious, so I made a vegetable broth rather than anything meaty. I prepared it on our stove and then left it in the Wonderbag for two and a half hours, not opening it in case any heat escaped.
On opening it, I was amazed! The soup was steaming hot, and all the vegetables were thoroughly cooked. It was delicious.
What's more, we had used no energy at all in simmering it.
If you used a medium-sized one priced at £45 every day, it would soon pay for itself.
It just goes to show that while saving money around the home can be difficult at the moment, there are some easy wins that can be achieved.
Soaring energy costs: can you slash your bills with a low-cost gadget?
Fridges and freezers
In our utility room, we have a handful of small fridges and freezers. They are useful when you want somewhere to put the beer but not much help when electricity bills are sky-high.
Typically, freezing and cooling food accounts for 16.8% of household energy bills, according to the Energy Saving Trust.
How much your fridge costs to run depends on its energy efficiency rating. An A-rated one would cost about £4.82 a month, according to Confused.com, while a D-rated one would cost around £9.52.
Fridges also work best when they are full as the coldness of the food helps to keep the fridge cold overall and energy use down.
I thought I'd try to find ways to cut down on this cost. Finding that the chest freezer we'd bought before lockdown was only partly full, we decided to switch it off and move the items to the more up-to-date and energy-efficient freezer.
The partly filled beer fridge was also earmarked for turning off. This should save us an eye-watering £228 a year.
Lighting
Lighting typically accounts for 15% of a household electricity bill, so it's well worth trying to get the costs down.
We are most often in our lounge which, is 33 feet long and has a lot of light fittings, using 20 energy-efficient light bulbs.
Using our Owl energy monitor, I found that having all our lounge lights on costs us 16p an hour and uses 0.58 kilowatts an hour.
We wondered if we could save money by watching TV in the dark in the evenings. We found it was nice and cosy and gave us a more authentic cinematic experience – we're lucky in that we have a good-sized telly.
What's more, over the course of a two-hour film, we saved an estimated 32p on our lighting bills. Not much, but every little helps.
Over the course of a week, the saved energy would amount to £2.24 over a week and £116.48 over a year – not an insubstantial amount of money.
The only downside was locating any mislaid popcorn in the dark – no problem for the dog!
LED lights
Our next job is to replace all our household light bulbs with LED ones.
The price of LED bulbs has come down considerably, so swapping to them could save you a fortune on your bills.
According to engineer Rodney Birks, who changed all the bulbs in his home to LEDs, the payback is just 10 weeks as LED bulbs are 10 times more efficient than many energy-saving light bulbs.
He claims that lighting now just makes up just 1.8% of his bill, down from 18% and that many of the bulbs cost him just £1 – they used to cost £9.
We looked into replacing the bulbs in our lounge with LED ones but, as they need to be dimmable, many cost £3 each and we have 20 of them, so this is something we will do gradually as the older bulbs break.
*This article contains affiliate links, which means we may receive a commission on any sales of products or services we write about. This article was written completely independently.