How to save thousands on the cost of a new boiler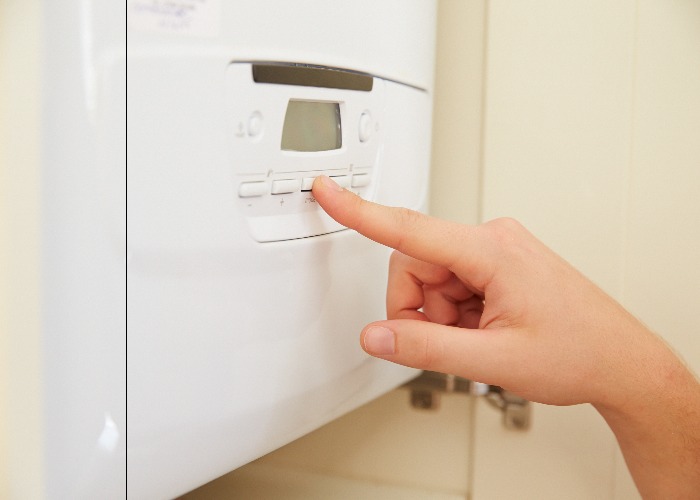 Need a cheap new boiler? Here's how to cut the costs if your current boiler needs replacing.
Buying and installing a new boiler is one of the largest single expenses UK homeowners and landlords ever have to face.
So we've taken a look at how much you should expect to pay for a new boiler, the installation and how to save on these costs.
Alternatively, you can consider taking out boiler cover if you want to avoid any having to pay hundreds, or even thousands, of pounds up front.
You can get boiler cover from £9 a month from the likes of Your Repair or 24/7 Rescue. Similarly, Hometree offers boiler, heating and home care packages from 40p per day.
How much does a new boiler cost?
Boiler prices vary based on brand, size and type (combi, system or conventional).
Which? magazine has rated 370 boiler brands including Worcester Bosch, Viessman, Baxi and Vaillant and found prices can range from £600 to more than £2,400.
But when looking for a new boiler a hefty price tag doesn't necessarily mean you get a top boiler. So it's important to read reviews and find the best boiler to fit your budget.
If you don't want to buy a boiler separately your installer may be able to quote you a price for the boiler plus installation.
Get up to 50% off boiler cover with 24/7 Home Rescue
How much does a boiler installation cost?
The cost of boiler installation can vary significantly depending on how much work is required, the parts, where you live and who you get to do the job.
You can expect to pay from £540 for a straightforward replacement of a combi boiler in the same position as the old one up to £1,440 to install a new combi system in a new location, according to figures put together for Which? by the Association of Plumbing and Heating Contractors.
However, it also warns you may also need to set aside money for a chemical flush (£200) or mechanical flush of your heating system (£510) and also moving pipes (£200-£300) on certain jobs.
These prices don't include the cost of the boiler discussed above, so as you can see the installation can cost more than the boiler itself.
Combined the figures suggest cost of a new boiler and installation can set you back from £1,040 to £4,250.
How to save on the cost of a new boiler and installation
The best way to save money on the cost of a new boiler and the installation is to shop around.
When it comes to installation you might want to start with energy companies like British Gas for a quote but you should also look at independent traders too, who typically charge up to a third less.
Have a look at the Competent Person Register, SNIPEF, Worcester Bosch or the Heating and Hotwater Industry Council. These list certified and approved installers so you'll be in safe hands.
When comparing prices also bear in mind any guarantees that are offered on the work but be wary of having to pay more for a warranty that may already be included by the manufacturer on the equipment.
Compare gas and electricity tariffs available in your area
Case study: 'How I saved £1,200 on a new boiler'
Donna Ferguson went through the process of replacing her boiler in 2011.
She needed to install a new boiler in a new location in her flat and she wanted it to be done right – she didn't want to face any further boiler-related expenses for a good few years afterwards. And, of course, she wanted to pay as little as possible.
In her own words she talks us through how she saved a whopping £1,200 on the cost.
Get a boiler, heating & homecare package for as little as 40p per day from Hometree. Get a quote now.
1) British Gas was my starting point
As British Gas is the market-leading boiler installer in the UK, I decided to get a quote from them as a starting point.
I was advised I would need around three metres of new pipes to change the location of my boiler, despite the fact that there were existing pipes much closer to the new location (which my builder did point out to the British Gas 'heating sales adviser' who came round).
This extra pipework also meant I needed to pay a materials delivery charge, a waste collection and disposal charge, and spend around £400 on some very minor electrical and building work. All of which, I was assured, was absolutely necessary. In total, this came to £900.
On top of this, I was told I needed to spend a further £350 on a system water treatment and powerflush. Connecting the boiler and testing it would cost a further £1,625, while the boiler itself (a Worcester Bosch Combi) would cost £1,000.
So, in total, I was quoted £3,770 to get a £1,000 new boiler installed in my flat.
The British Gas salesman stressed several times that I would get one year's 'complimentary' Homecare cover (Homecare is a British Gas insurance policy that protects you from any boiler-related problems).
But he cannily failed to mention the boiler is covered by the manufacturer's warranty for the first year anyway.
What angered me the most was how much pressure I was put under to make a decision that day. The salesman offered me a discount of extra £150, but only if I signed on the dotted line immediately.
2) I shopped around on the internet
I decided to shop around for a few more quotes to see whether £3,770 was competitive.
First on my list: Pimlico Plumbers, which had been recommended by a friend.
But when I called up, I was told that a quote for a boiler installation would cost £100 plus VAT! OK, so the money would be taken off the price of the installation if I went ahead, but I still put down the phone pretty sharp-ish.
Instead, I opted to get a quote from Northern Gas Heating. Despite the name, this is a nationwide boiler installation company.
I liked the look of it because it has won some industry awards. It also offers £100 cashback if it can't beat a quote from British Gas, E.ON or npower.
So far, so good. But again, a 'technician' who worked in sales – not then the engineer who would be installing the boiler – was sent round to give me a quote. Again, I pointed out the existing pipes nearby to the new location of the boiler.
This time, I was told the pipes could be connected to the new boiler, but Northern Gas Heating "would not be responsible for any leaks".
Hardly music to my ears. The salesman also incorrectly identified some new pipes as old pipes, saying they needed to be changed (they didn't, as they had only been installed the month before).
In total, the quote for the boiler installation came to £3,170. So, a £600 improvement on British Gas, and it included an excellent five-year warranty on the boiler.
But the sales-like nature of this visit put me off. Could I save more elsewhere?
Get up to 50% off boiler cover with 24/7 Home Rescue
3) I looked for a qualified independent installer
I noticed that Worcester Bosch provides a local accredited installer search on its website, and underwrites a guarantee of up to seven years on the installer's work (so long as you get it serviced once a year).
The independent nationwide firm I found using the Worcester Bosch search, Mikey's Plumbing & Heating*, could not have been more knowledgeable, professional and polite.
Mikey himself – the engineer who would be carrying out the work – came round to do the quote. He said it wasn't a problem to reconnect the existing pipes to the new boiler and he could still guarantee the labour and parts for six years.
He then offered to carry out the entire job for just £2,550. This included the six-year guarantee underwritten by Worcester Bosch and two years' free servicing, a chemical flush, a wireless programmable room thermostat and all the 'make good' building work.
I jumped at this offer and Mikey came round and did an excellent job that very week.
I saved £1,200 on the British Gas quote, got six years of peace of mind about all parts and labour relating to the boiler, and found an excellent plumbing and boiler firm to boot.
It still works!
I am glad to say that I haven't had to spend a single penny on the boiler since Mikey installed it. It works like a dream and never causes me any bother. And our fuel bills have been noticeably lower since we installed it.
I would highly recommend the Worcester Bosch accredited installer search as a result.
When I think of the extra cost I could have ended up paying British Gas, not only for the boiler but for unnecessary boiler cover, my blood really starts to boil.
Compare gas and electricity tariffs
Tell us your tips
What are your experiences of installing a new boiler? How much did you manage to save? Let us know!
Also, feel free to leave details of good local plumbers/boiler installers in your area if you know of any, to help other readers. No advertising by firms please.
More ways to save
If you're looking to save even more money around the house, why not have a read about the simple things you can do to slash your energy bill and the top tips for cutting your home insurance costs. Seriously, these changes can save you hundreds of pounds a year!
If you're worreid about your boiler but can't afford to buy a new one, consider getting boiler cover. You can get cover from £9 a month from the likes of Your Repair or 24/7 Rescue.
Want more stories like this? Visit the loveMONEY homepage or sign up for our daily newsletter and let us send the news to you!
*We have recently been informed that Mikey, the plumber who replaced Donna's boiler, has sadly passed away.
Want more stories like this? Visit the loveMONEY homepage or sign up for our daily newsletter and let us send the news to you!
**This article contains affiliate links, which means we may receive a commission on any sales of products or services we write about. This article was written completely independently.
Be the first to comment
Do you want to comment on this article? You need to be signed in for this feature