Cheap meal ideas: can you cook dinner for £1 per person?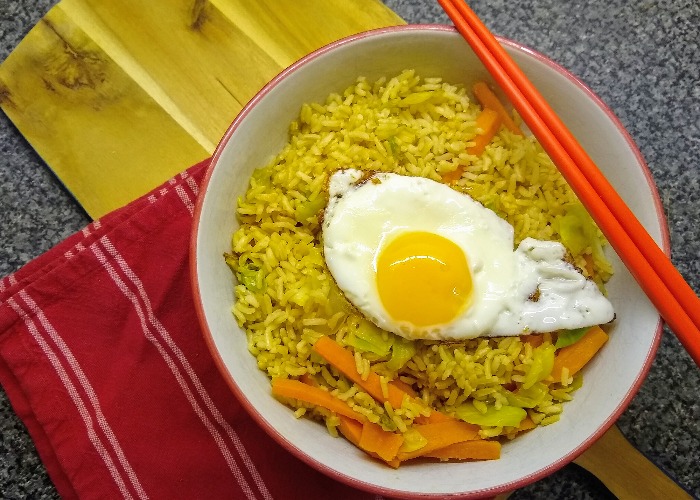 I tried out five recipes from Miguel Barclay's Super Easy One Pound Meals to find out whether it's really possible to make dinner from scratch for £1 per person. Here's how I got on.
As someone who loves to cook, I am always intrigued by recipes that claim to be cheap, quick or easy, but this hasn't always worked out.
For example, I have tried Jamie Oliver's 15-Minute Meals, which neither took a quarter of an hour (even between two people) or was particularly cheap.
So, I was interested to try out Miguel Barclay's Super Easy One Pound Meals to find out whether they're easy, tasty and if they actually cost £1 per portion.
I decided to go for some traditional British cuisine and two vegetarian dishes.
For the purposes of this challenge, I intentionally went as cheap as I could with the ingredients, so I may offer alternative ingredients in some cases.
These were the dishes I tried out:
One pan lasagne;
Pork belly;
Nasi goreng;
Mushroom stroganoff;
Cheesy ham and leek pie.
Compare cashback credit cards at loveMONEY
One pan lasagne
One of my favourite dishes is lasagne, so I was happy to kick off with this dish.
I got my ingredients for four portions, which was:
500g of 15% fat British beef mince (£2.65);
Two onions (34p);
Crème fraiche (74p);
Two cans of tomatoes (60p);
Lasagne sheets (12p).
Overall, the ingredients cost £4.45 ­– £1.11 per portion, slightly more expensive than promised but still really cheap.
But I did buy the ingredients at a Tesco Metro and Sainsbury's Local, which can be more expensive than shopping at a superstore.
I excluded oil, cheese, salt and pepper from the overall cost as these are staples most households would have and only a small amount is needed.
Overall, I found this recipe quite easy to do as all I had to do was fry up some chopped onions, add tomatoes, then do one layer of lasagne sheets, followed by crème fraiche and a handful of cheese.
One of the trickiest bits was using the lasagne sheets as they shattered as I tried to break them, and I went a little overboard with the crème fraiche as the suggested serving didn't look enough.
Unfortunately, this dish was a bit oily and not as tasty as I hoped, which I feel is mainly down to the type of mince (which wasn't of the highest quality).
On a positive note, it was a very filling dish.
As I generally go for 5% fat mince, I could definitely tell the difference in fat content.
So, if I did this recipe again – which I probably wouldn't – I would choose mince with a lower fat content and use less crème fraiche.
Alternative mince option: 500g of 5% mince for £3.30, pushing the price up to £5.10 (£1.27 per portion).
Cheap supermarket offers and deals from Aldi, Asda, Lidl, Morrisons, Sainsbury's, Tesco and Waitrose
Pork belly
As I had friends coming over, I decided to treat them to pork belly (on a budget).
For this recipe, I used:
Seasoned belly joint with pepper (£4.20);
Chicken gravy granules (7p);
Spring onions (27p);
Two cans of cannellini beans £1.10.
Similar to before, I excluded the cost of salt, pepper and oil.
The most expensive part of this dish was obviously the pork belly itself.
I only had one choice (at a Tesco superstore no less), costing £4.20, which exceeded the £1 per portion cost. But the 700g serving was more than the recommended 125g per person.
One upside was that I didn't need to season the pork belly before putting it in the oven for nearly three hours, before adding the cannellini beans and spring onions.
As the portion sizes looked pretty small, I decided to add apple mash to the dish.
I would make this dish again as it was easy to do, really tasty and felt indulgent for the price, although one thing I would change is the pork belly as it was pre-seasoned with too much pepper.
Excluding the mash, this dish cost £5.64, equivalent to £1.41 per person – and it's questionable how filling the dish would be without a side.
Looking at Tesco prices online, 500g of pork belly over the counter would have cost £3.
This would have effectively cut the cost to £4.44 (£1.11 per portion) although this was still 10% more expensive than expected.
The best UK supermarket loyalty schemes: Tesco, Sainsbury's, Morrisons and more
Nasi goreng
I decided to try out one of the vegetarian dishes and was intrigued by nasi goreng.
For this recipe, I got:
Brown rice (62p);
4 eggs (32p);
Two carrots (20p);
Sweetheart cabbage (63p);
Toasted sesame oil (38p).
Soy sauce was excluded from the costs as this is a likely staple.
To my delight, this dish came in under £1 per portion as four portions cost just £2.15 (53p per portion) – and it was delicious.
I started by putting some rice and water into a rice cooker and letting it cook, giving me plenty of time to chop up some carrots and shred some cabbage.
Initially, this recipe included savoy cabbage, but this was unavailable, so I opted for sweetheart cabbage instead.
As my partner and I are not fans of sriracha sauce, we excluded this although it would have only added pennies to the overall cost.
If you're using a rice cooker, I would highly recommend checking how long it takes to cook rice, as the rest of the recipe is pretty quick to do.
All you need to do is fry the cabbage in sesame oil, then add the carrots, garlic, soy sauce and cooled rice, and a splash more oil before frying up an egg.
As I was impatient, I didn't wait for the rice to cool and I added in extra soy sauce on the second go to add extra flavour.
Overall, this dish was a success. It tasted good, was healthy and filling to boot – definitely one to add to my regular dinner rotation.
Cheapest supermarket home deliveries: costs at Asda, Tesco, Sainsbury's, Morrisons and Iceland compared
Mushroom stroganoff
Unsurprisingly, the other vegetarian meal managed to fall below the £1 per portion budget.
The ingredients were:
Four portobello mushrooms (£1.30);
Brown rice (62p);
Paprika (24p);
Fresh garlic (28p);
Spinach (£1.10).
At £3.54, each portion cost only 88p per person – excluding a pinch of flour, a small amount of milk and oil.
I enjoyed this dish and it was easy to make but I think the recommended mushroom portion was stingy.
With this recipe, you cook the rice, fry some sliced mushrooms, season with salt and pepper, add the garlic, then the paprika and flour before gradually adding milk.
You then simmer everything for a few minutes to let the sauce thicken, add the spinach and let it wilt before serving with brown rice.
The recipe includes one portobello mushroom per person per portion, which I tried on the first time.
But this was such a small amount, so I ended up using more mushrooms on the second attempt.
While the mushrooms were tasty, they were expensive with four (around 250g) costing £1.30 at my local Waitrose.
I could have probably bought them cheaper elsewhere, but that was the price of convenience for me.
Of course, portobello mushrooms aren't essential for this dish and you can easily bag 300g for £1 at Waitrose, so there are cheaper options.
You should definitely opt for fresh spinach and not use the frozen variety as this changes the texture of the dish.
Again, I used a rice cooker for the rice and recommend waiting for it to nearly finish cooking before frying the mushrooms and making the sauce, as you may be waiting a while and the food could get cold.
Supermarket voucher scams UK: how to tell if a voucher, coupon or prize is fake
Cheesy ham and leek pie
My final dish in this challenge was cheesy ham and leek pie.
The main ingredients I needed for this meal were:
Two leeks (£1);
Four slices of thick sliced ham (£1.30);
Puff pastry (£1).
One of the best things about this recipe is that the rest of the ingredients such as cheese, milk, salt and pepper are usually household staples.
As only a small number of items was needed, the overall cost was £3.30, making it only 82p per portion.
While the pie was filling, some people may choose a side, which may bump up the price beyond £1 per person (depending on what you choose).
Similar to other recipes I tried, this was pretty easy and quick to cook.

All you do is fry the chopped leeks for a few minutes, add some flour and gradually add milk while stirring continuously.
Then you take the pan off the heat, stir in a handful of cheese, season and add the ham before topping with puff pastry.
After scoring the top and baking for 20 minutes, the pie is ready.
This dish was delicious and a little different to what my partner and I usually cook – and it's definitely a dish we would reconsider.
You can opt for sandwich ham if you want to cut costs, or alternatively buy a higher quality one if you want to treat yourself.
My verdict
While two out of five of the recipes exceeded the £1 per portion cost promised, this challenge was mostly a success.
With the exception of the slow roasting pork, these dishes tended to be cooked within half an hour and were (mostly) delicious.
Out of the above recipes, the only one I would probably not try again was the lasagne as the strict costs would mean using mince with a higher fat content, which ruined the taste of the dish.
If you are looking for cheap and easy recipes, Super Easy One Pound Meals does deliver – just don't expect it to cost £1 per portion every time.
Disclaimer: The author received a copy of Super Easy One Pound Meals for free in order to write this up.
Be the first to comment
Do you want to comment on this article? You need to be signed in for this feature