The £1,000 cost of never having to iron again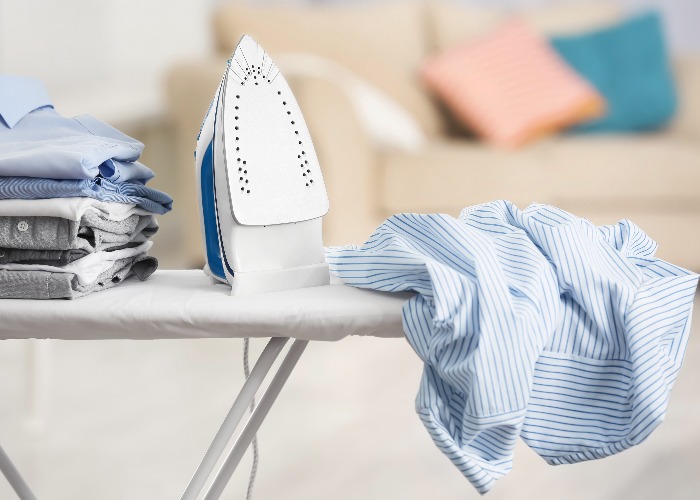 If you fancy ditching the ironing for good, it will cost you.
When it comes to the household chores, it seems we aren't all that fond of the ironing.
A study earlier this year by bingo website Tombola ranked our 10 most hated jobs around the house.
And ironing took second spot, behind only cleaning the oven. Apparently getting the creases out of work shirts and school uniform is even more irritating than doing the dishes and unclogging the sink.
25 chores you need to do before winter hits
How much would you pay to ditch ironing?
It's not something we'd normally write about on loveMONEY, but something caught my eye recently that I thought readers might find of interest.
In short, it's a machine that promises to put an end to your ironing nightmares for good.
The catch? It will set you back a cool grand…
Enter Effie
Effie is a domestic ironing machine, and it's pencilled in for launch soon.
The brainchild of a couple of London engineers, the idea is that you stick some of your wet washing onto hangers and then load them onto a pullout rail on the machine.
Each item then gets pulled in, one at a time, where they are effectively steamed to remove any creases.
Apparently, each item will take around three minutes a piece if it's dry, or six minutes if wet (you can see a video of how it works on their Youtube channel).
I don't know about your ironing technique, but I tend to pop out a shirt a fair bit quicker than that, though that does rely on me making the time to do it.
The whole point of Effie is that you can load it up with ironing, and then clear off to do something else with your time.
Won't go in the cupboard under the stairs
An important thing to point out about Effie is that it's not exactly small.
At 80cm high and 128cm deep, this is a pretty large bit of kit.
It's not like you can hide it in the cupboard under the stairs as you might with your normal ironing board and iron!
It is at least on wheels so you can slide it out of sight, so long as you've got somewhere to put it.
In terms of putting it to use, it only needs a single mains plug, while there's a detachable tank that you'll need to keep topped up with water.
Your essential winter money-saving checklist
How much?!
If you fancy handing over your ironing chores to Effie, then sadly it isn't quite as straightforward as popping down to Argos.
For starters, you need to register your interest on the HelloEffie website. The makers say they "expect it to be on the market in late 2019", which is pretty vague.
While the exact pricing hasn't been confirmed either, reports have suggested that it's likely to cost something between £700 and £1,000.
That's an awful lot of money for a gizmo to take over your ironing. You could buy a robotic vacuum cleaner to take care of another household chore for half that price.
And anyway, if you head over to your local supermarket you could pick up a pretty decent iron for £30. You might even treat yourself and get something a little more professional for £100.
But you'll still have to make the time to set up that ironing board, line out the clothes and get those creases out.
There's a good reason ironing came second in that most hated chore poll, and that's because for a lot of the people it's just a pain, and one that you can't really avoid unless you like walking around looking like you slept in your clothes.
So if you've got the money burning a hole in your pocket, and a pathological hatred of ironing, I can certainly see the temptation.
Oh, and somewhere to store the damned thing too of course.
Stop making energy firms rich: compare cheap deals now
The time/money trade-off
OK, so most of us aren't going to shell out a thousand pounds on a gadget to take over the ironing duties.
But there's no question that plenty of us are constantly faced with the question of how much our time is really worth, and whether we are willing to dip into our pockets in order to free up some of that time.
It could be getting a cleaner so that you don't have to handle the hoover, a window cleaner so that you don't spend your weekends hanging out the window or even paying a couple of quid extra so that you get your grocery shopping delivered.
But in the modern world, with time so often stretched, people are increasingly content to use their money in order to buy more free time.
Personally, I actually like the ironing so the Effie isn't for me. But if they invented a gizmo that changed the duvet for me, then we'd really be talking.
Be the first to comment
Do you want to comment on this article? You need to be signed in for this feature