Why it's vital to save energy around the home
The cost of electricity and gas has risen sharply this year, so saving energy around the home is more important than ever.
The cost of living is the highest it's been in the UK for 10 years with the average energy bill hitting £2,500 this year.
While renewable energy sources may be the future, most of us can't afford to install these technologies: heat pumps will set you back between £10,000 and £15,000.
So, what are the low-cost changes you can easily make around the home?
You may have heard some of these before, but they are worth doing and cumulatively could help slash your energy bills by hundreds of pounds.
Take a four-minute shower – typical saving: £95 a year
Enjoy taking a shower and spending ages under the soothing hot water?
A shower is still more energy efficient than having a bath, but these days the high bills mean it's a better idea to time yourself rather than risk staying in there too long.
Setting an alarm for four minutes could save the average household as much as £95 on their electricity bill a year, according to the Energy Saving Trust – and it's one of the biggest energy savings you can make around the home.
"We know that many people will have already made changes and adapted to cut back on using energy around the home," says Joanna O'Loan, knowledge manager at the Energy Saving Trust.
"Simple, quick energy-saving actions are small, but they add up to reduce energy use and in turn your bills, by several hundred pounds.
"These include, keeping to a four-minute shower and swapping a bath a week for a shower, being mindful of how often you use your appliances and remembering to turn your appliances and electronics off standby mode," she adds.
Don't use the tumble dryer – typical saving: £70 a year
Drying clothes with a tumble dryer eats electricity.
It can be difficult to do if you don't have the space and, in the winter, when it becomes cold and damp, but hanging the washing out and drying it naturally could help households in England and Wales save up to £70 a year, O'Loan says.
Don't hang your washing on the radiator to dry as this actually uses more energy but on wet days, instead, hang your laundry on a clothes horse in front of a radiator.
Wash clothes at 30 degrees – typical saving: £34 a year
"You could save £34 a year by using your washing machine on a 30-degree cycle and reducing use by one run per week and £70 a year if you avoid using your tumble dryer," says O'Loan.
There are other easy ways to save energy around the home.
"Turning appliances around your home off standby mode could save you around £65 a year and remembering to turn off lights when you leave a room could result in a £25 annual saving," advises O'Loan.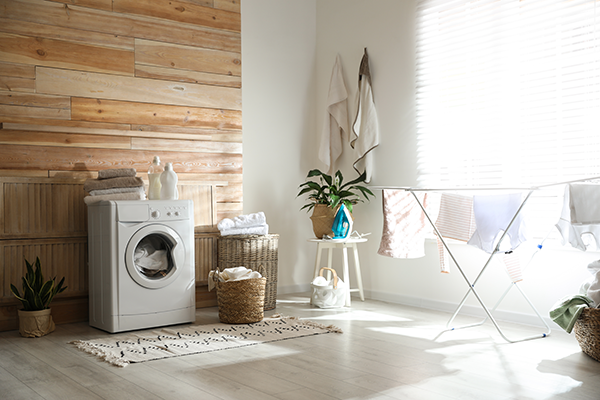 Turn the thermostat down – typical saving: £145 a year
Most households could save over £100 just by turning the thermostat down by one degree and only heating the rooms that are being used, says O'Loan.
"As we head into the colder months, try to only heat the rooms you need to a level that is comfortable – for most this is between 18°C and 21°C," she says.
"If this is just one degree lower than you normally set your heating, you could save around £145 a year on energy bills."
Cutting energy bills: does dressing warmer and hanging the washing outside REALLY work?
Cover up draughts – typical saving: £125-£225 a year
Covering up draughts is another good way to cut a significant amount off your annual heating bill.
The typical saving is up to £125 a year, according to the Energy Saving Trust.
You can save even more (up to £225) if done professionally, but if you're handy around the house, it is also possible to do it for less yourself.
Putting foil behind your radiators is a good way to reflect the heat and keep it in the room while insulating your hot water cylinder could save you up to £70 a year.
Tips on how to save energy when cooking
Cooking accounts for about 13.8% of energy use in the home, while cooling and freezing food accounts for 16.8%.
If you're buying a new appliance, aim to purchase the most energy-efficient model you can afford. If you're getting a new cooker, induction hobs are up to 50% more efficient than traditional gas hobs but they also tend to be more expensive.
You should avoid using your oven to cook food as it's often the most expensive way to do so unless you are cooking a large batch of meals at the same time.
Air fryers have gained in popularity recently as they are energy efficient and offer a healthy way to cook food. It's estimated that they can use up to 75% less energy than conventional ovens and cook food faster.
But the larger models can be expensive. A Ninja, for example, could set you back more than £200.
There are other cheap ways to save energy in the kitchen. Steamers are an energy-efficient and healthy way to cook as you can cook vegetables on top of an existing pan without the need to turn on an additional hob.
Bamboo steamers can be picked up for as little as £12.99.
Use a slow cooker or microwave
Meanwhile, slow cookers cost around £25 and can use as little as a tenth of the energy of a conventional oven – as much as a light bulb. They are also a great way to cook soups, stews and other one-pot meals.
You can also use your microwave to cook food as it is also energy-efficient.
If you have a double oven, use the smaller top oven to cook items as it will be quicker to heat up. Try to cook more than one meal at once to make the most of the heat.
You can also turn electric ovens and hobs off five or more minutes before serving as the residual heat will continue to cook the food and use the right sized pan for the hob.
Always use a lid when boiling food as it will cook quicker and use a kettle to heat water rather than the stove and only heat the amount you actually need.
It's also helpful to fill your fridge to capacity and defrost it regularly to ensure it works efficiently.
If you're struggling to pay your energy bills, contact your energy supplier and explain your situation or contact the Citizens Advice Bureau.
Energy Saving Trust quoted savings are based on a typical three-bedroom gas-heated semi-detached house in Great Britain using an average gas price of 10.3p/kWh and electricity price of 34p/kWh. Correct as of October 2022 (Energy Price Guarantee).
*This article contains affiliate links, which means we may receive a commission on any sales of products or services we write about. This article was written completely independently.