Rupert Hunt: Founder of SpareRoom on how he turned his side hustle into a flat-sharing empire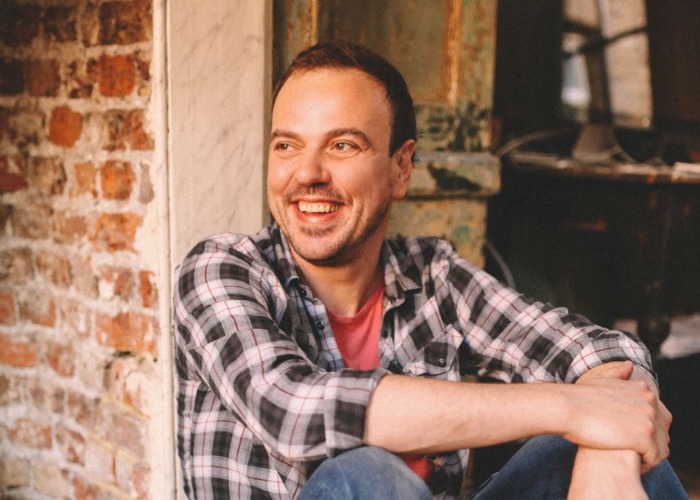 Having started the UK's busiest house-share site without any outside investment, the property mogul has always done things his own way.
Twenty years ago, finding a flatmate would've been an arduous job of scouring through ads in the local paper and the windows of newsagents.
Nowadays though, it's a different story, thanks to websites like SpareRoom. The site, which allows you to browse listings, upload a 'room wanted' ad and message other users, was started in 2004 by Rupert Hunt.
"I had been working for a web development agency, and during my spare time I started formulating a plan for a flatshare site called IntoLondon.com", Hunt recalls.
Having studied music at university, Hunt had limited business expertise but had briefly studied web development and learnt to code - both crucial to starting what would become SpareRoom.
Ironically, it was only by moving back home that Hunt was able to set up the business: "the business really started to grow, and I left my job and moved back into my parent's home to work on that full-time."
Realising that the flat-sharing feature was the most popular part of IntoLondon.com, Hunt launched SpareRoom – a national site dedicated to finding flatmates.
Find out the essentials of house-sharing, from splitting bills to unexpected costs
"We had no investment"
One of the more surprising parts of Hunt's story is that he never took any external investment, which he says forced him to be more "resourceful and creative".
A big break came when Hunt and his first employee, Gemma Allen-Muncey, launched a "speed flat-mating" event in London in 2004 – like speed dating, but for flatmates.
"Not many people turned up to that first event, but it was covered by the local newspaper.
"Then, our second event was picked up on by the Times, and after that, at our third event, we had two TV crews, five radio stations – it became a national story."
"It was a boost", he recalls. After that, the business grew year on year, and by 2009 it was the UK's leading flat-share site.
SpareRoom, as we know it today, is a far cry from Hunt's original idea, which was more focused on entire flat rentals than flat sharing.
But Hunt says that the ability to message other users – something that was only introduced at the last minute – was what really took off.
Adapting to the market
It was only when he used SpareRoom himself that Hunt realised the true importance of the messaging function.
In 2013, Hunt made headlines when he advertised rooms to rent in his own property, from just £1 a month, on the site he created.
Despite owning a £3 million, Grade II-listed home in the heart of London, he offered up his spare rooms on a "pay what you can afford" basis.
"It was about living with the right people," he explains. "I didn't want to narrow down the pool of people by putting a high rate on the rooms that might've priced people out."
And unsurprisingly, people applied in droves – 7,251, to be precise. He managed to narrow it down and since then has found housemates for other properties in the same way.
Whether you saw the housemate search as a publicity stunt or market research, Hunt claims it had a "transformative" effect on how he viewed the business.
"Intellectually, I had understood my business very deeply, but emotionally, I hadn't understood it in quite the same way."
After realising how important it was to live with the right people, Hunt introduced a video feature in order to replicate face-to-face interaction as far as possible.
Yes, you can live the dream: how Mike Maxwell started the Football Shirt Collective
"It's increasingly difficult to rent"
Hunt admits that renting isn't always affordable for young people today and understands why many are opting to live with their parents, as he did while launching the business.
But, he muses, "I think there are so many opportunities that can come through people you live with, whether that's personal relationships or work opportunities."
He's also keen on getting more homeowners to rent out their spare rooms.
"We have around 19 million empty bedrooms in owner-occupied properties in England alone –freeing up just 3% of those would create housing equivalent to a city the size of Liverpool."
It's a staggering statistic. To improve the situation for both tenants and landlords, SpareRoom launched the Raise the Roof campaign, which culminated in the Government introducing a £7,500 tax-free allowance for those who rent out their spare room.
The company also runs a 'Live Rent Free' competition, which gives away a month's rent to one winner every month, and a year's rent to one winner each year.
On top of that, SpareRoom has partnered with homeless charity Crisis to match the competition prizes in charity donations. "It's important that we play a part in the market we're involved in – not just operate in it but do something positive."
Best-laid plans
Hunt attributes much of his success to being adaptable. "It's better to get out there into the market and start testing an idea, rather than spending months trying to perfect it.
"In almost all cases, you'll find out that there's a flaw in a new project – the quicker you find that out and change direction, the better."
He also stresses the importance of resourcefulness. "My number one piece of advice for entrepreneurs would be to treat investors as a last resort rather than a foregone conclusion."
"Remember that there are so many free and low-cost ways of finding customers and growing your business."
What's next for SpareRoom? "We're looking at improving people-matching features to increase the chance of getting a positive match when people meet up – we're pushing for more video usage."
Hunt shows no signs of slowing down – and nor does the site he created, which currently receives 2 million visitors a month.
The success of SpareRoom is without doubt due to the ethos that drives it – of strength in numbers, people power and ideas-sharing.
"Companies are like a flat share – it's the people that make or break it."
Starting your own online business: costs, design tips, hosting and more
Be the first to comment
Do you want to comment on this article? You need to be signed in for this feature