'How I saved £45k and bought my home aged 26'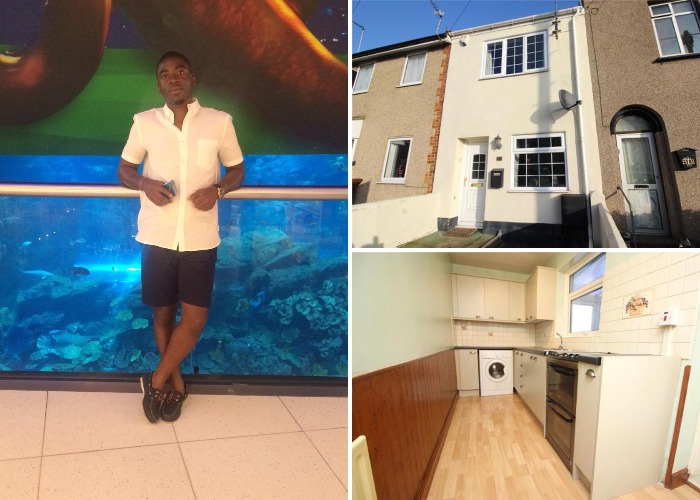 Albert Larter explains how being a bargain hunter and taking on extra work helped him onto the property ladder.
Most young people in Britain today face a massive challenge buying a property.
In fact, a recent report from the Resolution Foundation thinktank suggested half of all millennials will be stuck renting well into their 40s as a result of sky-high house prices and stagnant wage growth.
It's a bleak assessment, but it doesn't mean these challenges can't be overcome.
'I bought aged 26'
Self-confessed "bargain hunter", Albert Larter, 27, from south London managed to save £45,000 over five years, saying he mastered the art of saving while still a university student.
That helped him become a homeowner at just 26 years old, purchasing a two-bed terraced home in Kent, worth £175,000, in 2017.
While completing his studies, he worked as a marketing manager for a digital marketing company, earning £28,000 plus commission and bonuses.
To ensure racked up savings as quickly as possible, he also worked at part-time at his local Waitrose, bringing in an extra £4,000 a year.
"I was saving between £750 and £1,000 a month and budgeting from there," said Larter.
Find a cheaper mortgage today: compare rates
Becoming a bargain hunter
He admits it took a lot of discipline and sacrifice to set so much cash aside – despite calling himself a "natural saver".
"I have been brought up to save and use my money wisely, whilst enjoying myself when I can.
"I follow a lot of money-saving sites, which give tips on saving.
"I would aim to save around £10,000 a year.
"Using sites like Latestfreestuff.co.uk I would get lots of interesting things for free such as washing detergents, aftershave and loads more.
More recently I've been using bargain hunting sites.
There's a few like Latest Deals and Extreme bargain hunters – and have been inspired to look out for yellow stickers when doing my food shopping.
"I also do my shopping elsewhere such as Aldi – you'll be surprised how much you can save shopping there.
"So basically changing my spending habits and looking out for bargains and having a goal of a certain amount of money I want to see in my savings each year has allowed me to have the funds to purchase a house."
Compare mortgage rates on loveMONEY
Deciding where to buy
Putting the budgeting aside, he says the hardest part about getting a home was actually deciding on a location.
"It took up most of my time, to be honest.
"I initially wanted to see if I could get something that was close to the new Crossrail line that's being built, as I knew once it opens the value of the house will shoot up.
"That was seeming very difficult and started looking more towards outside of London.
"I wanted somewhere very easy to get to and from London and chose Kent.
"A place in Chatham did catch my eye, so I made my first ever offer on a house – that felt like some achievement!
"I went 20% low to try my luck, however that got rejected the very next day."
After eventually settling on Gillingham, the marketing manager managed to find his dream first home, which he describes as "cute".
He added: "It has two bedrooms, front room, reception room, kitchen, bathroom, basement and a lovely garden too."
Now read: how to buy a home with friends or family
Be aware of the extra costs
Albert stressed that saving for a deposit wasn't the only cost he faced while getting his first home.
"There were solicitor fees, and initial fees you pay to the bank because you chose to take a mortgage out with them.
"I also learned that you really have to nag the solicitors, otherwise completion can take a long while.
"It took almost five months for me to get the keys.
Albert explained that he also needed to completely redecorate the house.
"I removed the carpets and put laminate flooring in place downstairs, with carpets upstairs in the bedrooms.
"The whole house got freshly painted too. Paying for this and the labour in total came to around £1,200.
"I had to do a lot of haggling."
He also experienced a stroke of luck as the previous owners left some furniture that he was able to reuse, including two large wardrobes.
Looking to buy? Search for a cheap mortgage today
Albert's experience means he has gathered lots of advice for other first-time buyers – and he believes that planning is the key when trying to make the leap from renting, or living at home, to buying.
"First-time buyers should have a plan and a goal if they want to buy at some point soon.
"Speak to a mortgage adviser to understand how much they will lend you.
"Then you'll know what areas are affordable for you.
"It does take a lot of hard work and can be stressful, but the moment you receive those keys you'll feel it was all worth it."
Talking next steps, Albert said he aims to continue saving and look at other opportunities to invest in property.
"I'll continue to be frugal and live below my means but still enjoy life and seeing what the world has to offer."
Want to know how to get yourself (or your kid) on the property ladder? Read our comprehensive guide to making that all-important first step.
Be the first to comment
Do you want to comment on this article? You need to be signed in for this feature