House of Fraser collapse: is it time to ditch gift cards?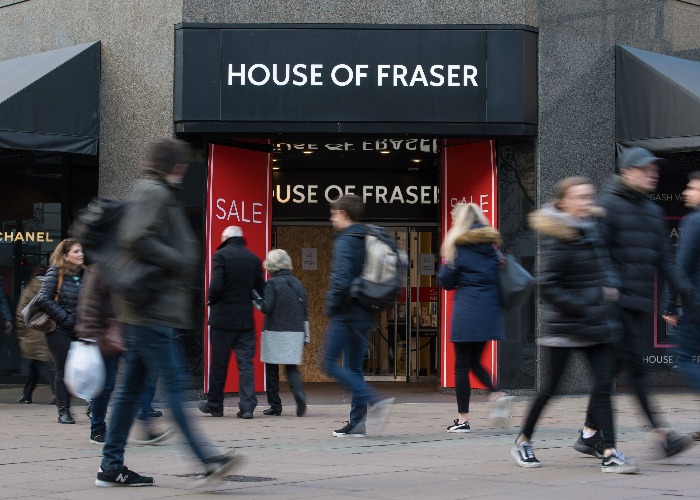 Holders of gift cards are finding they are powerless to get their money back if a company hits hard times. With the high street in turmoil, are these cards really worth the risk?
The ongoing saga that is House of Fraser's collapse and acquisition by Sports Direct has entered another chapter.
Customers who bought House of Fraser gift cards were asked by the company to return them back in August.
Yet four weeks on, customers are yet to receive any response, the BBC has reported, and fears are growing that they won't receive their money back.
That's despite House of Fraser continuing to encourage customers to send in gift cards, as I witnessed on a visit to the firm's Oxford Street store this weekend.
It's hardly encouraging that Sports Direct has already refused to refund customers who bought goods online but didn't get them delivered before the takeover. This has already led one customer to 'steal' a sofa she believed she was owed from a store.
House of Fraser isn't the first time that gift card customers have been left in the lurch. But its collapse illustrates how these cards can leave people in an impossible position.
Not many options
The store's administrator, EY, put out a statement that "customers can submit a claim against the HF Stores Realisations Limited (formerly House of Fraser (Stores) Limited). However, this will be treated as an unsecured creditor claim and unfortunately, they will only receive a very modest recovery against the amount claimed."
As an unsecured creditor, you're in a very long queue that most likely includes banks and the taxman, all clamouring for a slice of a shrinking pie.
If you've already sent in a gift card and don't hold a receipt, it can be difficult to prove you're an unsecured creditor in the first place.
There are exceptions. If the gift card was worth more than £100 and you bought it on a credit card, you can get your money back from your credit card provider under Section 75 rules (more on this here).
If the purchase was under £100, or you used a debit card, you can ask your bank to get your money back under chargeback rules, although this isn't guaranteed.
Unfortunately, as with many gift cards, the chances are you didn't buy it yourself, putting both options out of reach.
If the retailer is still afloat, you could sell the card on Zeek, Zapper or Cardyard, although you will receive less than the value of the card – read more about selling gift cards here.
A terrible product
Three in four of us have bought a gift card in the last three years, according to the UK Gift Card and Voucher Association, and the market has doubled in value to £6 billion.
That's millions of people who have taken cold hard cash – backed by the UK Government – and turned it into a retailer's promise of value.
When you buy a gift card, you agree to all the rules of the gift card: that includes expiry dates, exclusions and, potentially, get-out clauses for the company concerned, especially if it goes under.
Sadly, that's not such an unlikely prospect these days. House of Fraser is just the latest casualty in a nightmare year for the high street, with Maplin, Poundworld and Toys R Us gone for good and Marks & Spencer, Mothercare, Homebase, New Look and Carpetright planning mass store closures.
Even John Lewis has announced a 99% fall in profits.
Read more: John Lewis' struggles show we must act now if we want to save the high street
What are the alternatives?
Gift cards have a purpose, whether that's saving the embarrassment of the giver who didn't know what to get, or to stop kids wasting their newly-acquired wealth.
If you must buy one, it's worth getting one from a company you're confident will stay afloat.
You could opt for Amazon vouchers, although by doing so you could be adding to the misery for the high street. Netflix, Spotify, iTunes and Google Play cards could be an alternative.
Alternately, you could hedge your bets by buying the One4All gift card, which claims to be accepted in 130 high street stores and is available at the Post Office and online.
National Book Tokens are also widely accepted, at Waterstones, WHSmith, Blackwell's and some independent stores.
If you're looking to control your children's spending, a number of prepaid cards allow you to limit spending via an app, including Nimbl, Osper and GoHenry. These cards come with a cost and so may be unsuitable for small, one-off gifts.
Be the first to comment
Do you want to comment on this article? You need to be signed in for this feature