With the cost of care homes often running into the tens of thousands of pounds, many families must care for their elderly parents themselves at home.
While this is undoubtedly the cheaper option, it is still far pricier than many might expect.
Research from investment firm Fidelity International found that caring for an elderly relative at home costs an average £5,545 in either lost earnings or money spent on funding care.
The research also showed that more than a quarter (29%) of us have needed to care for an elderly relative at some point during their life.
"Of this, a fifth (20%) have taken time out of work to do so, 14% have cut their hours at work and one in 10 (10%) have quit their job altogether to provide the necessary level of care for an elderly relative," the firm said in a release.
"This undoubtedly has an impact on the carer's finances, both in lost earnings but also the money needed to fund caring for an elderly relative, be that through adapting the home or additional travel costs. "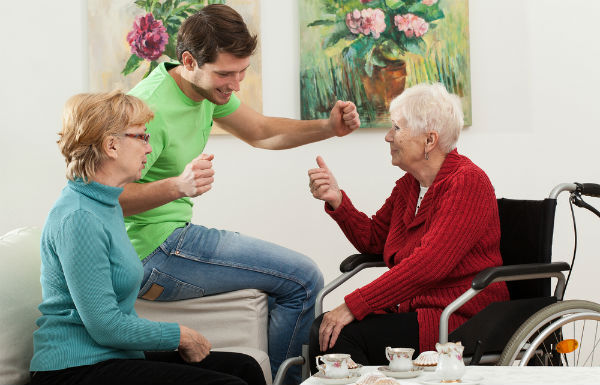 But the cost of caring for elderly relatives yourself isn't just financial: a separate Co-op Funeralcare and Legal Services report surveyed 50- and 60-year olds and found those in their 50s are twice as likely to be juggling work, caring for elderly parents, and supporting children and grandchildren.
As a result, they were twice as likely to feel stressed and unhappy – in fact, 57% of them did so.
Caring and work
A carer may struggle to stay focused and productive in the workplace.
Where a parent is seriously ill, it can become impossible to concentrate. When they need help throughout the night, carers also suffer from sleep deprivation.
There can be issues surrounding absence too. Deborah Stone, founder of Myageingparent.com said: "Some companies are very good, and build eldercare into their packages.
"However, others are less considerate.
"They don't see people taking time off to care for an ageing parent in the same light as they would if they were taking time off to care for a child, so they can run into problems with leave and absence."
For those taking a significant amount of time off work, it can have the same impact as on parents: they may be overlooked for responsibilities and projects because they are assumed to be less serious about their work.
In some cases, a parent's needs are so severe that their adult offspring have to give up work altogether.
The LV= study found that 13% of adults have put their career on hold to care for elderly relatives. This has a profound effect on their finances.
According to Age UK, an estimated £5.3 million has been lost in earnings by people who have dropped out of work to care for their elderly parent.
Carers forums are full of stories of people facing this reality. One man posted on an Alzheimers forum after his mother in law moved in with him and his wife.
He was worried that he would have to give up work and wrote: "This is coming closer for me and to be honest I'm dreading it. I have worked for 12 years to build up my business, and I will lose it all."
Get a free, no obligation private medical insurance quote from Active Quote
What about retirement?
Leaving work also has a profound impact on your retirement planning.
Many people don't start to save for their retirement in earnest until after their children have become less of a financial burden.
If at that point they have to give up work to care for their parents, they miss a vital window in which they should be salting money away for their own retirement. The LV= study found that 15% have put off financial planning because they are taking care of their parents.
They may intend to make up for lost time after a few years when they no longer have caring responsibilities.
However, this is easier said than done. Those who give up work may struggle to return to the workplace, as their skills may have become outdated, and their age may become a barrier.
One carer on an eldercare forum had a high-flying management job before giving it up to care for his parents.
He says: "Fast forward 8 years: I'm exhausted, broke, still not getting any help, but need an income, so I take on part-time work wherever I can find it.
It's not easy at all to find work in your late 50s. It would be unrealistic to think I could pick up where I left off; a lot has changed, and there are younger, more energetic people perceived to be willing to work for less than someone with my experience would expect."
Another writes: "I had to 'retire' early to care for my mother.
The reduced benefits have left me struggling. After being out of the employment field for so long, it is very hard to re-invent myself, but I'm trying. I've decided if I can make a couple [of] hundred here, a couple [of] hundred there... I may be able to squeeze by until I can figure something else out."
To make matters even more brutal, when a carer is relying on benefits to make ends meet, when their ageing parent either dies or moves into a residential home, they will lose those benefits.
On the forums, one carer writes: "Now my mum is in a care home I will be made homeless and am unable to return to my previous profession due to the amount of time I have been away."
What can carers do?
The financial burden is immense, but carers don't have to carry it alone. In some cases, elderly parents will contribute to the household in return for care.
Many pay rent if they can afford it, or otherwise contribute to expenses. Some will sell their home and offer a lump sum in return for care.
It's important to be clear about any financial contributions from the outset if you plan to factor it into your budget. It's also important to communicate this clearly to siblings and other family members affected by the decision.
There may also be help available from the state.
Under the Care Act of 2014, carers are entitled to apply for a carer's assessment. This will mean meeting with someone from the council, who will assess how much support is needed.
The carer, or their elderly relative, should also apply for care and support needs assessment, which may offer support with anything from home adaptions to specialist equipment and respite care.
This will not necessarily be provided free of charge, as each council has its own rules regarding charges.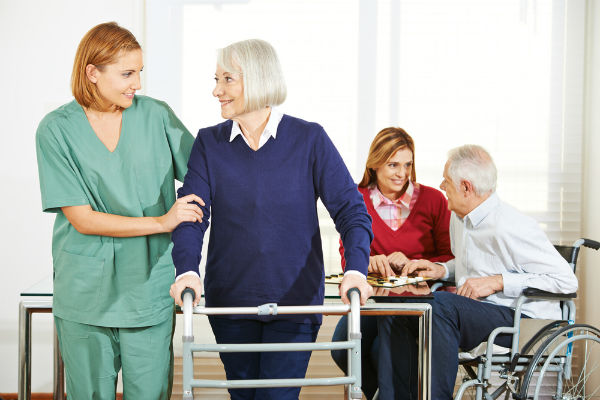 There are some benefits available to carers too, including the Carer's Allowance, which applies if someone cares for 35 hours a week or more and earns less than £110 a week.
It is currently £66.15 a week, with a one-off £10 Christmas bonus in December.
An additional benefit of applying for this is that getting Carer's Allowance will automatically help them build up their National Insurance Contribution record, which will make getting a State Pension easier.
An individual's eligibility for Carer's Allowance depends on the benefits the person they're caring for receives.
They will need to be entitled to either the Personal Independence Payment (the daily living component), Disability Living Allowance (either the middle or higher rate), Armed Forces Independence Payment or Attendance Allowance.
Worried about the impact of losing your job? Compare income protection policies with Active Quote
What if I can't care for my parent?
Families who choose to look after their elderly parents can get help, but it's also essential to bear in mind that they don't necessarily have to bear the brunt of caring.
Stone points out that now families often live far apart, it may prove impractical and too stressful, while those who write on the forums regularly assure one another that they are perfectly entitled to a life of their own.
If residential care isn't suitable or is too expensive, then the council may provide care that will enable ageing parents to stay in their own home.
This may come at a cost, but it will be cheaper than residential care.
Stone says: "It can often be better for people to get help in order to remain in their own home, and they can get some help with costs if they have a care assessment."
There is plenty of information available on what is available, and how to apply for it from Citizens Advice, Age UK, and Myageingparent.com.
Some of these sites have forums where carers can ask for advice on the cost of care, their options, and the considerations: these forums can be a lifeline.
As Stone said: "It's easy for carers to become isolated, and to feel like they are going through this alone. Forums help connect them with others who have been through something similar."
We've also put together a guide to getting help paying for care costs, which you can read here.
Life may be more stressful and expensive when caring for elderly parents, but it's not something anyone has to do alone – not when there are 900,000 people in the same boat.
*This article contains affiliate links, which means we may receive a commission on any sales of products or services we write about. This article was written completely independently.