How to pay for the cost of care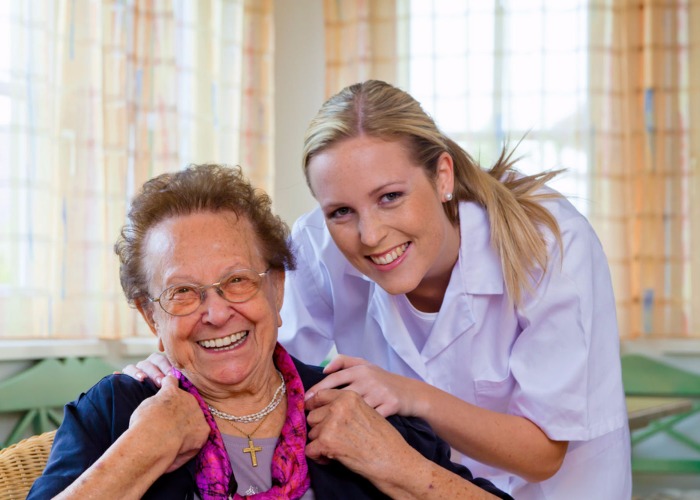 Figures reveal the cost of care can be the equivalent of half the value of your home depending on where you live. Here's our guide on care options, the Government help available and ways to foot the bill.
The shocking cost of care
The shocking cost of care has been revealed by new research.
According to analysts at Royal London, the typical person going into residential care will face total bills of between £50,000 and £93,000 depending on where they live.
One option to cope with the cost of care is to sell your home. But the research shows that variations in house prices across the UK mean that people could be paying anything between 18% and 56% of the value of their home to foot the bill, leaving little for them to pass on to their loved ones.
Those living in the North East of England, where the average house price is just under £129,000, will be worst off. An average stay of thirty months in a residential home will set them back £554 per week, which is 56% of the value of an average home in the area.
Academic evidence shows that 10% of residential home residents have a stay of six and a half years. For people in Wales, Northern Ireland and four English regions (North West, North East, Yorkshire and East Midlands), this length of stay could equal the value of the average home.
Worryingly, the cost of care is on the rise. A study by Prestige Nursing this year found that the cost increases 5% a year, ten times the rate of pensioner incomes.
On top of that, care firms have also cancelled contracts with 95 UK councils due to underfunding. One in four of the UK's 2,500 care homes are at risk of insolvency and in the last three months, 69 care companies have closed down.
Some of them said that they couldn't recruit or retain the staff they needed, while the Local Government Association blames the problem on 'historic under-funding' and an ageing population.
So, it's hardly surprising that when someone eventually needs help looking after themselves, they face what can seem like an impossible challenge.
Can the Government help with the cost of care?
The good news is that most people don't face this alone, because in most cases the Government will pay for at least part of the care.
If you find yourself looking for care for a loved one, therefore, it's essential to understand whether they are entitled to any support from the state.
The local authority will carry out a two-step assessment. The first will decide the kind of care needed. They will then produce a 'Care Plan', outlining whether they feel the individual needs help in their own home, a residential care home, a nursing home, or a specialist care home for conditions like dementia.
The second step is to see whether the person needing care passes a means test in order to qualify for financial help. It's not a straightforward business, but as a rule of thumb, if their assets come to less than £14,250, the local authority will pay their care home fees.
If they have more than £14,250 but less than £23,250, the local authority will pay part of their fees, and they will have to pay the rest. If they have more than £23,250, the person needing care will have to meet all the costs themselves (£25,250 in Scotland).
The means test also looks at the income of the person needing care (excluding certain disability benefits and pensions), to see whether they should have to pay towards their fees from income.
If the person needing care owns their own home, then unless a spouse, civil partner, partner, a close relative over the age of 60, or a dependent under 16 is living there, the value of the house will be included in the calculation.
Unfortunately, they can't give away their home ‒ or anything else for that matter ‒ to get around the rules, as the council is likely to decide they're just trying to cheat the system, so they will do their sums assuming they haven't actually given the assets away at all.
The Government had proposed raising the means-tested threshold to £123,000, and guaranteeing that nobody should ever pay more than £75,000 for their own care.
This was supposed to come into law in 2016, but has been shelved – and there's no guarantee that the changes will ever be made.
However, in his latest Budget Chancellor Philip Hammond announced £2 billion extra for social care in England over the next three years. Scotland, Northern Ireland and Wales will decide how they spend their extra funding.
The Government has said that it will be bringing forward more proposals later this year.
Care options
Once you understand the care needs of your loved one, and the state help available, you are in a position to choose the most appropriate form of care.
If the person needing care qualifies for help from the state, the Care Plan will outline exactly how much they are entitled to – which is known as the Personal Budget.
If the local authority has assessed that they can be looked after in their own home, this budget can be spent on visits from carers and nurses. This can either be arranged with the carers, or the money can be paid direct to the person needing care, who can employ their own staff. This offers more flexibility, but comes with the responsibility of becoming an employer.
Alternatively, the plan may suggest a move into sheltered housing, with support on-site. This usually means retirement houses or flats, with a warden either living on site, or visiting for certain parts of the working week.
These properties may be rental or available to purchase, and will come with a service charge. The costs will depend on the services you need. So, for example, you might pay rental of £700 a month for somewhere with limited services and communal spaces, or more than £2,000 a month for somewhere with all food and bills included, and a full service of communal activities.
If you need more support than this, the next option is a residential home, where you can receive assistance with personal care: like washing and dressing, and taking medication.
If your medical needs go deeper than this, and you need care from qualified nursing staff, then the next choice is a nursing home. In some cases, homes will offer both residential care and nursing care ‒ so as your needs evolve you don't have to move.
Finally, for those with dementia, there are specialist homes designed to make them feel comfortable and safe.
If you require nursing care, then regardless of whether you qualify for any other help, you may still be entitled to the Registered Nursing Care Contribution. You may also be able to get some of your care – including things like continence supplies - through the NHS.
Interested in a SIPP or stocks and shares ISA? Visit the loveMONEY investment centre today
How to pay for the cost of care
If the person needing care has to pay for it themselves, the most suitable way to find the money will depend partly on the kind of help they need.
Downsize
If they need help in their own home, they can downsize: selling the family home in order to move into somewhere smaller, and cheaper. This will free up a lump sum they can spend on care. It will also have the additional advantage that they can choose somewhere ideally suited to their needs – without excessive maintenance and running costs.
Equity release
If the person needing care is determined to stay in the family home, some families turn to equity release. The most common type is a lifetime mortgage, which lets a homeowner borrow money against the value of their home. Interest will roll up and needs to be repaid along with the initial sum when the property is sold (or after their death). The advantage of this approach is that they can continue living in their home, but will have a lump sum to spend on care.
However, there are some downsides to consider. First, if there's a likelihood that they will need to move into residential care soon ‒ then this may not be a cost-effective solution, because there are a number of up-front fees payable ‒ including a valuation fee, legal fees, and an adviser fee. It's not worth spending all this money if they will have to sell the property in a matter of months anyway.
This isn't the only cost associated with equity release of course, because interest will roll up and eventually need to repaid. In some cases, the interest can match the lump sum initially borrowed – or even exceed it. Most providers are members of the Equity Release Council ‒ which guarantees that the amount owed will never exceed the value of the property, but it could end up eroding a large proportion of the value of the home.
Selling their home
If the person needing care is moving into some form of residential home, then equity release remains open to them, but a number of other options also become available. Often, the most sensible approach is to sell their home.
House of Commons library figures show that 50,000 elderly people sold their homes in the past 12 months to pay for care, and separate assessments show that four in five people end up taking this route.
It's an emotive issue, because people have spent their lives accumulating assets, and it's often horribly painful to watch their estate eroded in just a few years by the need for care. Unfortunately, however, it's often the most sensible choice.
With the proceeds of any sale, they can either pay for care out of the lump sum, or consider buying an immediate needs care fee annuity, which will pay out a monthly sum either for a fixed period, or for life. Annuities have the advantage that the person needing care can be sure they will not run out of cash if they live longer than expected. In addition, because the money is paid directly to the care home, income from the annuity is free of tax.
The downside is that if the person needing care dies earlier than expected, they will lose out financially. As annuity rates have been falling for some time, the return from this kind of product has also dropped, which makes it less attractive. However, it is still worth considering if certainty is a key priority.
Deferred payment
Alternatively, they may be able to take advantage of 'deferred payment' from their local council, which lets anyone whose other assets are below £23,250 borrow money to pay for care against the cost of their home. Most councils charge interest at around 2-3%, which is rolled up and repaid ‒ along with the sum borrowed ‒ when the homeowner dies. If the family can afford it, they may choose to pay the debt and keep the house after their loved one dies. Alternatively they may sell the property.
If the person needing care has decided to keep their home, then they can also rent it out to help pay the care fees. If they have opted for 'deferred payment' then the council would need to agree to this. The homeowner (or their family) would also face the responsibility of letting and managing the property and dealing financially with any void periods where they cannot find a tenant, but it could be a valuable source of income. In fact, if they have a substantial property in the right area, they could make enough money from renting the property out to cover the cost of care entirely.
Getting financial advice
Wherever you find the cash to cover the cost of care, it's not going to be a painless process.
However, the good news is that while the cost of care can be astronomical, there are enough options available so that one way or another, the person needing care can pay for the help they need.
In fact, the sheer number of options, and the complexity of many of them, means this may be one of those times in life when it's worth talking to an independent financial adviser.
They can't make the process of moving into a home any less of an upheaval, but they should help ensure that they move into the right kind of care – and that they can afford to pay for it for the rest of their life.
Interested in a SIPP or stocks and shares ISA? Visit the loveMONEY investment centre today
Be the first to comment
Do you want to comment on this article? You need to be signed in for this feature