Millions of us are facing a rough winter ahead, largely because of our energy bills.
It's the time of year when we use the bulk of our energy ‒ as the nights turn cold, the heating goes on earlier and earlier (read our tips for using less energy here).
However, the cost of turning on those radiators, which has already rocketed of late, is set for yet more substantial increases.
The collapse of dozens of energy suppliers in the last few years has meant that huge numbers of households are on tariffs which are subject to the energy price cap.
The cap started the year at £1,277 a year for the typical household, but was increased by 54% to £1,971 in April.
It's now set for another large increase from October, with analysts forecasting that it will hit £3,358, before moving past £3,500 in January (from October the cap will be revised each quarter rather than twice a year).
That is an astonishing amount of money for households to have to hand over at the best of times, but given the rate of inflation we are seeing on virtually everything we pay, it's even more difficult to stomach.
Which is why some are calling for large numbers to take a different approach.
Government announces £400 energy bill help for households
Just don't pay
One option that some people are being urged to follow is to simply not hand over any money to our energy suppliers.
The Don't Pay UK group is trying to get together a million people to pledge to cancel their energy bill direct debit for October.
The idea is that this many people protesting at the same time will send a message to the Government and energy firms that, in the words of the group, "we would not stand for being treated as cash cows".
Importantly, it will only take that action if one million people agree to take part.
Obviously, that's an awful lot of people to try to coerce into scrapping their payment, but it's one that's certainly getting some attention.
At the time of publishing, the site claims to have more than 93,000 pledges not to pay their bill, while the official Facebook page has more than 31,000 followers.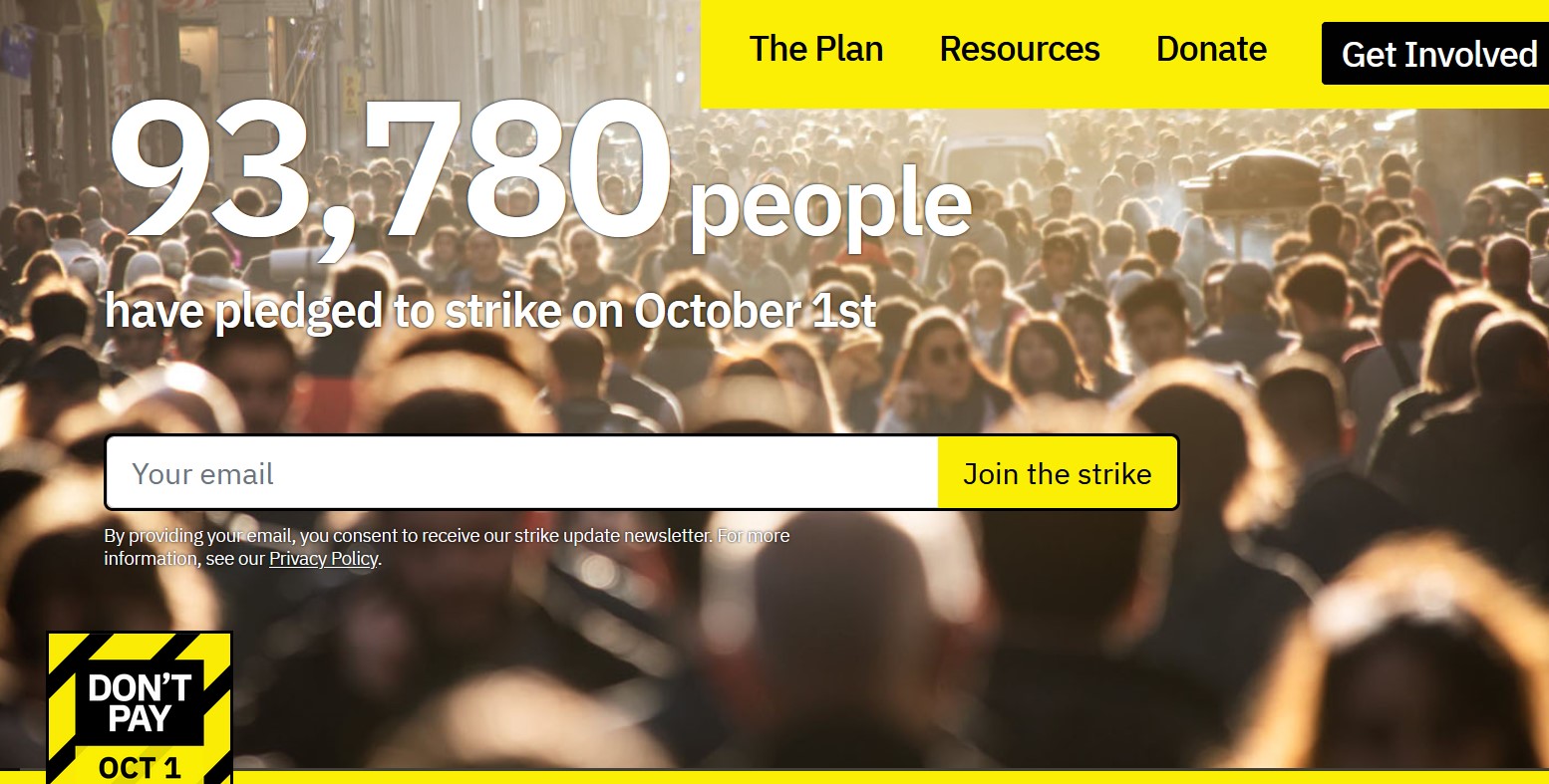 What are the consequences for not paying your energy bills?
Which sparks the obvious question: what happens if you don't pay your energy bills?
It turns out, quite a lot ‒ and none of it good. Energy bills are an example of a priority bill ‒ more on those below ‒ precisely because of the consequences that non payment can result in.
For example, you won't just go into debt on your account.
Refusing to pay your bill can result in your supplier pursuing the money owed, for example by sending out debt collectors, which will be a seriously stressful experience.
The supplier is also within their rights to change your supply to a prepayment meter.
This means that you will have to put money into the meter before your gas and electricity works ‒ essentially it prevents you from being able to simply withhold payment in future.
It's a double whammy too, since the costs of being on a prepayment meter are higher than signing up for a regular tariff. Just to make things even more tricky, the amount you owe will be added to the meter, so you'll have no option but to clear those arrears.
In the worst case scenario, a supplier is within their rights to cut off your supply altogether should you refuse to pay.
The priority bills you MUST pay if you can
So which bills are the most important to prioritise when things start getting tough?
StepChange Debt Charity has put together an excellent page on its website detailing the big ones for people in the various regions of the UK (since rules can change depending on where you live), but below are priority bills for England and Wales.
The exact consequences of failing to pay these bills varies between them, though some could result in steps like the money you owe being taken directly from your bank account, bailiffs coming to try to take your assets, and even potential imprisonment.
Child maintenance

Council Tax

County Court Judgment

Energy bills

Hire purchase/logbook loan

Magistrates fines

Mortgage

Phone bill

Rent

Secured loan

Tax

TV licence
Dealing with energy bill worries
Figures from the UK's three largest debt charities ‒ StepChange, Citizens Advice and the Money Advice Trust ‒ last month found that energy bill debts have now overtaken Council Tax debts. All three reported seeing sharp increases in the number of people behind on their bills, and worried about future payments.
As a result, even if people don't sign up to the Don't Pay UK campaign, it's likely that there will be substantial numbers of households who are unable to pay their bill in October and beyond.
It would be welcome for the Government to introduce more support than that which has already been announced, though given the contradictory messages from the two candidates to become Prime Minister, it's unclear whether any will be forthcoming.
In the meantime, if you are struggling or worried about being able to make your repayments, it's important to speak to your supplier directly as a first course of actoin.
They may be able to help direct you towards grants which can help cover the cost of those bills, or arrange a payment plan for you to clear your energy bill debts.