Fraudsters are once again using the coronavirus pandemic to try and steal personal and financial information from unsuspecting victims.
Last year, sick scammers targeted animal lovers during lockdown and also pretended to be contact tracers in an attempt to steal personal information.
Now, they appear to be using the COVID-19 vaccine rollout to target the public with the first fake messages reported at the end of December by those living on the Western Isles of Scotland.
However, the scam is highly unlikely to be limited to the Western Isles of Scotland, so the Chartered Trading Standards Institute (CTSI) has warned people throughout the UK that they might receive similar messages.
How the scam works
The Chartered Trading Standards Institute (CTSI) recently revealed that fraudulent text messages were being sent out claiming a dose of the new COVID-19 vaccine is available to the recipient.
According to the CTSI, the messages claim to be from the NHS, which says they have 'identified that you are eligible to apply for your vaccine' with a link to a bogus site pretending to be the NHS.
The site requests personal information, including your name, address and banking details for verification, which is then used by the scammers to target your bank account.
Below is an example of a fake text that has circulated about the COVID-19 vaccine – and the link itself should be a red flag straight away as it's not an NHS one.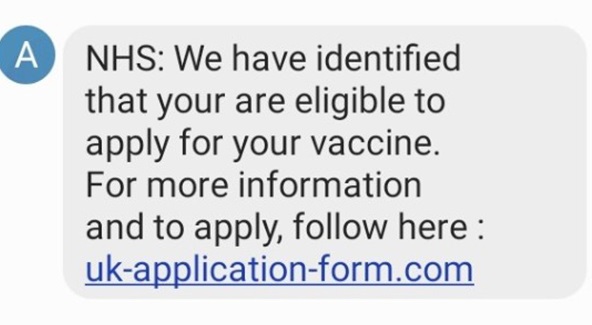 "I have been tracking and warning the public about COVID-19-related scams since the beginning of the pandemic, and at every stage of response, unscrupulous individuals have modified their campaigns to defraud the public," said Katherine Hart, lead officer at CTSI.
"The vaccine brings great hope for an end to the pandemic and lockdowns, but some only wish to create even further misery by defrauding others.
"The NHS will never ask you for banking details, passwords, or PIN numbers and these should serve as instant red flags."
Fake NHS COVID-19 vaccination messages target vulnerable public

CTSI has received evidence of fraudulent messages sent to the public informing them that a dose of the new COVID-19 vaccine is available to them.

Read in full: https://t.co/xmuRcrqUSI pic.twitter.com/cpP66cxjoD

— Chartered Trading Standards Institute (@CTSI_UK) January 6, 2021
How to stay safe
Many of us will have received genuine text messages from the NHS in recent months (often sent under the name 'NHSNoReply'), so these messages won't seem out of the blue.
So how can you tell it's fake? First of all, it's vital to flag that the COVID-19 vaccine is free and it's only available to eligible groups via the NHS.
So, the NHS will never ask for any banking details to take payment or confirm your eligibility.
You should never give out personal information to any organisation – especially if you get contacted out of the blue – before verifying it's actually them by finding an official number and calling them.
Unfortunately, scammers are able to 'spoof' numbers so you shouldn't trust any suspicious texts or calls even if it looks like it's from an official number.
If you are unsure, look up the contact details (obviously don't use any in the message) and check whether the communication is legitimate.
Another way to tell if a message is fake is to pay attention to spelling and grammar.
As you can see in the message above, the text states "we have identified that YOUR are eligible to apply for your vaccine."
Such errors are often a strong indication you're looking at a scam.
Finally, as we mentioned earlier, the link included isn't an NHS one, another suspicious sign.
If you receive one of these texts, don't click on any links and report any suspicious messages to Action Fraud before deleting it.