Selling a used van on webuyanyvan UK: review, fees and how to get the best price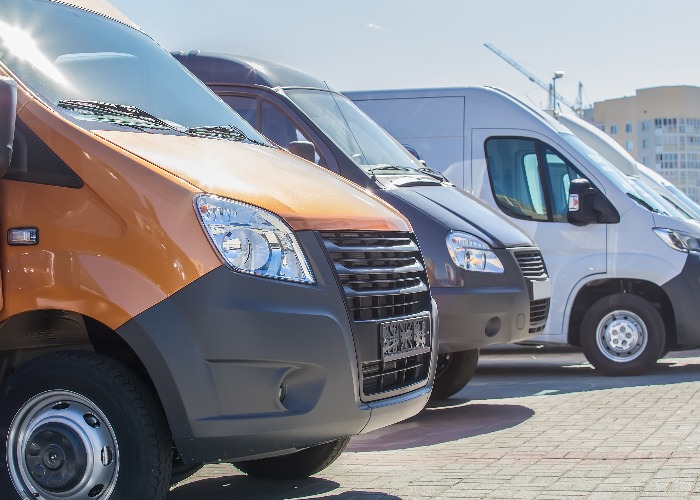 We run through what you need to know when selling a van with webuyanyvan.com.
How to sell your van to webuyanyvan.com UK
Webuyanyvan.com is owned by webuyanycar.com, which is one of the largest car-buying websites in the UK.
As with its car-focused sister site (read our review here), Webuyanyvan.com is an incredibly simple and stress-free way to sell your van, though there is the trade-off that making use of it means you likely won't get the best possible price.
You sell your van to the business itself, rather than another individual motorist, which is where it differs from more traditional car listing sites like Auto Trader.
Because of this, you don't need to go through the hassle of creating an advert, meeting potential sellers, and trying to avoid being scammed.
However, as with webuyanycar.com, there is a danger that the price you end up getting for your van is less than the initial quote you're provided with.
This article explains how to get a more accurate valuation, whether that valuation is fair, and how to maximise the price you get.
How to get the best price with webuyanyvan.com
You'll need to provide webuyanycan.com with some details about your van initially, so that it can work out a valuation for you.
This will start with the registration plate, and cover things like:
- Your van's registration number
- The current mileage of the van
- The number of previous owners
- The level of service history (e.g. full, partial, none)
Bear in mind that when it provides you with a valuation, it will be making certain assumptions about the vehicle.
The more of these assumptions that are accurate, the closer the quote will be to the price that you eventually sell your van for.
These include:
it has over 6 months MOT;
it is not an import, i.e. it is a right-hand drive vehicle with UK registration plates;
it has not ever been subject to an insurance write off or used for private hire, rental, driving tuition or as a police vehicle;
it is in average condition for its age and mileage;
there are no major mechanical faults with the van;
it does not have a personalised registration plate, or, if the vehicle has a personalised registration plate it will remain with the van and no value is assigned to it;
it has no damage, including interior and mechanical;
it has an engine which starts and it can idle on its own;
you have two sets of keys for the van.
How accurate is the webuyanyvan valuation?
It's important to understand from the outset that the price you're offered is never going to be the absolute best deal you could get from your van.
Webuyanyvan.com wants to sell the van on, for a profit, after they have bought it from you. As a result they are going to want to try to pay you less than they believe they can get when selling it themselves.
This is different from when you're selling directly to another motorist, as there are no such profit concerns in play. The trade off is that selling your van through a site like webuyanyvan.com is much more convenient than having to sell to another driver.
You'll need to provide webuyanyvan.com with the registration plate and some details about the mileage of the van, its current condition and its service history.
Webuyanyvan uses that data, along with the information it has on what drivers are currently paying for vans like yours, to arrive at a valuation.
If you're happy with the valuation, you then book an appointment to visit one of webuyanyvan.com's branches, where the car will be inspected more thoroughly in person. They will also ensure that all of the required paperwork has been provided, like the driving licence, V5 and MOT certificates.
It's at this point that you might find the valuation is reduced, for example, if the vehicle is not in as good condition as expected.
The valuation you are sent is valid for four days.
Can you get a better price than webuyanyvan when selling your van to a rival?
The short answer is yes, you can.
Sites like webuyanyvan, and webuyanycar before it, win customers because of how easy they are to use. If I want to sell my van, then I can have the whole process completed within just a couple of days, with the money sent straight to my bank account.
It's considerably less work than the traditional way of selling a vehicle, where you have to make an advert or listing, and then wait for potential buyers to come to you.
You'd then have to arrange viewings and handle negotiating a price by yourself. It's a lot of work, and a process many people aren't entirely comfortable with, which is why they prefer the simplicity of using webuyanyvan.
That convenience does come at a cost though.
Webuyanyvan wants to sell your van on, so they need to be confident that other van drivers will pay a higher price to take it off their hands. That means paying you, the current owner, a less attractive price.
It may be that you could get more money by selling it yourself, even though it could take longer and involve more work from you.
It's important to bear in mind that webuyanyvan isn't the only option if you're looking to shift your van quickly, though. Some of webuyanycar's rivals will also buy your van, so it's worth having a look around to compare valuations.
Be warned that competitors' valuations are also initial valuations and so could be lowered after inspection.
You can get a quote for your van from Motorway below (note we may receive a small commission if you do sell through them, but it won't affect the price you're offered) and you can sty rival sites like wewantanyvan.
Booking an inspection with webuyanyvan.com
Once you've accepted the valuation, you'll then need to book an appointment at a webuyanyvan branch so that they can inspect the vehicle.
There are more than 300 branches across the UK according to the firm, with an average journey time of less than 15 minutes so chances are you won't have to travel too far.
Bear in mind here that there's no obligation for you to accept the final offer you're given at this appointment. If they decide to slash the offer, you can simply walk away without losing anything other than your time.
However, if you agree to sell then you hand over the documents and keys and arrange for payment.
Costs, fees and charges when selling on webuyanycar
You can get the money paid into your account within four days, or you can have it paid the same day, though this will incur a £24.95 fee.
Webuyanyvan can also settle any outstanding finance you have against the van for you.
There will be transaction fees to consider though. No fees apply to sales of less than £99.99, byt for those valued between £100 and £4,999.99 you will have to pay a £49.99 fee. This rises to £74.99 for deals where the price is above £5,000.
Once you've sold your van
Once the van has been sold, you will need to notify the DVLA. This can be done online, or by tearing off the bottom section of your V5C document and sending it to the DVLA.
By informing the DVLA, you may receive a tax refund. You'll also avoid being held responsible for any future penalties involving the car, and to get any tax refund you are owed.
It's also a good idea to tell your insurers that you've sold the vehicle as soon as possible.
Be the first to comment
Do you want to comment on this article? You need to be signed in for this feature