How a savvy entrepreneur started a business now worth £18m at school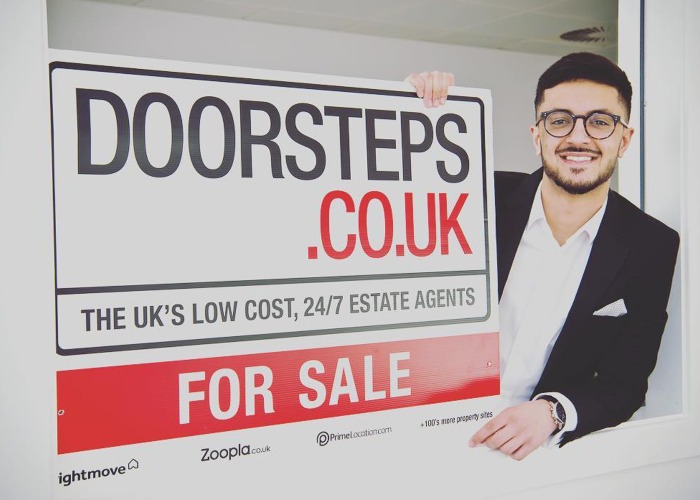 We talk to Akshay Ruparelia, founder of Doorsteps.co.uk, about how he was inspired to start his business and reveal his top tips for success.
Akshay Ruparelia, 21, has always had an entrepreneurial streak from a young age, whether it's involved selling sweets for a new PlayStation, selling colognes or starting a new app.
"I've always enjoyed the feeling of trading and working with new ideas, outside the framework of the school curriculum," says Ruparelia, one of the richest young people in Britain.
Ruparelia is the founder of Doorsteps, the 10th largest estate in the UK, which is now valued at £18 million.
The founder has enjoyed a lot of success since launching Doorsteps in mid-2016 and made The Sunday Times' Rich List in 2018 with a net worth of £16 million.
FIRE: how we become millionaires and retired in our 30s
'Huge gap in the market'
Ruparelia says his experience with estate agencies at the young age of 11 exposed to him to the "real workload of estate agencies and the service offered" particularly as he was a carer for his parents at the time.
"Fast forward several years, I noticed the huge gap in the market to offer a much lower-priced service by changing the way we're setup," comments Ruparelia.
By sticking to one office, working with local property consultants and focusing on great customer service, he is confident he's found the right formula for success.
Doorsteps allows people to sell their property for a set fee – without leaving their home.
There are three packages available, priced at £99, £199 and £599 as bolt-ons can be added.
"We have listed homes worth up to £3 million for £99 and sold them," said Ruparelia.
For the cheapest package, there are some features excluded such as professional photos and social media promotion of the property.
Ruparelia says customers can save thousands in fees – £5,121 on average – by choosing Doorsteps instead of a high street estate agency.
Career change: how I went from engineer to entrepreneur
'Shoestring budget'
At the age of 16 and after his GCSEs, Ruparelia started working on an app with classmates with a passion for coding 'on a shoestring budget'.
"Once I had evolved this, invested myself in greater market research, I realised the app was better placed as a hybrid agency rather than a self-service model," explains the 21-year-old.
He hoped to create a business that would undercut what he calls the "draconian estate agency market" and help house sellers save thousands of pounds in fees.
"We have saved customers over £8 million in fees so far and hope to keep this up," says Ruparelia.
Thankfully, he received a family loan of approximately £7,000 to create a website, logo and other essentials to kickstart his business.
Compare personal loans at loveMONEY
When asked about what sets Doorsteps apart from high street rivals, Ruparelia says it has the lowest costs yet a highly rated service. On Trustpilot, Doorsteps currently has a high rating of 9.5/10.
In terms of profitability, Rupartelia says with such fine margins on the fees, the business relies on cross-selling other services. For example, customers can get a solicitor, mortgage advisor or surveyor via Doorsteps.
Its these ancillary services that Ruparelia wants to build on to further grow his business in a competitive marketplace, by eventually offering a one-stop-shop for customers.
Teenage millionaires who got rich all by themselves

Tips for budding entrepreneurs
While you may have a great idea and the passion to pursue your own business, it can be an intimidating process.
We asked Ruparelia for his top tips if you want to embrace your entrepreneurial spirit.
"Test it cheap!" he advises.
"I would recommend that concepts are tested amongst a small target market and you continue to iterate a concept before investing thousands.
"This is the way to find your customer needs and if you have the right solution for those needs – and then you can work backwards.
The founder also recommends managing your time.
"It's extremely difficult and something I still struggle to do properly – but make sure your time is best allocated on where you can add value."
If you're still at school, prioritising everything is even more vital although he recommends focusing on schoolwork, before focusing on other things.
"Follow your passion. Don't replace this work for your passion but if you have it enough to follow it, you will make the time through better time management," he advises.
Ruparelia also recommends growing a team around you that you can trust to delegate tasks to.
But he cautions against establishing a big team too early, as keeping costs low should be a priority during the start-up of any business.
20th-century entrepreneurs who changed the world
Be the first to comment
Do you want to comment on this article? You need to be signed in for this feature