Career change: how I went from engineer to entrepreneur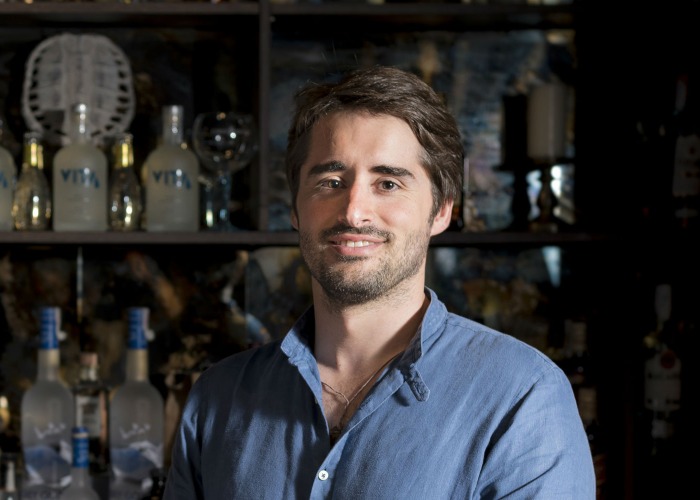 Thinking about a career change? Victor Ruiz Lafita, co-founder of vodka company Vita, tells loveMONEY about making the move from engineer to entrepreneur.
Changing career doesn't have to be a complete nightmare – you just need to know your stuff before you get started.
Victor Ruiz Lafita made the switch when he decided to launch Vita, a company selling a citrus vodka that can be mixed with water.
He tells loveMONEY about how he made the move, his fondness for Elon Musk and the resources that got him to where he is today.
Need a loan to get your business idea off the ground? Compare rates
Getting into – and out of – engineering
Elon Musk is my idol, he's like a God to me. He's part of the reason I studied electrical engineering. I really enjoy solving problems and it was the most challenging career for me at the time.
I did my Bachelor's degree for four years and then I did a Masters in electrical engineering. I started working at the largest IT company in Spain, then Germany company, China and on to Munich.
Opportunities come, and you can change.
I always wanted to become an entrepreneur. One day a friend and I were discussing what options are available in the spirits industry for low calorie drinks, as we didn't think vodka and soda doesn't tasted very nice.
That's when we started to create our own vodka that could be mixed with water – a better alternative to vodka and soda.
Making the transition
As an engineer you just have to be at the office for 10 hours and when you arrive home you forget about your work.
When you jump into business you have to be obsessive about it – how to improve things, how to make the proper connections, how to increase your sales.
You just have to be very paranoid about everything that can go wrong – it's very exciting, but it's also very stressful. You sleep much later and much worse. It's a very different way of life!
It's not obvious how engineering helps in entrepreneurship. To be an engineer you have to be extremely organised and you have to pay a lot of attention to the details. But to be an entrepreneur, you also need these skills.
But the programmes I needed to use for engineering were much more formulaic.
Having an analytical mind and being able to structure programmes to find solutions also helped.
It's very common to see engineers going into entrepreneurship. Like Elon Musk, for example!
The art of persuasion
First of all, getting into an industry that I'm not an expert in was challenging. I managed to overcome that by getting the right advice for the company.
Once you have the skills, team and money, then you start doing business and selling.
You have to learn to be more persuasive so that experts can trust you and get on board with your business.
You need funds to start up a business and again you have to be persuasive enough to convince investors to risk their money for your company. Persuade distributors and clients hen convince customers to like your brand through social media.
Being an entrepreneur is mostly about being persuasive – you have to be a very good salesman.
Raising funds
Crowdfunding has a lot of advantages over traditional methods of raising capital. It not only brings the money in, but it also brings brand ambassadors who are investing in the company and will tell their friends about it.
We've just reached 200 investors and we're over 150% of our funding target, which is crazy!
Because they're fascinated by the product and they're risking their money for us, they will do what they can to help us.
For instance, one of them could be in the spirits industry and he may put us in touch with people who can help our business.
Another can be an expert in marketing and give us advice on how to handle that side of things.
We reached €120k before crowdfunding which came mainly from me and other angel investors that are also strategic partners in the business.
For example, a very good friend of mine was an investment banker at Goldman Sachs. He helped with some of the financial stuff.
We also have a global brand manager from Procter & Gamble. He does everything related to the marketing and brand building.
A lot of entrepreneurs are lucky enough to find angel investors so they don't need to put in their own money. In my case, I also had to risk my money, but that makes it easier for other investors to trust you.
In the spirit industry, it's hard to raise funds, but going international was an easy transition for me as I've been based in London for the past year and a half.
It's just a case of reaching out to people from other countries to do business. You just have to try!
Compare personal loans with loveMONEY
Then and now
Vita launched in the summer of 2016 when I was in Spain. But at that time it was more like a pilot project. We didn't have any funding – we were just showing the vodka to people to see if they liked it by doing focus groups and market research.
People liked it so it pushed us to go further.
The focus for now is here in the UK because the market is huge.
Vodka consumption here is much higher than in Spain. Once we gain traction, we will look at launching in the US. It's the largest vodka market in the world, so that's naturally the next step.
Making your own career change
If you're not happy with your work, research other industries. Try and imagein yourself doing something new. Ask yourself if it would be something that you would enjoy.
Talk to people who are doing what you want to do. Be proactive, have long conversations with as many people as possible. At the start I was doing a lot of research on the internet, a lot of studies and articles.
But remember that a career change is a big risk and if you don't make the right decision, you might regret it!
I wish I was more open in asking for help and not be scared in reaching out to people. Being an entrepreneur is all about contacts.
Make the most of resources
There are a lot of resources online too – I read about entrepreneurs who had success stories similar to what I wanted to do.
It's very inspiring and can bring you a lot of insight and ideas. I also recommend Harvard Business Review cases which you can buy.
For example, if you want to be an entrepreneur in retail commerce you can go and look for cases related to this industry and pay around $7.50 (£5.30) for a case. It can give you ideas for things like marketing and fundraising. I downloaded cases from the spirit industry.
With the right resources and the right attitude, you've got what it takes to be an entrepreneur.
Be the first to comment
Do you want to comment on this article? You need to be signed in for this feature