Financial planning: could your family cope if you died suddenly?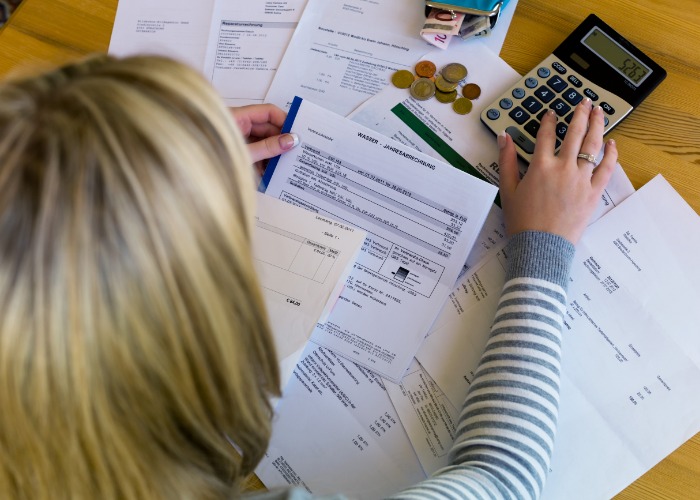 It's a bleak thought, but how would my husband access the household finances if I were to drop dead?
As a personal finance journalist, it makes sense for me to look after the household bills and budget.
I am often researching ways to save money or how to get cheapest energy deal so I am best placed to keep the family finances shipshape.
But as middle-age creeps in, it has dawned on me that having everything channelled through one person has serious drawbacks.
If I were to suddenly die or become seriously ill for an extended period of time my husband would be left in a terrible situation.
And so I have now realised that it is vital that we share responsibility when it comes to household finances, or at the very least, we both have access to everything.
Get life cover from as little as £5 a month with Active Quote
We've got it covered
For a number of years, we felt smug about planning for the unexpected, having sorted out a will when our children were born.
The document sits in a section of the filing cabinet marked Important Documents and would be relatively easy to find.
We also have a joint mortgage and are still sent paper statements, so it would be straightforward for my husband to inform our lender of my death.
All of the household bills are paid via direct debit from our joint bank account and all of our insurances are on automatic renewal so there is no risk of things not being paid.
Get paid £50 for joining first direct and get access to a 5% regular saver
The problem with access
But even though it looks like we have got everything covered the problem comes when any account needs to be accessed.
My husband is not a fan of online banking largely because he can never remember his usernames and passwords and likes to talk to a human being.
Just getting into our joint account to see which companies we are paying direct debits to would no doubt lead to hours on the phone, the re-activation of fobs and endless frustration for him.
Currently, I am the only person in the house that can access the joint account and my husband's personal bank account online.
He doesn't even know the passwords and pin numbers. And even if he rang up the bank to reset them he wouldn't know the answers to his security questions because he set them up decades ago.
Online banking aside, the main problem when it comes to household finances is paperless bills. There is no physical record in the house of who we pay money to and how to access our accounts because it all relies on email.
Since I switch energy company, car insurance and home insurance on an annual basis my husband never has any idea who we are signed up to and does not receive any of the email notifications.
The first stumbling block for my husband in the event of my untimely demise, would therefore be getting into my email.
My computer is password protected so he would have to access my email from a different device.
Assuming that he could get to my email login page he would not know the username or password.
My email provider states categorically that they "cannot provide passwords or allow access to the deceased's account, including account content such as email".
Without getting into my email my husband would be unable to find out who provides our gas and electric, who our life insurance is with or when our car MOT is due.
He might be able to work some of this out by cross-referencing the bank account but then he would have the problem that all of the household utilities are in my name.
Changing account details
Assuming that a death certificate or power of attorney had been issued then my husband would have to contact all of the companies, without a policy number, to ask if they could transfer an existing account into his name.
Most utility companies have a system for doing this but it can take several weeks.
However, any direct debits coming out of my own personal current account would be automatically cancelled once they were officially informed of my death.
Fortunately, this would only affect things like my mobile phone and magazine subscriptions and not household bills.
Get life cover from as little as £5 a month with Active Quote
The solution
Although I think it would be possible for my husband to eventually work out our household finances it would take a lot of time and cause a considerable amount of unnecessary stress.
A better solution would be to share more information and responsibility now.
For starters, I could make a list of all the companies and insurers we are currently signed up to and email it to him. A physical copy could also be stashed in the Important Documents file at home and updated each year.
Secondly, each time I renew a service or switch to a new provider I could ensure that we are both named on the policy or account.
The email access is a slightly more thorny issue but one solution could be to give him the password (but I would have to write it down or he would forget it) or make his email the password recovery address.
It might not be the easiest conversation to have but I now acknowledge that we need to talk about the bills and what we can do to ensure he is able to find the information he needs should I drop off the face of the earth.
I may feel like I am saving him a lot of hassle by taking care of our finances but I want to make sure this doesn't backfire, and come back to haunt him.
*This article contains affiliate links, which means we may receive a commission on any sales of products or services we write about. This article was written completely independently.

Be the first to comment
Do you want to comment on this article? You need to be signed in for this feature