Loot: the 'neo bank' app that claims it won't get you into debt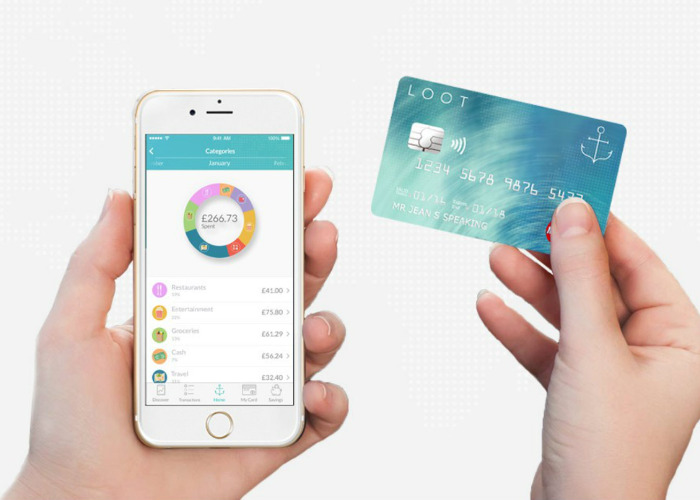 We take a look at the latest banking app, which was set up by a 22-year-old.
A new banking app, dubbed Loot, is set to launch aimed at helping people avoid debt by only spending the money they have.
Loot will be linked to a pre-paid Mastercard with tools to help people work out what they can afford and when they can afford it, without ever slipping into the red.
It's being positioned as a 'neo bank' and claims in time it will rival the big five banks and offer an alternative to the so-called 'challenger banks' like Virgin Money.
So let's take a look at what it has got to offer.
Monitor spending
As you use your card the app will automatically update to reflect what you are spending your money on and how it affects your budget.
"By automatically categorising all of your spending, as it happens, and showing you how much you still have available to spend to stay on budget, Loot puts you totally in control of your money," says Ollie Purdue, the 22-year-old founder and CEO of Loot.
"And all right there, in your smartphone, with great graphics making it quick and effortless to see where you stand, even against the spending habits of other people like you."
The app will even show you, anonymously, how your spending compares with your peers. Are you spending more than everyone else down the pub, or getting into trouble when you hit the shops?
These features make it a handy tool to help you work out where you tend to lose your grip on your budget.
Never in the red
Loot will not offer overdraft borrowing facilities so that users can never get into debt.
You'll be able to pay money into your account by money transfer only, there will be no branches or counter transactions.
The Loot card will be able to be used anywhere that accepts Mastercard and you can withdraw cash at an ATM.
Good for travellers
The app also has clever features for when you head off on your holidays.
Your card balance will be shown in the local currency so you know exactly how much you have to spend. The card has a competitive exchange rate and doesn't levy transaction fees if you use it abroad making it a pretty good choice for holiday spending.
Also, because it's a prepaid card if you lose it, or it's stolen, no-one will be able to run up debts in your name or access your bank account. Plus you can block and unblock it within the smartphone app.
Discounts on the way
Loot is now working on extra features for the app including personalised discounts.
"We will soon be adding a further unique feature, again making use of your spending data to help you save more money," says Purdue. "We will send you messages on your phone offering you special discounts and deals from our partner retailers, cafes, cinemas etc that we know you like or are very relevant to you."
Who's behind Loot?
Loot is an offshoot from Wirecard Care Solutions, which is where it gets its banking licence and money transmission licence from.
How can I try Loot out?
Smartphone users can sign up for the new Loot version 2.0 by registering at www.loot.io or later this week download the new app from the App Store.
The accounts will available in tranches of 25,000 and the first group that sign up will be able to open their Loot account later this summer.
Don't miss these:
The best bank accounts for switching bonuses
Contactless payments UK: how do they work, how safe are they and how much can you spend?
How to claim compensation for mis-sold packaged bank accounts
Be the first to comment
Do you want to comment on this article? You need to be signed in for this feature