Asda trials 'wonky veg' boxes at its UK stores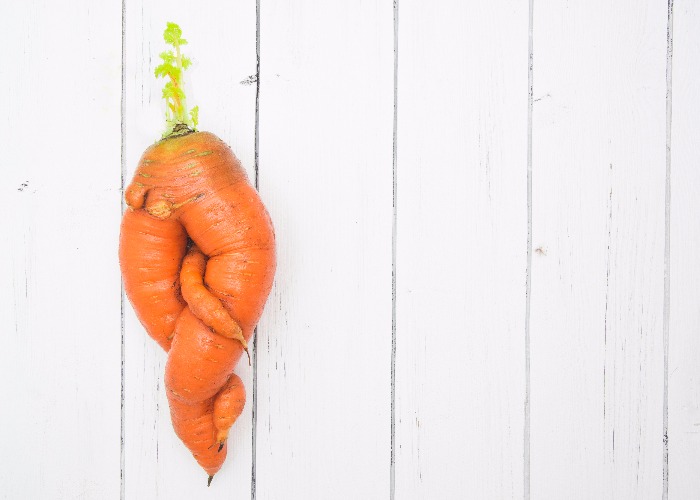 Asda is trialling 'wonky veg' boxes at 128 of its stores to help tackle food waste. Would you buy an ugly onion?
Asda is selling wonky veg boxes as part of its 'Beautiful on the Inside' range.
Boxes are being trialled in 128 stores at £3.50 each, 30% cheaper than an equivalent box of 'standard' veg, and have enough to feed a family of four for a week. They're packed with seasonal vegetables and salad ingredients including carrots, onion, peppers, potatoes, cucumber, cabbage, leeks and parsnip.
The wonky veg may be misshapen, have growth cracks or are a different size than we're used to seeing on the shelves. They might also take a bit longer to peel and prepare which is why they're sold at lower prices.
Stock will initially be limited to 20 boxes a day per store as part of the trial.
Asda started selling the veg in its supermarkets in January last year following campaigning from Jamie Oliver and Jimmy Doherty. Morrisons put dodgy vegetables back on its shelves at the end of last year after it received criticism for wasting food.
How much is lost?
According to Oliver, 20-40% of quality fruit and veg produced by UK farmers is wasted, sent to landfill or used as animal feed simply because of its appearance.
As it stands, 15% of potatoes don't reach supermarkets because they are too big, too small or have blemishes, while 15% of parsnips don't make the cut because they're oddly shaped or have superficial defects.
Retailers have avoided selling wonky veg in the past because they didn't think shoppers would buy it due to its 'ugly' appearance. However, research from Asda shows that 65% are open to the idea of wonky veg and 75% are attracted to the lower price.
Fined for food waste
Earlier this month France became the first nation in the world to ban supermarkets from throwing away food, requiring that it be donated before it spoils instead.
The new law passed on 3 February prohibits throwing away or destroying unsold food, forcing them to give it to charities and food banks. Supermarket bosses of stores with a footprint of 400 square metres or more will have to sign donation contracts with charities or face a €75,000 (£53,000) fine or two years in prison.
They've also been banned from deliberately spoiling food so that people who forage through their bins won't eat it.
Campaigners who helped pass the legislation are hoping to persuade the EU to adopt similar laws across member states.
Boost the supermarket points from your regular grocery shop with a rewards credit card
The latest from loveMONEY:
9 surprising things that can affect your house price
This easy way to invest just got cheaper
The MOST EXPENSIVE dates to fly revealed
Be the first to comment
Do you want to comment on this article? You need to be signed in for this feature