Opinion: the last thing we need is the return of the car clampers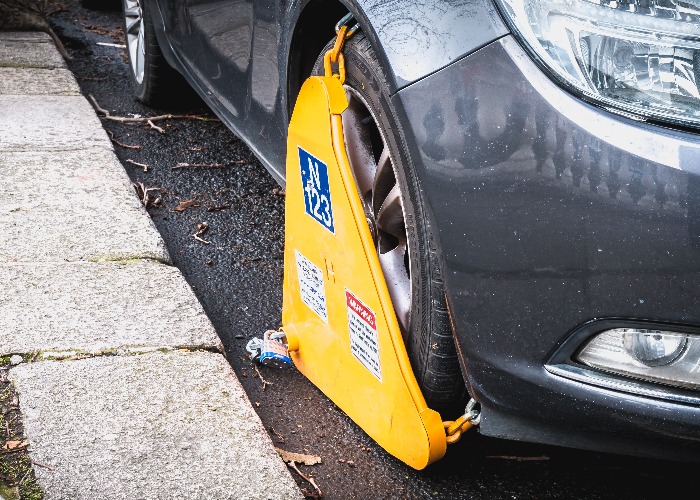 Private parking firms are lobbying for car clamping to be brought back. They need to be resisted.
You might think clamping is a thing of the past.
But the barbaric tactic could be set for a comeback, if parking firms get their way.
The practice of clamping cars was outlawed back in 2012 by the then-Coalition Government.
At the time, Lord Taylor of Holbeach, who was the minister responsible for the changes to vehicle clamping law, said that banning the clamping of cars was "common sense" and would provide drivers with protection against "rogue wheel-clamping and towing companies" who were conning drivers out of around £55 million a year in iffy charges.
The word 'rogue' is the key there.
Until the law was changed, private parking was a bit of a wild west. While you had some firms that behaved well ‒ clearly signposting the hours you needed to pay to park for example ‒ others were far less scrupulous.
The lack of regulation had allowed some firms to get away with all sorts, so some sort of action was clearly required.
And rather than introduce a dedicated regulator, the Government went the whole hog and banned clamping entirely.
Well, it tried to. But confusingly there are some areas where clamping is still permitted, as a result of old bylaws, for example at stations and airport car parks.
How to challenge an unfair parking fine
Is it on the way back?
Unsurprisingly, parking firms weren't thrilled at this development. And they have reportedly taken up arms once again to call for clamping to be reintroduced.
Last year, the Government backed a bill introduced by Sir Greg Knight MP, which would lead to the creation of an independent code of practice for private parking companies. The draft of that code is currently being consulted on by the British Standards Institute (BSI).
And it's through the responses to this consultation that parking firms are lobbying ‒ hard ‒ for clamping to be brought back.
They argue that the current system isn't working, that fines alone are not an effective deterrent against drivers who simply don't fancy paying for their parking space.
By bringing back clamping and towing, drivers will once again feel compelled to play by the rules.
The responses to the BSI consultation are no longer available for the public to view, but the AA ‒ which was one of the biggest names calling for clamping to be ditched ‒ has looked to highlight the strength of the response from these parking firms who want to be able to clamp once again.
An 'abhorrent' practice
Edmund King, the president of the AA, described clamping as an "abhorrent practice" that he had hoped was long gone, but warned the "cowboy clampers" wanted a return.
He added: "Horror stories of days gone by of enforcers requesting gold teeth in lieu of payment, clamping a hearse with the corpse in the back, holding a young child hostage until extortionate payments are made and other disgraceful acts, could be just around the corner."
It's difficult to argue with him really.
There are plenty of other options open to parking firms if they want to prevent drivers from leaving the car park without paying, from barriers to bollards. Clamping is entirely unnecessary.
And the money involved was, all too often, an absolute disgrace.
Motorists were held over a barrel, forced to cough up ludicrous amounts just to set their vehicle free, when in many cases they had not done anything wrong in the first place.
An honest mistake
According to the AA, the return of clamping isn't the only potential threat drivers face.
It noted that a host of private parking firms had also called for changes to the appeals process, removing the right to appeal from those drivers who have not updated their address details with the Driver and Vehicle Licensing Agency (DVLA).
This is clearly unfair. If you happen to be in the middle of a house move, for example, why on earth should you not have the same right to appeal as other drivers?
Getting the system right
Ditching clamping for good ‒ yes, even at train stations ‒ should only be the start though. It's clear that the current parking fine system is too confusing, while I think the AA is right in calling for an independent legal appeals service.
The vast majority of drivers want to do the right thing when it comes to parking.
So let's take the required steps to ensure that they can, and so that when things go wrong there is a transparent process in place to ensure they aren't ripped off.
Clamping needs to remain in the past.
Be the first to comment
Do you want to comment on this article? You need to be signed in for this feature