Black Friday 2020: retailers 'to offer deals all of November'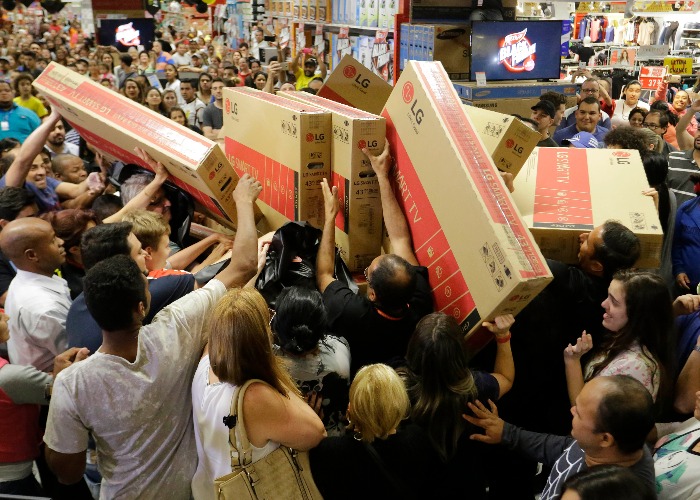 Covid-19 is causing retailers to drop the idea of a single day of sales. But that doesn't mean bargain hunters will miss out.
I was wrong about Black Friday.
I had been sceptical that it would ever take off. It is a staple of American culture, but there is at least some logic there, with it tying up with their Thanksgiving celebrations. I wasn't sure that it would really resonate as a concept over here.
But the statistics suggest I was miles off. Barclaycard ‒ which processes £1 in every £3 spent in the UK ‒ described the level of spending as "outstanding" for retailers last year, suggesting that the volume of transactions had jumped 7.2% while the amount spent had risen by 16.5%.
This has been a continuing trend, with shoppers gradually getting on board with the idea of Black Friday and upping their spending.
It's a simple enough sell really, a single day when retailers across the nation slash their prices and offer all sorts of eye-catching deals.
It's no wonder really that it would work.
Which is why it's going to be something of a shock when it doesn't happen this year.
Big purchase coming up? Here are the best 0% credit cards to help you avoid costly interest.
Shutting up shop
Black Friday as an idea is entirely reliant on the retailers taking part. After all, without them offering those juicy discounts, it's not so much Black Friday as just plain old Friday.
And it would appear that plenty of them are adopting a different approach this year, in no small part due to the ongoing uncertainty created by Covid-19.
B&Q, for example, has confirmed it plans to offer deals over a number of days, rather than just Black Friday itself, with a spokesperson adding: "All deals will be available at diy.com.
"We will be mindful of any changes in Government guidance over the coming weeks and adapt our plans as appropriate."
It's far from alone.
A spokesperson for Boots told The Daily Telegraph that it will be running deals across the whole of November, to give shoppers more time to shop and help manage the number of people in its stores at any one time.
The spokesperson also said that it was drawing up plans to help vulnerable customers check out the deals in dedicated time slots, which may be outside of the usual opening hours, rather like some supermarkets did during the initial lockdown.
Other retailers, like Matalan, have said they will be limiting their discounts to online shoppers only.
Earn while you spend with a top cashback credit card
A different world
It makes a lot of sense.
Recent years have seen a frenzy in stores, with unseemly scenes of shoppers barging each other out of the way to get to those discounted tellies and gaming consoles.
Those were shocking enough sights back when we were comfortable (relatively speaking) with being in such close quarters with other people.
But in a world of social distancing, the sheer idea of having to work your way through a shop bustling with other customers is an odd ‒ and frankly intimidating ‒ one.
Given retailers also need to show they are doing their bit to keep the pandemic at bay, then it is understandable for them to take action which will still attract the spending they need, but spread it out over a longer period, or limit the action to online where there is no need for social distancing or litres of hand sanitiser.
But the fact that we won't have a single day of sales is no bad thing. There will still be bargains to be had, if Black Friday is extended to a week or even a full month of discounts.
Retailers felt the financial pinch during lockdown and are generally rather keen on getting your business, so there will be proper discounts on offer.
However, as is always the case with Black Friday, it will pay to do your research and establish just how juicy those price drops really are.
Back in 2018 the consumer champions at Which? tracked the prices of 83 items on sale as part of the deals, for six months before the day itself and then six months afterwards.
Incredibly, 95% of the items it monitored were available for the same price, or even cheaper, in the six months afterwards. What's more, 61% of items had been cheaper in the six months leading up to Black Friday.
In other words, the fact that the item you want is on 'sale' on Black Friday doesn't necessarily mean it's cheaper on that day than at any point in the months before or after that day.
So if there's something you definitely want to buy, it pays to track its price for a while so that you recognise when it's really available at a bargain price, and not just when a retailer says it is.
Be the first to comment
Do you want to comment on this article? You need to be signed in for this feature