How to sell your car to WeWantAnyCar
If you're looking to sell your old motor, you will have no shortage of options open to you.
Some people prefer to handle it all themselves by putting up listings for the car online or in-person and then managing viewings and negotiating a price with interested buyers.
Others prefer to use a car selling service such as WeWantAnyCar, which is part of the Cox Automotive Group, a global automotive service organisation, so you should feel reassured that you aren't dealing with some chancers.
The firm promises to buy ANY car that runs, no matter the make or model, or even what condition it is in.
So, you will be able to sell cars with no MOT in place, no road tax or a car with outstanding finance.
However, even if the motor is non-running or is an insurance write-off, you may be able to sell it. The firm says that it's important to contact its customer service team to point out any such issues as its online valuation system assumes that the car is still running.
We Want Any Car states that it cannot purchase category A or B write-offs, but can purchase category C or D.
How to get the best price from WeWantAnyCar
There are certain factors involved with your car that have a big bearing on its value, but which you can't do much about, like the age and mileage.
However, the firm does pick out a couple of things you can do to boost the price you receive. These include thoroughly cleaning the interior and exterior, repairing any obvious damage, and keeping on top of the car maintenance.
Getting an initial valuation from WeWantAnyCar
There are just a few steps you need to take to get an initial valuation for your motor from WeWantAnyCar. You enter your registration plate, the mileage of your car, and then some personal details like your name, phone number and email address.
From here, you'll be asked for some basic details about the condition of the car. It's exactly what you would expect ‒ the number of previous owners, the service history, and whether it is a write off or not.
WeWantAnyCar says that it values motors by using industry trade valuation guides, and regularly reviews and adjusts its valuations in a bid to accurately reflect the current state of the used car market.
You'll be emailed the valuation, which is then valid for five days.
Can you get a better price than WeWantAnyCar when selling your car?
It can be tempting to compare the valuation you get from WeWantAnyCar with some of the listings for similar motors on private sale sites, which may be higher.
It's important to bear in mind however that achieving those prices is not guaranteed, and even if you do manage it, it's likely to involve far more work on your part.
Selling your car through a site like WeWantAnyCar, by comparison, is likely to be far more straightforward.
One extra feature to bear in mind with WeWantAnyCar is that the firm promises to match any competitor's offer once they've physically inspected your vehicle.
As a result, you should get a similar amount in the worst-case scenario.
How to book an inspection with WeWantAnyCar
If you're happy with the valuation and want to sell your vehicle to WeWantAnyCar, then the next stage is to book an appointment.
WeWantAnyCar is a mobile car buying business, so it can come to you to thoroughly examine the car and ensure that everything is as expected.
The firm advertises holding contact-free appointments, which may be particularly attractive during the pandemic.
You can enter your postcode into the website, and you'll be informed of your closest WeWantAnyCar purchaser, who will come to you to go through with the deal.
It's important to bear in mind here that you won't necessarily get the initial quote when completing the sale ‒ ultimately it all comes down to how the car shapes up in person.
However, WeWantAnyCar says that it is committed to offering the same price it quotes online so long as it receives an accurate description of the car early on.
You will need to supply certain documentation in order to go through with the deal. These include the VC5 registration document, the service history and MOT certificate.
The firm promises to provide you with full details of any documents you will need to supply after you request the initial valuation so that you can ensure you're prepared.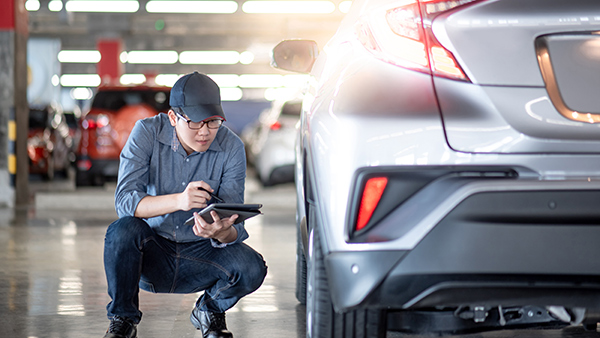 Costs, fees and charges when selling on WeWantAnyCar
Once the inspection has been carried out and you are happy with the final offer provided, you will be paid through an instant bank transfer.
You will need to provide your banking details to the purchaser during the appointment so that the payment can be arranged.
The purchaser will then stay with you until the funds hit your bank account.
Getting a quote, or even an appointment in person, is free and you are under no obligation to go through with the sale.
There is an administration charge in place for the sale, which varies based on the final price that WeWantAnyCar pays for your motor.
There is no charge for purchases of up to £100, a fee of £58.75 for purchases of up to £4,999 or a fee of £78.75 for purchases above £5,000.
Need to borrow to pay for your next car? Check your finance options with CarFinance247
Once you've sold your car
It's important to notify the DVLA after you sell your car. You can do this online or by tearing off the bottom section of your V5C document and sending it to the DVLA, saying you've sold the car.
Doing so may mean that you receive a tax refund for the car tax you've paid, while it also means you avoid being held responsible for any future penalties involving the car.
It's also important for you to tell your car insurer that you've sold the vehicle as soon as possible.
Selling your car online: all your options explored
*This article contains affiliate links, which means we may receive a commission on any sales of products or services we write about. This article was written completely independently.