HMRC fake grant scam: tax mail claims self-employment 'grant' has been approved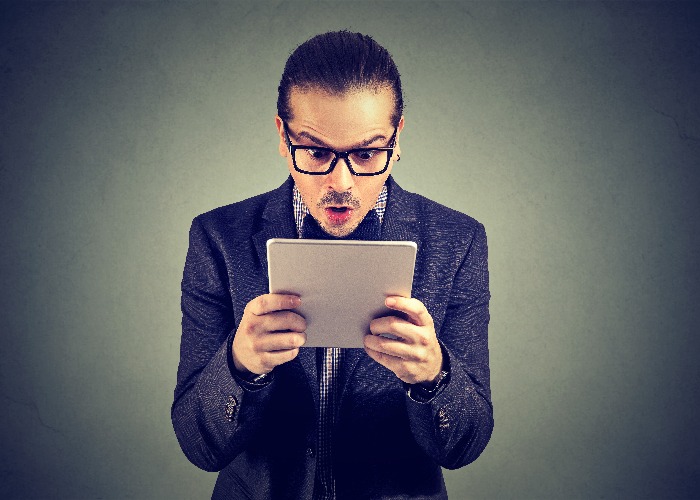 Scammers are targeting those signing up to the Self-Employment Income Support Scheme by falsely claiming their grant has been approved.
Scammers are attempting to trick millions of people into handing over their personal information by falsely claiming their Government grant has been approved.
Two million people have applied for the Self-Employment Income Support scheme since lockdown was enforced, meaning many self-employed might be expecting to hear news about their grant.
We received one fake email over the weekend claiming to be from HMRC, but the first sign its fake is the email address that follows – hmrcs@hm.com is clearly not an official mail.
It goes on to claim in the subject line that "You have a grant for 3650GBP"
As with any classic phishing scam, to claim your grant/prize/bonus/voucher you just need to click on a link (which is controlled by the criminals) and share your personal information.
This will then be used to either empty your existing accounts, set up new accounts in your name, or simply be sold on the dark went to other criminals.
Below is the screengrab of the scam we received. In case you can't read it, we've typed it out in full beneath the image.
To be clear, there could be different variations doing the rounds – this is just the one we've come across.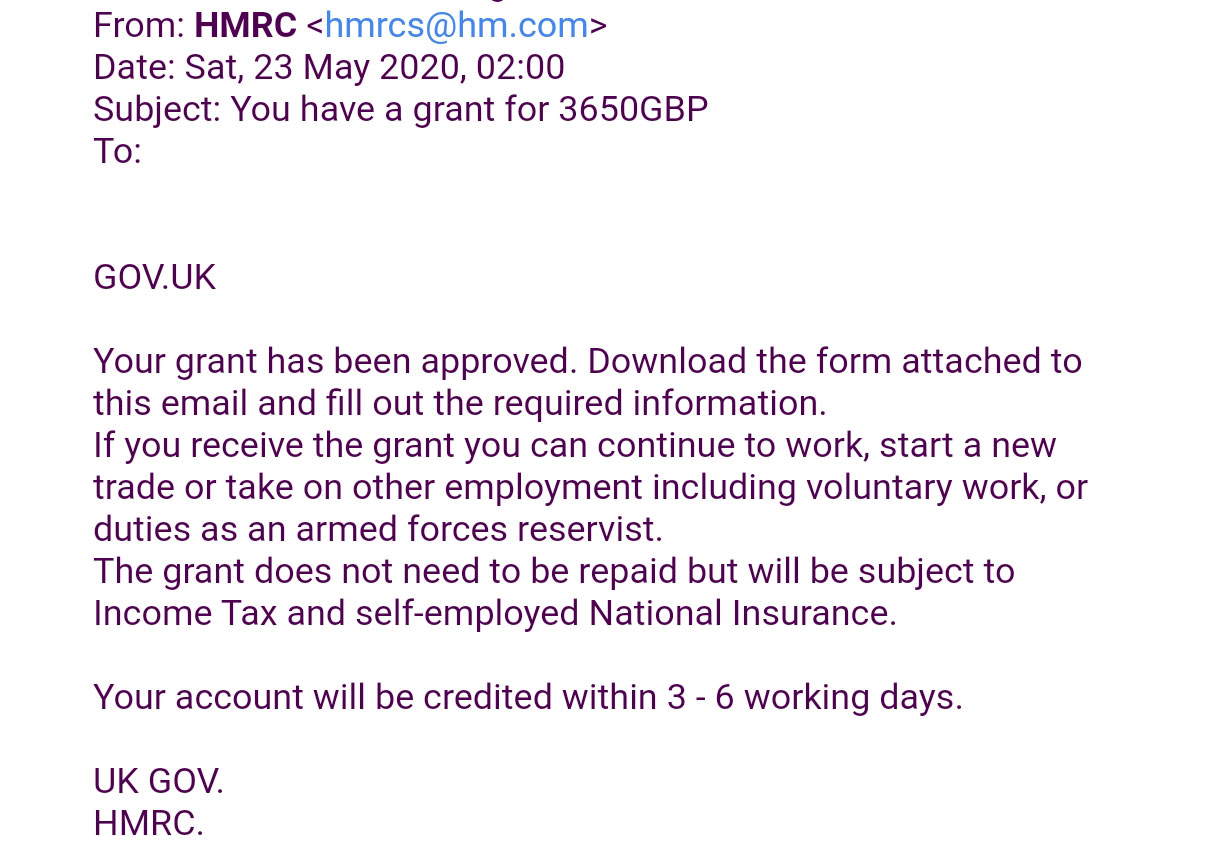 Gov.UK
Your grant has been approved. Download the form attached to the email ad fill out the required information.
If you receive the grant you can continue to work, start a new trade or take on other work including voluntary work, or duties as an armed reservist.
The grant does not need to be repaid but will be subject to Income Tax and self-employed National Insurance
Your account will be credited within 3-6 working days.
UK Gov.
HMRC.
If you do click on the attachment – which you absolutely should not do – it will open up the page below that aims to harvest an incredible amount of information about you.
How to tell the grant offer is fake
While it can be tempting to believe you have qualified for a much-needed grant, you can be certain this isn't a fake HMRC/tax mail for the simple reason that the taxman never informs you of rebates, refunds or grants by email.
It will write to you instead.
As it says on its site:
HMRC will never send notifications by email about tax rebates or refunds.
Do not:
visit the website
open any attachments
disclose any personal or payment information
Fraudsters may spoof a genuine email address or change the 'display name' to make it appear genuine. If you are unsure, forward it to us and then delete it.
So there you have it. If you're really unsure whether a mail is genuine, look up the taxman's contact details separately and someone will eventually respond and confirm.
IMPORTANT: Check https://t.co/oFsngOrqVM for information on how to recognise genuine HMRC contact and how to avoid and report scams https://t.co/jl1SM8otVL pic.twitter.com/vVpN4jTdRp

— HM Revenue & Customs (@HMRCgovuk) May 19, 2020
Watch out for more pandemic-related scams
The Coronaviurs outbreak had had a devastating impact on so many people's lives (though let's not forget the small nuggets of good news we've come across) and ruthless criminals have viewed this as an opportunity to take advantage of scared or vulnerable people.
Be sure to stay on top of the latest Coronavirus scams and trends with this guide. Stay safe!
Be the first to comment
Do you want to comment on this article? You need to be signed in for this feature