Nationwide mobile banking app review: what's it like for account holders?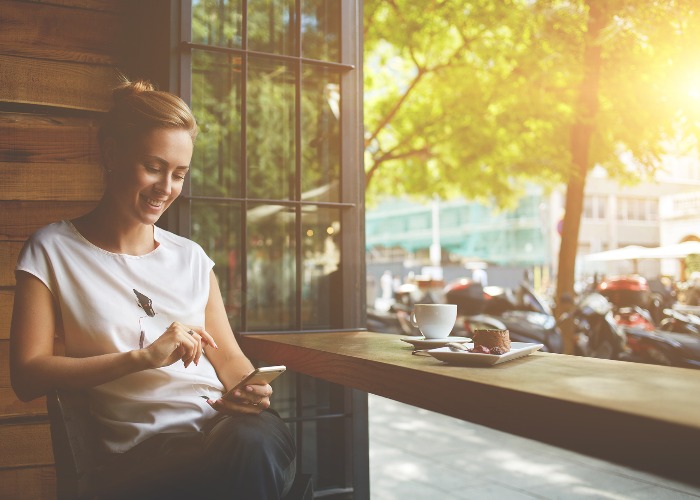 Discover how the Nationwide banking app stacks up on security, logging in and more.
If you're thinking of switching your current account to Nationwide, you'll probably want to factor in how good the mobile banking app is before you decide.
When it comes to finding a new current account, the mobile banking app experience is increasingly one of our top priorities.
We take a look at the Nationwide mobile banking app to see what it has to offer when it comes to features, security and more.
Why Nationwide?
While Nationwide has recently cut its interest on the FlexDirect account and paused its Recommend a Friend scheme, there are many reasons why you should consider the building society.
In a recent customer survey, Nationwide came third place for overall quality of service, which may be part of the reason why it is popular with switchers.
And compared with other banks, Nationwide has noticeably fewer IT issues.
Who can get the Nationwide app?
The Nationwide banking app is available on the Apple App Store and Google Play, allowing you to use it on the iPhone, iPad and Apple Watch, as well as Android smartphones.
Nationwide Start to Save: regular saver account with the chance to win £100
What you can see
When you log into the app, you should be able to see your account details, bank balance and the amount available. When you click on an account, it will reveal recent transactions.
The first page also reveals a warning against fraud and flags other products that might be useful, such as savings accounts, credit cards and personal loans.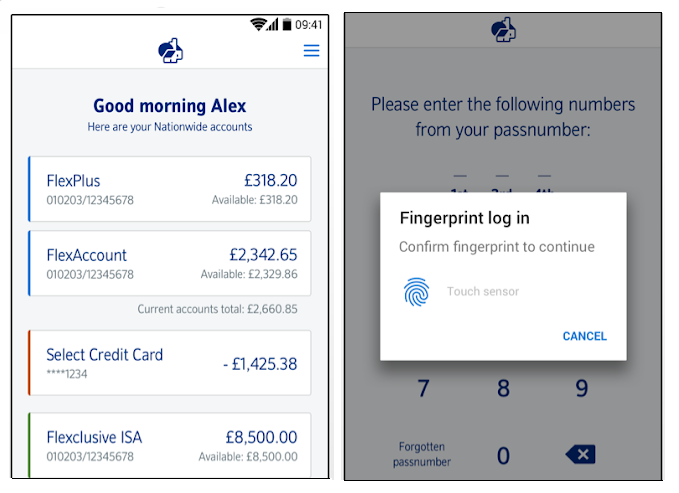 What you can do
The Nationwide mobile banking app allows you to:
View any accounts, including savings, loans, mortgages, credit cards and current accounts;
Check your balance and transaction history;
Compare your income and outgoings at a glance;
Pay bills, transfer money to friends and family or set up a standing order;
Create a savings goal to find out how much you need to save;
Check pending transactions;
Quickly transfer money from a current account to a savings account;
Search for transactions;
Set up text alerts to help manage your money;
Freeze your debit card or report it as lost or stolen.
What we like
Here are a few things we like about the banking app.
Flexibility when logging in
With Nationwide, you can choose to enter parts of your passcode or log in quickly and securely using your face or fingerprint.
If you want to quickly check your balance, you don't even have to log-in (although you'll need to set this feature up first).
It's easy to compare income and outgoings
One of the handy features of the Nationwide app is that you can see exactly how much you've spent compared to how much has been paid into your account over a specific period of time.
This information is simply laid out, so it's easy to quickly figure out whether you've spent too much.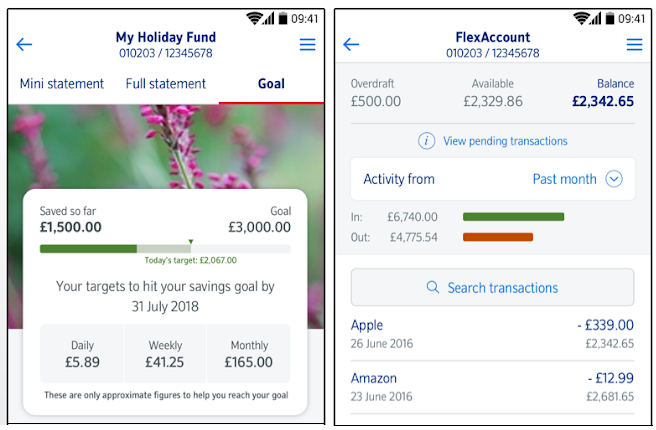 The app encourages fraud awareness
When you log on, Nationwide advises you to protect yourself against fraud (specifically warning about phishing emails and cold calls) with a link to security tips, so you can stay safe.
Unfortunately, scammers are constantly thinking of new ways to trick people out of their cash, so this upfront warning will hopefully make people more aware of their tactics.
It's also worth flagging that you can't take any screenshots in app, making it more secure.
It's easy to freeze your card
If you don't know where you card is, you can easily freeze it.
This feature stops all card transactions but not any recurring payments, Direct Debits, standing orders or payments via Apple or Google Pay.
If you find the card, you can unfreeze it, but if it's lost and stolen, you can also report this in the app.
Savings Goals
If you want to save up for that special holiday or event, you can set up a fund with a target amount in mind via Savings Goals.
Nationwide will then tell you how much you need to put away daily, weekly or monthly to reach your goal by a specific date.
Best and worst banks: Monzo, Nationwide, Lloyds the big winners as customers ditch Halifax
What we don't like
Nationwide's banking app is impressive, but there are a few things that could be improved.
Design
Nationwide's app has great features and a clean interface, but some people might be disappointed by the lack of colour and overall design when compared to the likes of Monzo.
For example, while you can figure out how much you spent easily, it doesn't offer a breakdown of where you spent it in the same graphic.
Getting in touch
Nationwide offers many ways to get in touch, but these are not in-app and will instead link you to external pages.
It would be a lot easier and quicker for customers to get in touch via the app, especially considering the number of features and products available.
What other customers think
Google Play store rating: 4.6/5
Apple App Store rating: 4.8/5
What do you think?
Have you got Nationwide's banking app? Share your likes and dislikes in the comment section below.
Be the first to comment
Do you want to comment on this article? You need to be signed in for this feature