Tesco launches Aldi price match promise: will you save?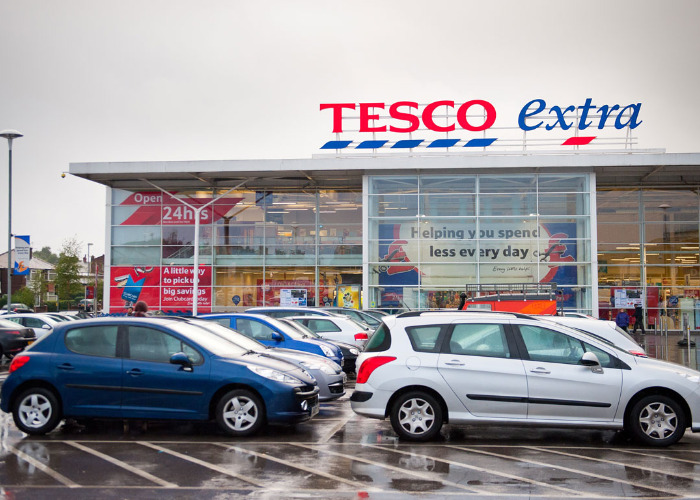 Hundreds of items included in price match initiative, including some branded products in a move that should benefit many Tesco regulars.
Tesco has launched a new price match initiative in a bid to lure customers from its rival Aldi.
The supermarket giant said that it will be checking the prices of the included products so that they are offered at the same price as shoppers would get if they popped to Aldi instead.
The new scheme is now up and running. Shoppers can spot the included items as there will be what Tesco describes as a "distinctive Aldi Price Match red bubble with a large tick" displayed at the shelf edge.
The price match items will also be highlighted online, so if you don't fancy heading to your local store you should still be able to identify them easily enough.
In-depth: how Aldi is taking over the world
What's in the price match?
So what items will Tesco be price matching against Aldi as part of this initiative?
Tesco has said it has focused on products that are 'important' to its customers, so that they can make 'healthy, hearty family meals for less'.
And to fair, there are plenty of big shop staples included in the list of price match products. Here is just a few of them, with their current price:
Lean beef steak mince (500g) ‒ £1.99

Nightingale Farms baby plum tomatoes (250g) ‒ 72p

Whole cucumber ‒ 57p

Redmere Farms mushrooms (380g) ‒ 82p

Iceberg lettuce ‒ 62p

Maris piper potatoes (2.5kg) ‒ £1.95

Pre-pack broccoli ‒ 57p

Microwave basmati rice (250g) ‒ 45p
It's not just own-brand items in there either.
For example, Silver Spoon granulated sugar and PG Tips tea bags are also included in the hundreds of items that will be monitored in the price check
Tesco explained that the products in the campaign may vary each week, with prices compared to similar deals in Aldi stores twice a week.
You can keep track of the included items on this page of the Tesco website.
While the initiative is available in normal Tesco stores, it won't be on offer in Tesco Express stores.
Tesco regular? Top tips to save every time you shop
Is this a fair comparison?
Of course, the vast majority of items that are covered by the price check are Tesco's own-brand products.
So if you only buy branded items ‒ if you only go for Heinz when you need baked beans for example ‒ then you're unlikely to see any great change in the size of your bill at the checkout.
But there's also going to be a difference in terms of the actual quality of the items being sold.
Aldi's own label items are highly thought of ‒ it won the best own-label brand at last year's The Grocer awards, beating off competition from all of the big supermarkets in the process.
And all sorts of individual items from its own range picked up awards in their own right, from the salami and smoked cheese selection to its creme brulee.
The point is that Tesco's own brand spaghetti is not the same as Aldi's, and just because you might assume a product is going to be a higher quality because it's being stocked by Tesco rather than Aldi, the reality may not actually bear that out.
9 in 10 loveMONEY readers left cold by Tesco's Clubcard Plus launch
We had a plan to price match Tesco but we didn't want to put thousands of prices up… pic.twitter.com/LRolh2HMOu

— Aldi Stores UK (@AldiUK) March 6, 2020
Treading on Jack's toes
It's also important to remember that Tesco has already attempted to move into this market through the launch of its chain of Jack's stores.
The whole selling point of Jack's is that it's a more budget-friendly outlet, and was created with the intention of appealing to the exact sort of shoppers that have deserted Tesco and started using the deep discounters.
But if Tesco itself is trying to tap into the big discount market, then just what is the point of Jack's?
Tesco has already pulled the plug on at least one Jack's store, turning the outlet in Rawtenstall in East Lancashire into a regular Tesco.
Making things easier for shoppers
As a family, we've shopped at Aldi a few times. And while certain items have been substantially cheaper than at Tesco, at no point were we able to get everything on our list there.
So while we saved a bit of money, we ended up having to make two separate trips to the supermarket. For us, the saving wasn't worth the added time taken to actually finish the shop.
But offers like this price match mean that people who currently split their shop between both may be able to stick to just Tesco, while also potentially saving regular Tesco shoppers a few quid.
There's no question that the supermarket giant is targeting such shoppers with their new price blitz: that's why it's put the message 'save yourself a trip' front and centre of its marketing material (see image higher up this article).
Only time will tell if it succeeds in stemming the tide of shoppers giving the deep discounters a try. Most likely it will all come down to what products are included, but it strikes me as a sensible first step.
What do you think? Is the price match good news for Tesco shoppers or merely a PR stunt? Will you change your shopping habits as a result? Let us know your thoughts in the comments section below.
Be the first to comment
Do you want to comment on this article? You need to be signed in for this feature