Tesco opens budget store called Jack's: can it rival Aldi and Lidl?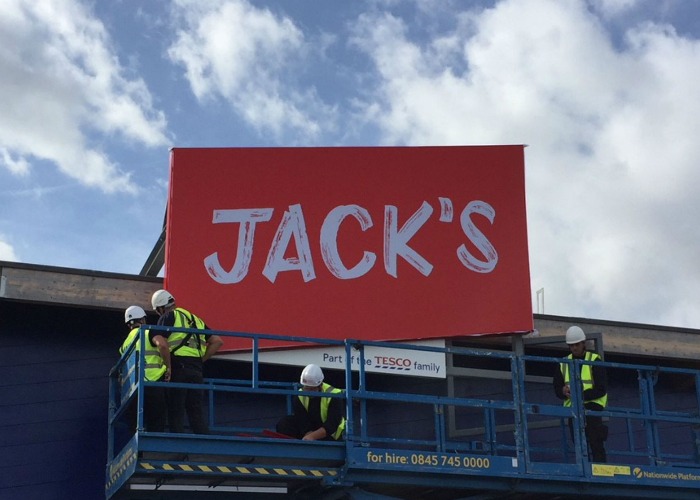 We visited Tesco's new budget chain, which markets itself as cheap and championing British produce. Here's how its range and prices stack up.
Tesco has launched a new budget supermarket chain it hopes will rival Aldi and Lidl.
Named Jack's after Tesco's founder Jack Cohen, the new stores will have a more limited range of largely own-brand products, with "the "intention for us to be cheapest in town", according to Tesco CEO Dave Lewis.
Jack's is officially launching its first two stores in Chatteris and Immingham on Thursday, with the aim to open 10-15 stores – a third of them repurposed Tesco branches – by the end of the year.
loveMONEY got a sneak peek at the Chatteris store and the new range of products.
Earn cashback when you shop with these credit cards
You can still find a few well-known brands on the shelves #jacks #Tesco @lovemoney_com pic.twitter.com/WHoStHQlj5

— Sam Richardson (@SamRich91) September 19, 2018
How is Jack's different to Tesco?
Jack's has a far more limited range than Tesco and is two-thirds own-brand goods, although you'll find some well-known brands such as Lea & Perrins, Cornflakes and Roses.
There's a strong emphasis on British produce, with eight out of 10 items grown, bred or made in the UK, including all the fresh meat and milk.
Crucially, Tesco Clubcard collectors should be aware that you can't earn or spend Clubcard points at Jack's.
What about price?
Prices are intended to be competitive with Aldi and Lidl and on par with the own-brand ranges in Tesco stores.
A loaf of pre-sliced white bread is 45p; broccoli 39p; a six-pack of apples for 59p; lean beef mince (500g) is £3.15; a whole chicken costs around £2.50; free-range eggs for 80p and 4 pints of milk for £1.09. Jack's fresh five vegetables selection rotates every two weeks.
So how do these prices compare?
| | | | | |
| --- | --- | --- | --- | --- |
| Item | Jack's | Tesco | Aldi | Lidl |
| Whole chicken (per kg) | £1.60 | £1.60 | £1.67 | £1.83 |
| Lean beef mince (500g) | £3.15 | £3.39 | £3.15 | N/A |
| Free range eggs 6pk | 80p | 89p | 69p | 90p |
| Semi-skimmed milk 4 pints | £1.09 | £1.09 | £1.09 | £1.09 |
| White sliced bread | 45p | 36p* | 36p* | 49p* |
| Broccoli (per kg) | £1.12 | £1.57 | N/A | 98p** |
*800g loaves: Jack's sells a 440g loaf
**on deal; usually £1.36
Going by this very basic comparison, it seems Jack's will be reasonably competitive with the German discount giants.
Also, don't forget to take a bag, or buy one for 10p or 55p in store. Jack's say customers will be able to choose between four local charities and community groups to benefit from its 'Jack's Supports' scheme to fund local projects using the money raised by the sale of carrier bags.
Earn cashback when you shop with these credit cards
What does Jack's look like?
Jack's is slightly smaller in size than Tesco superstores and relatively plain.
You'll find a bakery and florist section - which Aldi tends not to have - but no deli counters, clothes or mobile phones.
Like Aldi and Lidl, and unlike Tesco stores, in Jack's you'll find a 'when it's gone, it's gone' aisle full of high-value electronics, toys and other items.
'When it's gone, it's gone': clearly some Aldi/Lidl influence in this aisle #jacks #Tesco @lovemoney_com pic.twitter.com/YJd9iy5Adq

— Sam Richardson (@SamRich91) September 19, 2018
These will be renewed every four weeks, depending on what Jack's is able to source cheaply. When we visited Chatteris we found an HP Laptop on sale for £125; a Dyson Vacuum Cleaner for £200 and a Sharp Sound Bar for £55.
Jack's differs from Aldi and Lidl however in having multiple checkout options, including manned tills, self-checkout kiosks and the ability to check out using the ShopSmart smartphone app (Sainsbury's is also trialling app-based payments).
Read more: Tesco shopping tricks, tips and hacks to save money.
Should I give Jack's a go?
Tesco believes that they can beat Aldi and Lidl by combining their wide range of suppliers with a cheaper store format.
Only time will prove if Jack's stores are consistently cheaper than the German discounters.
It's interesting that as Aldi begins to move into more luxury products, Jack's will focus on remaining cheap and British-sourced, Tesco CEO Lewis told loveMONEY.
However, given that only 10-15 Jack's stores will be open by the end of the year, it'll be some time until most shoppers have a chance to try one.
Get the best supermarket prices with loveMONEY's deals round-up, every Friday.
Be the first to comment
Do you want to comment on this article? You need to be signed in for this feature