How signing up for a Sky package went disastrously wrong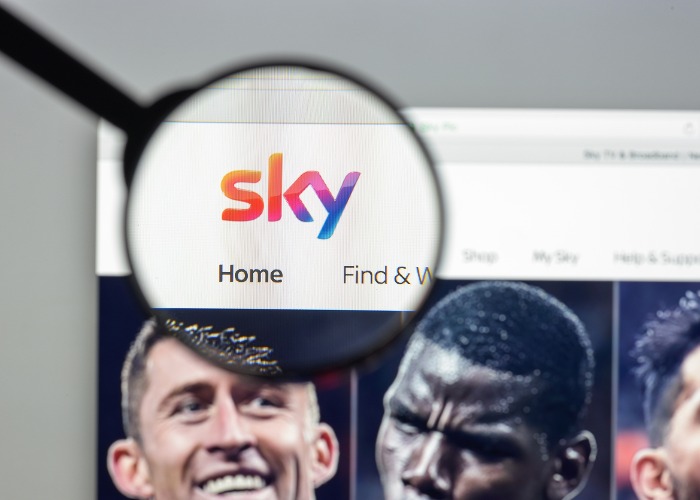 Following a battle with Sky to get a broadband, TV and phone package installed, Sue Hayward reveals what went wrong and how it was resolved.
Giving up and throwing in the towel is never usually an option for me.
If I don't get what I pay for, or feel I've got a genuine complaint, I'm happy to keep pushing on until I get a result.
But after two months of hassle with Sky, endless wasted hours on the phone, and constant mistakes and problems, I reached the point where I was prepared to give up and admit defeat in my battle with customer service.
My original plan way back in early September seemed simple enough after I finally left Virgin Media following the end of my broadband contract.
I wanted a 'bundle' deal with broadband, TV and phone for less than I was currently paying.
So, when I found a deal on Sky's website at £39 a month for the lot, including superfast broadband and a Sky Q box, I picked up the phone.
I spoke to a friendly chap and we agreed the advertised deal, along with a £20 set up fee, which was much lower than the advertised set up charges.
Given Sky was recently revealed to have the fewest complaints (from broadband customers), I was sure I was onto a winner.
Fed up with your broadband service? Search for a cheaper deal with BroadbandGenie
'I've had over 40 emails from Sky'
As we already have Sky TV and landline in our house, we were halfway there already.
I was given a date when the broadband would be activated and told that once this was done, I would get a call to arrange an installation visit for the Sky Q box.
But since my initial call, I've had over 40 emails from Sky; many with conflicting and confusing information regarding charges and changes.
I've had date changes for broadband activation, two Sky Wi-Fi hubs, (neither of which are for superfast broadband) and nightmare billing problems.
On top of this, there was a total 'no show' by the engineer on the agreed installation date.
How to cut the cost of your Sky TV, broadband and phone bills
£100 compensation – but the job's not done yet
Over the last two months, I must have spent over six hours on the phone to Sky call centres.
I've spoken to more people than I can count from different departments, including recovery, values, billing and TV help, field support and TV technical.
I've also had three lots of compensation payments at different stages, worth a total of £100 – yet still the job isn't done.
Opinion: time to stop accepting poor service and complain more
What went wrong?
I'm sure each person I've spoken to has really tried to help, but the frustrating thing is there's often a vague explanation as to what's gone wrong, coupled with a promise that things will be sorted.
On ringing to ask about the broadband activation date, I was told the order had 'failed.'
The spiralling bills were a 'mistake' as a 'special code' hadn't been applied for our new package and when I rang about the missed installation visit, I was told, 'the visit can't go ahead' which was hardly helpful.
Martyn James, spokesperson for complaints resolution service Resolver, said service issues, billing and customer service are the biggest areas of customer complaints when it comes to broadband suppliers.
"Part of the problem lies in the failure of firms to empower staff at the front end to solve a range of problems, as often the focus is on getting people off the phone as quickly as possible to meet targets," comments James.
Yet according to Resolver, the number of people making 'multiple complaints' about their services and billing has more than doubled over the last two years.
Compare broadband deals with Broadband Genie
Why I was ready to give up
The hours I've wasted on the phone during my working day only to hear broken promises have left me feeling frustrated and angry.
And after the 'no show' installation visit earlier this month, I decided it was time to give up.
By then, the bills were finally in line with the agreed deal, broadband was working, (although not 'superfast'), as well as the existing landline and TV package, with the old Sky box.
So, it was time to move on and forget about the promise of superfast broadband and the installation of a Sky Q box.
Fed up with your broadband provider? Search for a cheaper deal with BroadbandGenie
£229 charge for a missed visit
But my Sky nightmare wasn't over yet.
A whopping charge of £229 appeared on my account overnight as an 'installation fee' – despite the missed installation.
I could hardly bear to pick up the phone again, but with £229 at stake, doing nothing just wasn't an option.
Another call and an apology later, the charges were scrapped and a 'priority' installation visit was arranged for two days later.
Thankfully, the engineer turned up on time, fixed the Sky Q box and after taking a look at the two Wi-Fi hubs confirmed they definitely weren't the ones for superfast broadband.
The UK's best and worst broadband providers
What is Sky's response?
As I'm now sharing my sorry little saga, it was only fair to ask Sky's press office whether this was typical customer service or had something gone horribly wrong?
A Sky spokesperson responded: "We are sorry for issues that you experienced, which were caused by human error.
"These errors led to your order being delayed and we have taken immediate steps to address any issues and prevent a recurrence.
"We are pleased that your service is now up and running."
Well technically, the services are 'up and running', but right now we still don't have the right kit for superfast broadband.
Since my contact with the press office, I've had a call from 'customer priority' who sent out the right hub, which is only slightly faster than the previous one.
Fed up with your broadband provider? Search for a cheaper deal with BroadbandGenie
*This article contains affiliate links, which means we may receive a commission on any sales of products or services we write about. This article was written completely independently.
Be the first to comment
Do you want to comment on this article? You need to be signed in for this feature