The UK's best and worst broadband providers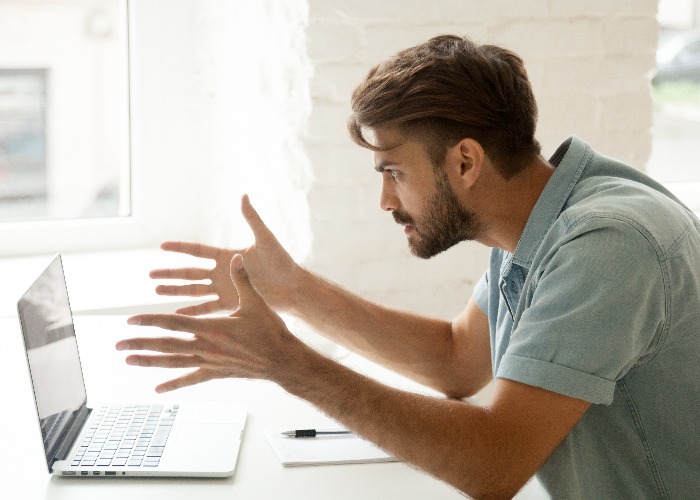 Vodafone has retained its crown as the UK's worst broadband provider, while EE replaced Sky as the best. We look at how the major broadband firms compare in the latest Ofcom complaints tables.
Vodafone racked up the most official broadband complaints for the fourth quarter running, latest figures from Ofcom have revealed.
Almost a third (31%) of Vodafone's complaints related to faults, service and provisioning issues, the regulator said.
"The other main drivers of Vodafone's complaints were issues relating to changing provider (23%), complaints handling (22%) and issues relating to billing, pricing and charges (21%)," it added.
At the other end of the scale, Sky was knocked off the top spot for the first time in more than two years as EE generated the fewest complaints from their broadband customers.
Crucially, the complaints figures only cover the first three months of the year.
Given that the country only went into lockdown in late March, they don't provide much insight into how many complaints have been generated once most people started working from home.
Instead, we'll have to wait until the winter to get a full picture of how broadband firms fared when broadband suddenly became even more important to millions of households.
Want to switch to a cheaper deal? Compare prices in your area with Broadband Genie
How the best & worst firms are ranked
Every quarter, Ofcom provides its breakdown of complaints per 100,000 customers that each major provider attracts.
As the figures take the regulator quite a while to put together, the tables below only cover the three-month period from January to March 2020.
If your provider features near the top, or you simply want a cheaper deal, make sure you compare broadband deals in your area today.
It's straightforward and you could save hundreds, especially if you opt to bundle your broadband with your landline and pay TV provider.
As a final point, while the figures might suggest a low number of complaints, it's worth remembering these are issues that have been escalated to the regulator because customers have been unable to get their issue resolved directly with their provider, as loveMONEY regular Mars Express points out in the comments section.
The actual number of unhappy customers will be far higher than this as these are only the documented extreme cases.
Slow broadband connection? Try these seven steps to boost your speeds.
Complaints ranked from least to most
UK's worst broadband providers
Vodafone generated 23 complaints per 100,000 customers in the first quarter of 2020.
While this means it remains the most complained about broadband firm, its total did at least drop from the 27 complaints per 100,000 racked up in the previous quarter.
TalkTalk customers were the second unhappiest, with complaints about the firm rising from 19 to 22 per 100,000 in the January to March quarter.
In joint third on the list of most complained about providers were Plusnet and Post Office on 16 per 100,000.
Your rights if your broadband connection goes down
UK's best broadband providers
There was a big change at the other end of the league table, where Sky finally lost its title as the broabdand firm with the fewest official complaints.
For many, many quarters now the firm has either been comfortably first or joint first, but EE has now claimed top spot outright.
The provider generated just three complaints per 100,000 customers, the lowest number achieved by any firm in more than seven quarters.
That meant Sky was demoted to second place (interested in joining Sky? Check out the latest deals here) as complaints increased slighty from five to six per 100,000.
BT retained third place, with it's total of 12 complaints per 100,000 matching the overall industry average.
Below are the results over the past six quarters to give you a clearer picture of how well (or not) the various broadband providers treat their customers over time.
Check out the latest deals from Sky, including broadband, TV and landline offers
Complaints to Ofcom per 100,000 customers
| | | | | | | |
| --- | --- | --- | --- | --- | --- | --- |
| Provider | Q4 2018 | Q1 2019 | Q2 2019 | Q3 2019 | Q4 2019 | Q1 2020 |
| | 20 | 24 | 23 | 22 | 19 | 22 |
| | 43 | 31 | 26 | 22 | 20 | 16 |
| | 18 | 15 | 12 | 13 | 10 | 12 |
| | 13 | 10 | 16 | 20 | 14 | 13 |
| | 9 | 5 | 6 | 5 | 5 | 3 |
| | 5 | 5 | 5 | 5 | 5 | 6 |
| | 25 | 30 | 30 | 26 | 28 | 23 |
| | 8 | 8 | 7 | 10 | 13 | 16 |
| Industry average | 15 | 13 | 13 | 14 | 12 | 12 |
Should you switch even if you're happy?
The above figures give you a good idea which firms have the worst track records for treating customers fairly.
But even if you are with one of the better performers, it's seriously worth considering switching if you've been with them for more than a couple of years.
Why? Recent research has highlighted how broadband firms are charging existing customers the best part of £200 a year more for the identical service being offered to new customers.
So even if you're happy with your service, you should still ensure you aren't getting ripped off by regularly shopping around for cheap broadband deals.
Which are the best and worst telecoms firms?
So, there you have it, your round-up of the UK's best and worst broadband providers.
Find out which other telecoms firms you should be dodging by reading The UK's worst pay TV provider, The UK's worst home phone provider and The UK's best and worst mobile networks.
*This article contains affiliate links, which means we may receive a commission on any sales of products or services we write about. This article was written completely independently.
More on phone and broadband:
The cheapest and best broadband deals
How to save money on your BT phone, broadband and TV deals
How to cut the cost of your Sky TV, broadband and phone bills
Be the first to comment
Do you want to comment on this article? You need to be signed in for this feature