Fake jobs: the scam that makes you work for free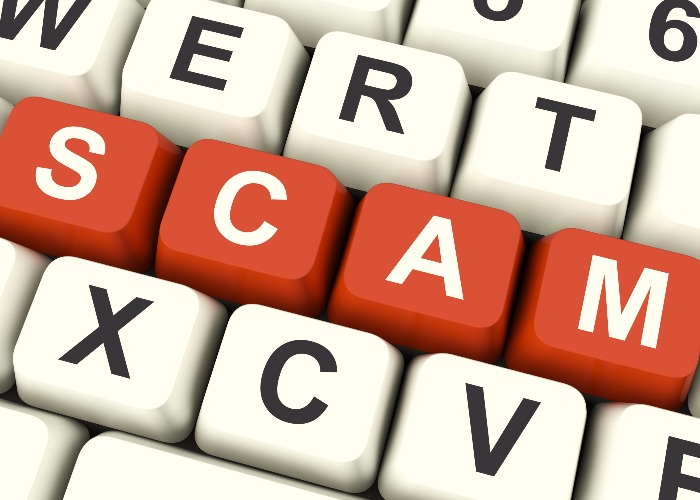 The fake jobs, which often appear on Facebook and Gumtree, promise easy money then steal your time. We caught up with a victim to talk about her experience at the hands of scammers.
"Please be careful, SCAM ALERT!" read a message on one of my local Facebook pages recently.
The warning came from a woman who had fallen for a particularly cruel job scam; one that said she could make decent money from home just using her computer.
It was a lie and the victim, let's call her Sarah (although that is not her real name) had, in fact, spent a week carrying out work for a fraudster.
Fortunately, this was not a fraud where the criminal demanded money up front in return for the opportunity. But it was still a fraud and one that meant she gave a lot of her time helping the scammer without receiving a penny in return.
And this is particularly cruel as there are an awful lot of people looking for opportunities to work from home these days – and an awful lot of people trying to exploit them.
Now read: How new technology is helping scammers
The sting
Rising living costs and the high price of childcare means that more and more parents, in particular, are being forced to seek work they can do around their school runs.
And older retired people whose savings aren't earning much and who are also being hit with higher living costs are often also trying to find well-paid work they can carry out from home.
It's a rich seam for fraudsters who know that the more desperate people are to earn some money, the easier it is to lure them in with the promise of cash.
That's what happened here. The victim was a mother, anxious to earn some extra money in a flexible way. The advert was on Facebook – "earn money from home, no investment needed, use your PC".
Now read: The biggest scams of 2017
When she contacted the poster she immediately received a reply: "Hello, we are a real estate agency London Executive." Important point – they are not.
"So the job is to put the apartment ads on Gumtree. That's £30/ad (so 2 ads per day from Monday to Friday) that will be paid every Friday of the week by paypal."
In fact, the scammer was not paying anyone, they were exploiting people. Once Sarah had spent a few days working for the scammer she asked about payment and they simply blocked her.
The backlash
I've spoken to this particular victim and seen the messages exchanged with the scammer. I've seen her increasing desperation as she began to realise she was not going to get the £230 she had earned by that point.
Sadly, I have also seen the mockery that similar victims are exposed to when they try to speak out about what has happened to them.
Because of that, the victim here has asked to remain anonymous in this article but she has spent a lot of time attempting to warn others on Facebook.
I've said in the past that we need to stop blaming victims of fraud, especially when they are good enough to try and warn other potential victims.
Yes, in many ways the idea that you could earn £60+ a day posting a couple of adverts on Gumtree and other classified websites is far too good to be true.
However, to someone who needs a reasonable income but can only work in between dropping the kids off and picking them up, this could seem like a lifeline.
And that is why people are easy to fool – not because they are stupid but because they are hopeful.
The reason
While the scammer may not be tricking their victims like Sarah into giving them money, they're earning some cash somewhere.
From looking into this scam I can see that the actual end result varies.
Some appear to be making money by actually posting adverts but exploiting other people by getting them to do the actual legwork (and often setting them up to be banned from the classifieds websites).
Worryingly, some appear to be using the would-be worker to harvest and post existing adverts but with different contact details, meaning the scammer is trying to steal money from people who want to rent the properties.
Now read: Common email scams and how to spot them
And, of course, many, many such scams work by demanding the would-be worker pays a fee upfront in order to take part in the money-earning opportunity.
There are many different scams operating in many different ways. Sarah was fortunate that her scammer did not try to get money out of her, but she still lost many hours of work to the crook and may have inadvertently helped other people get scammed.
It's really essential to stop and question any online opportunity, and to search the web to see if anyone has a positive experience to report.
Most importantly, if it sounds too good to be true then it is. Don't let hope trump sense.
Cutting the head off the Hydra
At time of writing, the scammer who exploited Sarah has had their Facebook account deleted.
But it is not exactly hard to set up a new Facebook identity with different names and to continue scamming people like Sarah. People who just want the chance to earn some cash while their kids are at school.
We need to spread the word and encourage people to take five and really consider whether an opportunity is genuine or if they are being scammed.
UPDATE: Responding to our article, a Gumtree spokesperson said: "User safety is our top priority and we are sorry to hear of Sarah's experience.
"We work closely with SAFERjobs, an organisation which tackles jobs fraud, and assist law enforcement agencies with their investigations.
"We have a dedicated Advice Guide on our Help Centre at help.gumtree.com and we urge anyone who finds themselves a victim of a job scam to contact us immediately, and report it to the police and Action Fraud."
Have you spotted similar scams? Are you confident that you and your friends would not be taken in by them? Have your say using the comments below.
Be the first to comment
Do you want to comment on this article? You need to be signed in for this feature