Flood Re: why insuring a flood-risk home still costs a fortune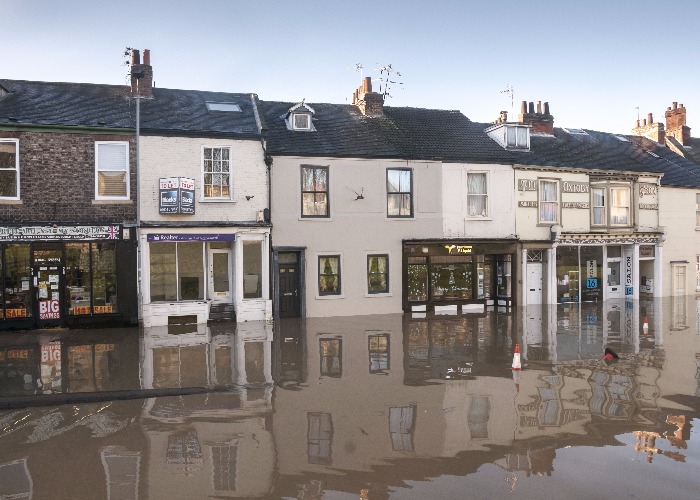 The Flood Re scheme is supposed to help keep costs down, so why am I paying more than ever for home insurance?
As I wrote last year in Flooding: my insurance nightmare, sorting out home cover is a tortuous experience for me.
Because my property flooded back in 1947 and we have a little brook over the road, insurers are apparently open-mouthed in horror at the prospect of covering my home.
This time last year, when the time came to arrange my home insurance, I had to take a punt.
As Flood Re had not yet launched, I couldn't find an insurer that would offer cover against the risk of the property being flooded.
I finally found a policy costing less than £300, albeit without flood insurance, but with the promise that things would be different in 2017 once Flood Re was up and running.
Now that it's time to renew, you'll be shocked to hear that hasn't turned out to be the case…
Cut your monthly bills by shopping around for a cheaper mortgage deal
Home insurance renewal time
My renewal quote came in only a few pounds more expensive than last year at £290.
After doing some research, it was clear that this particular insurer was still my best bet.
However, there was no indication of what it would cost to get flood cover included, so I called them up.
I don't really know what I was expecting, but it wasn't to be told that flood cover would bump up my premium by £306, more than doubling the cost of my insurance.
So much for Flood Re ensuring those of us living in homes deemed to be at risk of flooding enjoying 'affordable' insurance.
Affordable premiums, apparently
Here is an example quote from the Flood Re website: "The introduction of Flood Re means you will have peace of mind that, even after a flood claim, you should still be able to find insurance with affordable premiums and excesses."
I haven't made a flood claim. Nobody has from my property in 70 years, a time when Clement Attlee was Prime Minister and King George VI was on the throne.
Funnily enough, an awful lot of money has been spent on significantly improving the area's flood defences since then, and there have been no incidents since that work was completed.
I'm one of the lucky ones - I can afford to swallow my rage and pay the money for my home insurance to include flood cover.
But it does stick in the craw that anyone would describe it as affordable. There will be people in my area who can't do that - who are having to forgo flood cover because they simply can't afford it.
How does Flood Re work?
Flood Re is a joint initiative between the Government and insurers, with the intention of meaning people like me can get 'affordable' flood cover.
It essentially sees the Government take over the risk of the flood section of a home insurance policy.
Insurers basically pay a premium to the Government, based on the Council Tax band of the property, while the insurer will also have to pay a £250 excess on any claim.
You can work out this fee on this section of the Flood Re website.
My home is in band D, so I know my insurer is paying £276 to have my policy covered. Plus a nice £30 profit margin, presumably.
Flood Re reckons that, over time, as many as 330,000 homes could benefit from the cover it offers. In its first six months, it covered around 53,000 policies.
Cut your monthly bills by shopping around for a cheaper mortgage deal
What choice do I have?
It's highly unlikely that my home will flood. It's also unlikely that I'll get hit by a bus tomorrow (not least because I rarely leave the house these days), yet I still have life insurance.
That's the point of insurance - it's there 'just in case'.
And I appreciate that the maps and the stats suggest that my home is somewhat more at risk of flood than one at the top of a big old hill, so I have to pay a bit more for my cover.
But to have my policy doubled each year, because the Environment Agency reckons my home has a one-in-1,000 chance of flooding each year seems a bit much.
Flood RE response
A spokesperson for Flood Re told loveMONEY that, prior to its launch, some households were being quoted as much as £3,000 for cover.
They added: "Since Flood Re went live this has changed and many of those excluded from the insurance market can now get more affordable cover and quotes from a range of insurance providers.
"When comparing policies it's important to check what they cover as a policy without flood cover will often be cheaper than one with flood cover. In addition, people in high flood risk areas should now be seeing quotes with excesses of no more than £250 due to how Flood Re is structured.
"There are now more insurers offering more quotes for households within areas of flood risk and this in turn enables people to make a choice – and serves to drive down prices.
"We would urge anyone concerned about the cost of their insurance cover to shop around. A list of insurers which are in the Flood Re scheme is available on our website"
What do you think? Should more be done to help keep insurance costs down for homeowners like me, or is it something I should just accept?
Read more property articles on loveMONEY:
Questions you must ask before you buy a home
Where house prices have risen the most and least since 2005
Be the first to comment
Do you want to comment on this article? You need to be signed in for this feature