Why is everyone talking about rail compensation?
I'm not sure this is a hot topic among the glitterati, but commuters are getting pretty excited about it, because as of today (October 1), there will be changes to the compensation you can get if your train is delayed.
What's changing? Will I get more money?
The Consumer Rights Act now applies to all transport services, meaning you get three new rights.
The first is that you have the right to receive any compensation in the same form you paid for it.
This means that rather than being able to fob you off with vouchers, they have to offer cash.
Since July 2015, this has been technically possible if you specifically requested it, but most people didn't know they had the right to insist on cash.
Second, they have to repay you within 14 days.
Finally, if you are unhappy with the level of compensation you have been offered, you now have the right to take the train operating company (TOC) to the small claims court.
This isn't without its risks: you'll have to pay a fee of £25, which you may not get back if your claim is unsuccessful.
Earn cashback on your rail tickets with these credit cards
So what does this mean for compensation?
Sadly, the new system does not replace the existing Delay Repay scheme, which we'll get to in a minute.
What it does mean is that you'll have additional rights to challenge a company if you're unhappy with the level of compensation they offer.
So is the system already so good that it doesn't need to change?
Far from it. Hardly anyone bothers applying for compensation. The system is such a mess that consumer group Which? issued a super complaint at the end of last year, saying that most people had no idea of their right to compensation – or how to get it.
A Which? survey of passengers in November 2015 found that only 34% of passengers who may be entitled to compensation made a claim.
Why aren't we claiming?
It's not because the trains are on time, that's for sure. Network Rail keeps an eye on punctuality, and has just published the results from last year. It found that almost every TOC has been less punctual in the past 12 months than it was a year earlier.
Part of the issue is that people don't know they have a right to compensation: this has much to do with the fact that the rules regarding compensation differ depending on the train service you're travelling on.
At the moment, there's a system in place called Delay Repay 30. It means that if your train is delayed by 30 minutes or more – regardless of whether it's the train company's fault or not – you are entitled to at least 50% of your ticket price back (or 50% of the cost of that leg of the journey).
If you are delayed more than an hour you will get 100% of your single fare back (or 50% of a return fare). And once you are delayed over two hours you'll get a complete refund of a single or return ticket.
It currently applies to all but three TOCs, and will be phased in as part of franchise renewal for them too.
At the moment, however, they are less generous. Arriva Trains Wales, for example, offers less – so if you're delayed for between 30 and 59 minutes you only get 20% of the single price refunded – or 10% of the return fare.
Many of those who are signed up to Delay Repay stick with the minimum they have to offer, but some offer more. Merseyrail, for example, is more generous.
If you are delayed more than 30 minutes, you get 100% of your single fare back, and 100% of any day return. For C2C customers, those with smart cards automatically get 3p per minute for every delay between 2 and 30 minutes.
Earn cashback on your rail tickets with these credit cards
Didn't the Government promise there would be compensation if trains are delayed by as little as 15 minutes?
Yes, it was in the Conservatives' General Election Manifesto. The Department for Transport told loveMONEY that they are currently working on it, and there would be an announcement 'in due course'.
There's no guarantee, however, that they will do anything other than introduce this as franchises come up for renewal, which will take years.
How can I find out what I'm due?
Technically, you can ask at the station, but this might not work. Which? mystery-shopped at stations, and asked questions about compensation in September 2015.
It found that the shopper got a full explanation of the conditions for claiming a refund just 18% of the time.
Meanwhile, 62% left the station not knowing what they might be entitled to, and 37% weren't told how long a delay would need to be before a refund was due.
Your best bet, therefore, is to look at the TOCs website – where they all list their levels of compensation and how to apply for it.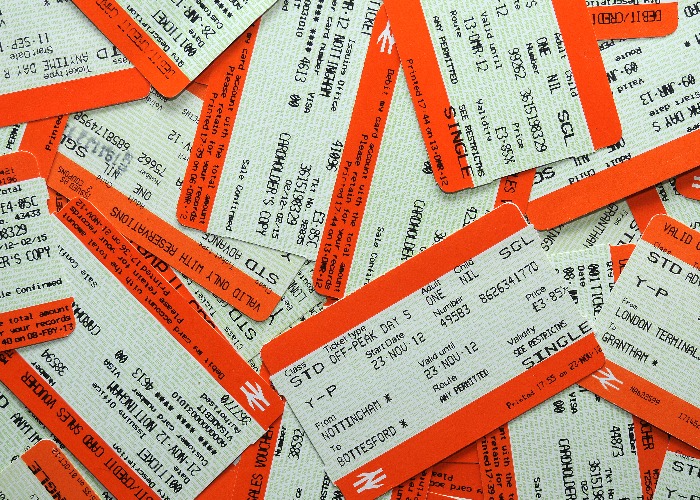 Is the process of getting compensation not the same everywhere?
Sadly it isn't. In some cases it's straightforward. Automatic delay repay is operated by Virgin West Coast since October 2015.
Customers who bought advance tickets through the website or app get automatic refunds within three days. Likewise C2C customers with smartcards get their refunds automatically
In most other circumstances, however, you will need to either collect a form from a station or download one. Then you usually have to fill it in and send it back with proof of your journey.
Some will allow you to send the form electronically – along with photos of your tickets. Others insist that if you want cash compensation, you need to take a completed form and your tickets to a station.
Earn cashback on your rail tickets with these credit cards
I thought Rail Minister Paul Maynard said this was going to get easier…
You might well have done so, because there has been a lot of talk about ways in which TOCs may be encouraged to make it easier for people to claim compensation in future.
Maynard has suggested they may have to make announcement on trains and platforms when a train is late enough to spark your right to compensation, or TOCs might want to give out leaflets telling people of their rights on delayed trains.
But at the moment, these are just suggestions. Everyone is indeed talking about rail compensation, but at the moment, very little seems to be actually happening.