Train operators 'hiding cheapest fares' - how to fight back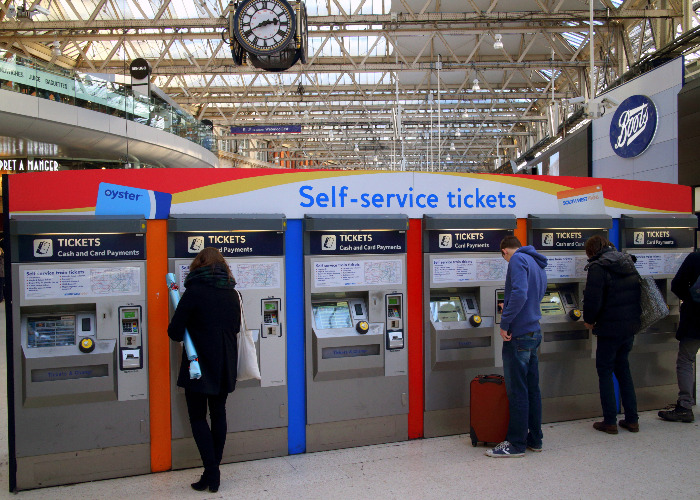 Ministers call for action as investigation reveals millions of passengers are being ripped off by rail firms.
Train operators are using a range of sneaky tactics to keep their cheapest fares hidden, according to an investigation by The Times.
It found rail companies were failing to show the cheapest tickets on two thirds of cross country routes, meaning passengers are paying up to £85 more than they need to.
The newspaper also uncovered evidence that many self-service ticket machines are still not informing travellers that cheaper fares may be available from ticket offices while customers are facing a baffling array of fare choices between Britain's biggest cities.
Millions of passengers are being ripped off and paying more than they need to thanks to these techniques, The Times claimed.
Responding to the findings, rail minister Paul Maynard urged train operators to come up with an urgent action plan to make the system more transparent.
"Rail passengers should always be able to get the best deal and the industry must work harder to make this a reality," he said.
Earn cashback on your everyday spending with these top cards
Secret fares
The Times looked at 50 cross country routes using nationalrail.co.uk, which sells tickets on behalf of train operators, and found customers could get a cheaper deal on 33 of the journeys by purchasing single tickets along the way.
This method, known as 'split ticketing', allows passengers to travel on the same train and arrive at the same time by buying multiple single tickets for destinations along the route rather than buying one ticket for the entire journey.
However, many travellers are unaware they could make savings this way.
The research found an anytime single from Penzance to Birmingham, changing at Plymouth is available for £149.30 on nationalrail.co.uk.
But a cheaper journey is available splitting the ticket via Totnes making the fare £85 cheaper even though the journey is on the same two trains and arrives at the same time.
Below are some of the other findings from the research.
| | | | | |
| --- | --- | --- | --- | --- |
| Route | Direct ticket price | Key location to split ticket | Split ticket fare | Saving |
| Penzance to Birmingham New Street | £149 | Totnes | £64 | 57% |
| Sunderland to Newport | £153 | Leeds | £91 | 41% |
| Kendal to Bury St Edmunds | £113 | Manchester, Oxford Road | £63 | 45% |
| Whitby to Tenby | £186 | Huddersfield | £130 | 30% |
| Carlisle to Worthing | £139 | Haywards Heath | £68 | 51% |
Source: The Times
A spokesperson for the Rail Delivery Group, which represents train operators, said: "Regulations require train companies to offer 'through ticket' prices between every station and it is these fares that systems are designed to offer customers.
"We know that in some cases it can occasionally be cheaper to buy more than one ticket when making a through journey and we are looking at ways to make buying tickets simpler."
The prices for longer journeys are based on a time when there were big paper manuals and lists of fares, but now with electronic ticketing the two aren't a good fit.
A change to the system could lead to some fares becoming cheaper and some shorter fares becoming pricier.
Too much choice
The Times also found examples of routes with a baffling array of ticket options and prices for a single journey.
To travel from London Euston to Birmingham, over a 24-hour period the newspaper found 42 fares ranging from £6 to £119.
Meanwhile anyone wanting to travel from London to Manchester, were presented with a range of 22 fares, costing from £21 to £237.50.
The complexity of fares is making it harder for people to know if they are getting the best deal.
In some cases, it was cheaper to travel first class, for example, from Cambridge to Peterborough.
And confusingly faster trains were sometimes cheaper than slower ones. A journey from Leeds to Birmingham at 7.19pm would take two hours and 13 minutes but a service five minutes earlier would be 20% cheaper and 20 minutes faster.
Earn cashback on your everyday spending with these top cards
Misleading self-service machines
The research also uncovered that many travellers are still not getting the cheapest fares possible because of a lack of information at self-service machines.
Since last year rail operators have been required to label machines so passengers know they only sell a limited range of tickets and cheaper fares could be available at the manned ticket offices.
In a survey of machines across London, The Times also found inconsistencies with the fares offered and the advice for travellers.
Half of the 63 machines looked at were not appropriately labelled or had little information about which fare were available.
Machines operated by Southern Rail at Victoria in London were the worst offenders, with no information regarding ticket restrictions and limits to the range of fares being sold.
In contrast Great Western Railway machines at London Paddington gave detailed information about alternative ticket options.
The Rail Delivery Group said around 95% of the 2,500 ticket machines have been updated witch stickers or on-screen information.
How to slash your fares
Nationrail.co.uk does not show split ticket fares. However, you can find them on TrainSplit.com or using 'tickety split' at moneysavingexpert.com.
For more on how to save when you travel by rail take a look at: How to cut the cost of rail and coach travel.
Earn cashback on your everyday spending with these top cards
Picture: Thinglass / Shutterstock.com
Elsewhere on loveMONEY:
Best and worst train companies
Train delays and cancellations: how to claim refunds and compensation
Be the first to comment
Do you want to comment on this article? You need to be signed in for this feature