Opinion: the death of big name brands isn't a disaster for the high street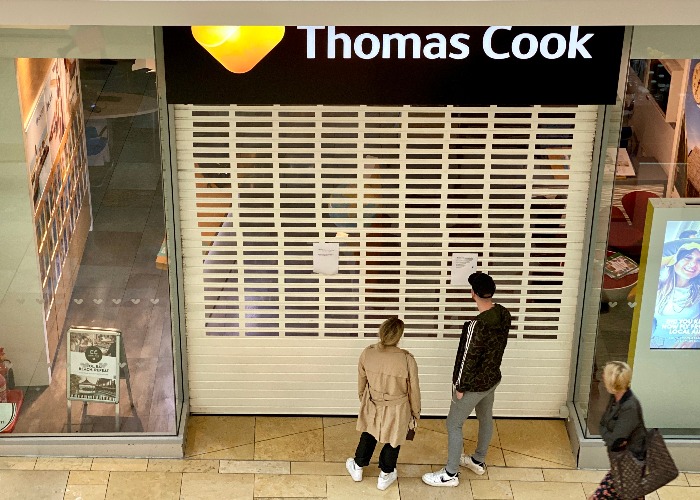 The 'demise' of the high street often dominates headlines yet independent stores that offer things you can't get online are filling spaces left by dying big-name firms.
With Mothercare announcement that it plans to put its UK business into administration coming just weeks after Thomas Cook's collapse, we've seen a lot of hand wringing over the state of the nation's high streets.
The issues faced by both are seemingly the latest in the death by 1,000 cuts of the British high street.
But is this really the case?
Well-known brands that have disappeared from UK high streets
All a bit samey
A common criticism of the British high street in recent years has been that they are all essentially the same.
Whether you're in Yorkshire or Cornwall, it's argued you'll see the same line-up of retailers – from Next to Starbucks – and as they are all virtually the same, there's less of a reason to actually visit them.
But that appears to be changing.
Consumer champion Which? has been crunching the data of almost 1.5 million Ordnance Survey records to look at how the make-up of Britain's high streets has changed over the past five years.
And it's found that high streets are no longer looking like "carbon copies of one another", as some of the old major retailers are replaced by independent personal services, markets and food specialists.
Get cashback (and extra protection) when you shop with a credit card
Getting inked up
Perhaps unsurprisingly, it's firms that offer something you can't get online that are really flourishing.
For example, the number of tattoo and piercing outlets have risen 44% since 2014, while the amount of hair and beauty firms have jumped by 31%.
There has also been a frankly staggering increase in the number of places where you can buy food on the high street.
Markets have risen 51.6%, while there have also been increases in cafes, snack bars and tea rooms (35.3%), as well as fast food and takeaways (23.2%).
The amount of businesses offering organic/health/kosher foods have grown by 20.5%, while the number of bakeries and fish and chip shops have risen by 17.7% and 12.6%, respectively.
That certainly rings true in my own town, which is dominated by food places, and a combination of national names and local independents at that.
Find parking quickly with JustPark
Having a bet
There are a couple of other types of business that seem to be flourishing on our high streets now that are a little more troubling than tattoo parlours and curry houses.
According to the analysis from Which?, there has been a 23.9% increase in the number of casinos on the nation's high streets, as well as 16.4% rise in bookmakers.
Now I'm someone that likes a flutter, but the sheer proliferation of gambling ‒ and adverts for gambling ‒ both online and in person is more than a little troubling.
How will we be shopping in the future?
The High Street's not dead, it's changing
Last year I wrote about the troubles of John Lewis, and the fact that if a behemoth like John Lewis was having issues generating profits, then clearly the high street really was in dire shape.
Since then we have seen yet more familiar names hit the wall, with Thomas Cook among one of the high profile examples. So it's certainly true that for those big names, the old high street set-up is problematic.
But there's something quite cheering about this Which? study in my view.
When I think about my own shopping habits, I know that on those rare occasions I have to do it in person, I lean towards using an independent firm, precisely because I want to support them.
Having a nation of town centres that are indistinct from one another is a dreadful thought and it's far better to have them all with their own character, even if that does mean a mystifying number of piercing salons and 'vape parlours'.
UK's most upmarket high streets revealed
But it also suggests that retailers are waking up to the realities of online shopping.
I love a book shop, but there's a good reason that their numbers have crashed just shy of 70% over the last five years. It's simply more convenient ‒ and often cheaper ‒ to do it online.
How to save money when shopping at Amazon
You have to have a compelling reason to shop on the high street by turning it into an experience or offering something people simply cannot get by logging onto their computer.
It's not the high street itself that's dying, but rather some of the more traditional retailers that you'd find there.
But nimble, smaller retailers ‒ with a greater understanding of what local people actually want, and are willing to pay for ‒ are filling that gap.
*This article contains affiliate links, which means we may receive a commission on any sales of products or services we write about. This article was written completely independently.
Be the first to comment
Do you want to comment on this article? You need to be signed in for this feature