How to save money when shopping at Amazon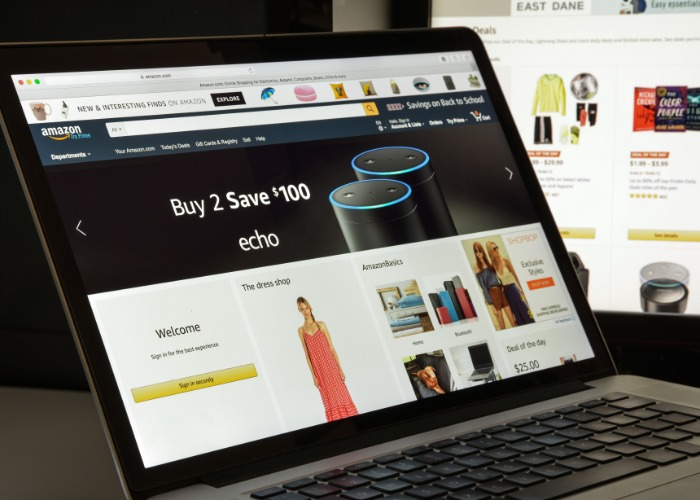 Get £5 off your next purchase plus more tips to get the best possible price when shopping at Amazon.
Whether you're planning to pick up some presents for the family or simply want to treat yourself, take a look at our top tips to get a great deal at Amazon.
Get £5 off – today only
You can get £5 off when you spend a minimum of £25, but you'll need to act fast as the offer is only available on 19 March (it ends at midnight).
The retail giant says the discount is a thank you to shoppers after it was voted top in a consumer choice survey.
To qualify, you'll need to meet the minimum spend mentioned above and enter the promotional code BIGTHANKS in the 'gift cards and promotional codes' box at checkout.
Watch out for exclusions
As with any promotion, there are a host of exclusions to watch out for.
For starters, the offer only applies to products dispatched from and sold by Amazon EU, and doesn't cover anything dispatched through AmazonFresh, Prime Wardrobe, baby formula or digital products.
If you look just below the products price, you should see 'Dispatched from and sold by Amazon'. Be warned that 'Fulfilled by Amazon' products do not qualify for the £5 voucher.
It's also only available once per customer, so you can't do numerous orders from the same account and apply the code.For the full list of exclusions, take a look at this terms and conditions page.
Check out the refurbished store
Amazon has a certified refurbished store selling things like tablets, smartphones and laptops with up to 35% off.
The range is made up of electronics that have been refurbished, tested and re-packaged by the retailer and all come with a one-year warranty.
Beat delivery charges
The minimum spend in order to trigger free delivery on Amazon is £20 (unless you are buying books when a £10 minimum applies).
If your order is under the threshold, you'll have to pay a delivery charge, which can vary from £1.49 to £6 depending on what you purchase.
So try and do a big shop rather than lots of little ones.
Items from Amazon's Marketplace will count towards your free delivery threshold as long as they are marked as 'fulfilled by Amazon'.
Just a heads-up, if you are an Amazon Prime customer then you need to know that they have recently doubled the minimum spend for free Prime Now delivery.
If you want your goods within an hour there's a minimum spend of £40 for customers who subscribe to the Prime service.
Spend less and you'll have to pay £3.99. Same day delivery charges remain unchanged and, of course, there's always the option to wait a little longer for delivery and avoid the fee.
Earn cashback on your shopping with a cashback credit card
Use Prime
Another way to avoid Amazon's delivery charges is to use Prime.
This is an annual or monthly subscription service which costs £79 a year or £7.99 a month and gets you unlimited free one-day delivery as well as other benefits like access to Prime Video, Prime Music, Prime Photos cloud storage and access to the Kindle Owners' Lending Library.
You can get a free one-month trial of the service, which you can cancel before you get charged the subscription fee.
Get up to 9% back on your next Amazon shop! Simply sign up to Topcashback then look up Amazon for more information.
Don't assume Amazon is cheapest
Amazon is a giant online retailer offering pretty much everything with a reputation for being cheap, so it can be tempting to head straight to the site for all your purchases.
However, Amazon might not be the cheapest place to buy what you're after.
Take a few moments to compare prices online to ensure you are getting the best deal from Amazon before making a purchase.
Sites like PriceSpy help you compare prices across hundreds of retailers, so you can find out if that deal really is as good as Amazon claims.
Demand a better offer
If you find Amazon is the cheapest, see if you can beat the price of the item you are after with Flubit.
You just need to copy and paste the Amazon link to your item and the site tries to create a better offer.
Check who you are buying from
When you shop at Amazon, items can be sold direct or by third-party sellers via Amazon Marketplace.
When purchasing through Amazon Marketplace delivery can cost more. That's because items from third-party sellers aren't eligible for free Super Saver Delivery.
Also if there's a problem with your order or the item you receive, you need to go through the seller rather than Amazon itself.
Marketplace purchases are covered by Amazon's A-Z protection guarantee, which gives you money back if goods don't arrive or aren't as described, up to a maximum of £2,500.
But marketplace purchases you make with a credit card over £100 don't qualify for protection under Section 75.
That's because Amazon takes the money and then passes it onto the retailer – if you bought directly from the retailer, you would still be protected. Read more about this loophole in our guide to Section 75.
Get the price you want to pay
Amazon's prices move up and down all the time, so nailing the perfect time to make your purchase can be tricky. Luckily there are tools out there that can help.
CamelCamelCamel is a website dedicated to tracking Amazon prices. It allows you to enter the maximum price you would be willing to pay for an item and alerts you when Amazon hits your target or goes even lower.
Zeezaw is another website that helps you keep a track on the best deals on things you want. Again you just need to put in what you want to buy from Amazon and the maximum you want to pay, then sit back and wait for your alert.
Earn cashback on your shopping with a cashback credit card
Get cashback when you shop
You can earn money back when you shop with Amazon with cashback websites like Quidco and TopCashback. They work by tracking your purchases and paying a percentage back on what you buy.
If you're being super savvy you might also use a cashback credit card to pay for your purchases as well as using a cashback site.
Earn even more cashback (for your kids)
A little-known site lets you earn a whopping 2% on anything you buy at Amazon. The catch it the money won't go to you, but rather to your kids.
Specifically, it'll go straight into their Child Trust Fund, Junior ISA or child savings account.
Head over to the Kidstart website to get set up and start earning a little extra for their future.
Take advantage of student perks
Amazon Student allows university students to get the benefits of Amazon Prime for half the price.
All those who are aged over 18 and in higher education can get a free six-month trial of the service, which will give access to unlimited free one-day delivery, Prime Video, Prime Music and Prime Photos cloud storage as well as student offers.
After the six-month free trial students pay £39 a year (instead of £79) and will gain access to the Kindle Owners' Lending Library and Kindle First.
Get up to 9% back on your next Amazon shop! Simply sign up to Topcashback then look up Amazon for more information.
Earn credits by using 'No-Rush Delivery'
Amazon Prime and Amazon Student members (including those on the 30-day or six-month trial) can earn reward for digital content by opting for Amazon's 'No-Rush Delivery'.
When you get to the final order page, select 'Free No-Rush Delivery' under delivery options and you can get rewards for every qualifying item you buy.
Items bought via Amazon Warehouse Deals or from third-party sellers on Amazon Marketplace aren't eligible.
The reward will be applied to your Amazon account and will be redeemed on your next digital purchase.
Use hidden Amazon vouchers
Amazon Vouchers lists a whole load of discounts for various categories that you might be able to take advantage of.
You just need to select the ones you want to use and the discount will be automatically applied to your basket when you check out.
Check out Amazon Warehouse Deals
Amazon Warehouse Deals offers deeply discounted prices on open-box goods, returned items, used products and warehouse damaged merchandise that are in decent condition but can't be classified as new.
All the products are backed by Amazon's satisfaction guarantee however, the products do not generally come with a manufacturer's warranty.
Save up to 15% on regular buys
With Amazon's Subscribe & Save service you can save by signing up to get items you have to order regularly.
You can choose from items like pet food, coffee, nappies, loo roll, wet wipes and more and save 5% by opting for Subscribe & Save rather than a one-off delivery.
If you sign up for five or more subscriptions, Amazon will boost the discount to 15%.
There is no minimum subscription length and you can cancel when you want. However, you should make sure Amazon is cheapest each month to ensure you're getting the best deal.
Combine savings for nappy discounts
The Amazon Family club gives members all the benefits of Amazon Prime plus exclusive offers and discounts, as well as 15% off nappies for £79 a year.
You can boost the nappies discount to 20% or even 35% by combining the deal with Subscribe and Save.
Earn vouchers with online surveys
You can earn Amazon vouchers by doing online surveys.
If you have the time to answer questions on anything from celebrities to the latest mascara some sites allow you to choose to be rewarded in Amazon vouchers.
Websites like Swagbucks, i-Say, Toluna, Crowdology, MySurvey, Valued Opinions, Survey Friends and Opinion Outpost all offer Amazon voucher options.
Don't forget about Amazon Smile
When you make a purchase on https://smile.amazon.co.uk/, Amazon will donate 0.5% of the purchase price (excluding VAT and shipping) to a charity of your choice, at no extra cost to you.
If doing good while shopping interests you, have a look at our roundup of the best ways to donate without trying.
Get a refund if you're not happy
You can get loads of loot from Amazon, but sometimes you'll want a refund on your purchase. The item could be faulty, it might not fit or perhaps you just don't want it anymore.
Thankfully, the Amazon refund process is extremely simple, as we explain in this guide to the top exchange and refund tips and methods.
This article has been updated
Be the first to comment
Do you want to comment on this article? You need to be signed in for this feature