Moneyfarm: the investment ISA platform that does the work for you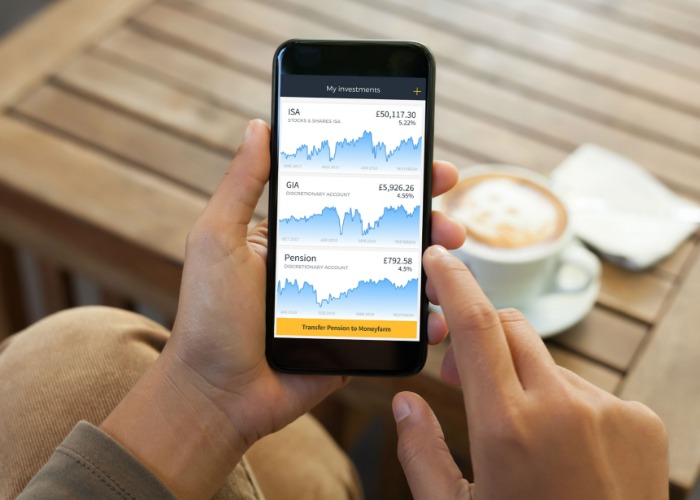 Robo-adviser Moneyfarm will put together a portfolio, automatically adjust it and provide advice for less than the cost of traditional investment platforms.
Robo advisors are an increasingly popular way to manage an investment portfolio while avoiding the costs associated with a financial advisor.
These automated services will create a personalised investment portfolio for you in minutes, so you get a compromise between an expensive wealth management service and being totally on your own picking stocks through a D-I-Y investment platform.
Moneyfarm only launched in the UK two years ago but since then it has built up a substantial number of accounts with £400m assets under management and taken a reasonable slice of the British robo-advisor market. Here's everything you need to know about the company.
As an investment, your money can go down instead of up: please note that this review is about user experience rather than investment performance.
Read our complete guide to getting started in investing
How does it work?
Moneyfarm offers an investment ISA, general account and pension, all of which can be operated via its mobile app or website.
When you open an account, you answer a number of questions about yourself, your attitude to risk and your investment goals and then deposit your money. You are then matched to one of Moneyfarm's investment portfolio based on the answers you gave.
This means you have limited control over how your money is invested but Moneyfarm will choose a portfolio that contains a mix of asset classes, different geographical regions, currencies and sectors. This means you should get a highly diversified portfolio with very little effort on your part.
Invest up to £50,000 and your money will be spread across up to seven funds, if you put in more than £50,000 it will go into up to 14 funds.
Moneyfarm invests in ETFs in order to keep costs down and allow for easy trading.
Stocks & Shares ISA: how does it work, 2018/19 limit, how to invest, fees, cheapest providers and more
Who can get Moneyfarm?
Anyone over the age of 18 living in the UK can open a Moneyfarm account. You have to invest at least £500 as a lump sum or if you want to set up a monthly direct debit it has to be for at least £100 a month.
Remember that you can only set up one investment ISA per tax year, so if you've already opened one elsewhere since 6 April you'll have to open a Moneyfarm general investing account.
What we like
Application Process
Opening an account with Moneyfarm is a quick, simple process that will only take you a few minutes.
You'll need to answer a few questions in order to be matched with an appropriate investment portfolio then you can start investing.
Straight-forward website
Log into your account and it is easy to see where your money is invested and how it is performing. You can also see projections for how your money might grow.
Automatic adjustments
Moneyfarm's suitability algorithm runs over your portfolio once a month, or any time you make an update, to make sure you are still invested in the most suitable portfolio for your needs. If it thinks your needs have changed sufficiently to move you to another portfolio, you'll be asked to accept the changes before you are switched.
So, you don't need to worry that your investment portfolio isn't evolving with you.
Simple Fee Structure
It is easy to see what you are paying with Moneyfarm. There is one Moneyfarm fee and the funds' costs on top of that, but there are no set-up fees, trading fees or other costs hidden in the small print.
Human Advice
Robo-advisors may be cheap, but they can leave you feeling a bit adrift sometimes. That's why we like Moneyfarm's Investment Consultants. You can book a call to discuss your portfolio selecting exactly when you'd like them to call you back.
What we don't like
The fees
The charging structure at Moneyfarm may be simple, but it is also not the cheapest out there. Invest under £20,000 and you'll pay 0.7% in Moneyfarm fees plus an average 0.3% ETF cost giving you an overall annual cost of 1%.
That is lower than a traditional investment platform, but you can beat it with a DIY platform, or even some other robo-advisors such as Evestor.
Find the cheapest investment platforms
As with most platforms the more you invest the less you pay with fees gradually tiered down to 0.4% if you have more than £500,000 in your portfolio.
Before you invest with Moneyfarm weigh up if you really need a recommended portfolio, computers rebalancing your investments or access to an Investment Consultant. If you are an experienced, confident investor you could save yourself some money by opting for a DIY investment platform instead.
Lack of products
It's a shame that Moneyfarm hasn't expanded their ISA options yet. It would be good to see a Junior ISA and Lifetime ISA offering.
Other robo-advisors offer more products. Wealthify has a Junior ISA product and Nutmeg offers a Lifetime ISA.
Withdrawing funds
Paying money into your Moneyfarm account is made very simple. Hit the big 'add funds' button. But, if you want to withdraw cash the process isn't as obvious – you'll need to click 'decrease investment' then 'withdraw funds' and neither button stands out.
Security
The Moneyfarm account uses a password or fingerprint recognition for access and money can only be withdrawn to the bank account that you set up the account with, so no-one can log in and steal your cash.
Your money is held in a separate account from Moneyfarm, so if they went bust their creditors would have no access to or claim on your savings. Moneyfarm is authorised and regulated by the Financial Conduct Authority and up to £50,000 of your investment is covered by the Financial Services Compensation Scheme (FSCS).
All in all, Moneyfarm seems very secure, but it would be nice if they gave you the option for two-step authentication when you log in, so it really felt belt and braces.
Our final verdict
Moneyfarm is a great option for first-time investors who want a little hand-holding while they take their first steps into the stock market, but without the price tag of full financial advice.
The website is appealing and gives you plenty of information, so you can really learn the ropes of investing.
But, if you are a little more experienced you could cut your investment costs by going for a DIY platform instead.
It is a shame that Moneyfarm doesn't offer a Junior ISA or a Lifetime ISA. If you are looking for somewhere to save a deposit for a first home, we'd recommend looking at other providers such as Nutmeg that offer Lifetime ISAs, so you can get the benefit of the government top-ups.
Find out how Moneyfarm compares to other robo-advisers in our best buy guide
What do you think?
Do you use Moneyfarm? Please share your experience and opinion in the comments below.
Be the first to comment
Do you want to comment on this article? You need to be signed in for this feature