Britain's 4 most-hated services: how to complain and win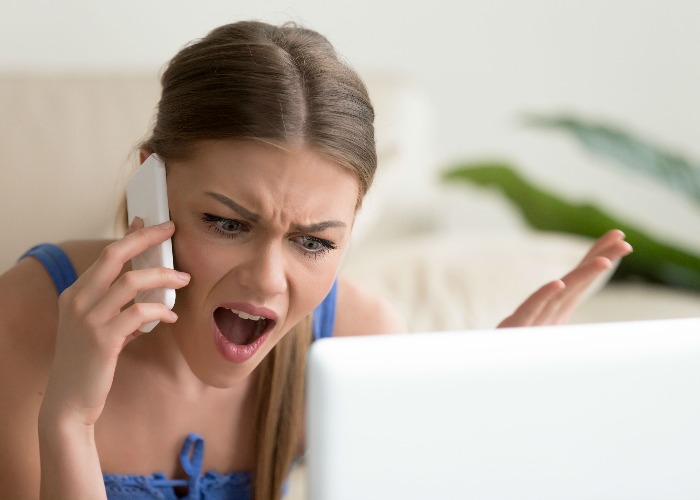 PPI, shopping, flights and packaged bank accounts have all been highlighted by new data on complaints. Here's what to do if you've been let down.
Complaints about companies more than doubled last year, and not just because of Payment Protection Insurance (PPI).
That's according to data from complaints website Resolver, which recorded a 132% increase in grievances in 2017-18 compared to the year before
PPI, shopping, flights and packaged bank accounts were the most-complained about services in 2018, notching up well over a million complaints between them.
Ironically, claiming compensation for poor service can be just as irritating, with claims management companies contributing little in return for high costs.
In this article, we run through the most effective – and free – ways to complain about the above services.
PPI
729,378 complaints in 2017/18 – up 265%
With the deadline for claiming on mis-sold PPI coming up in August 2019, it's little surprise that complaints have rocketed.
The complaints numbers include both PPI that was sold incorrectly and claims connected to the compensation banks received for selling PPI (Plevin claims).
If you took out a credit card, mortgage or loan before 2010 you could be able to claim – but read our guide to PPI claiming first.
It explains when you may be eligible for compensation and how to submit a claim.
Above all, remember the golden rule: avoid claims management firms. They could take a huge chunk the compensation you receive, without doing anything you couldn't easily do yourself.
Read more on how to make a PPI claim.
Online and in-store shopping
Combined 121,199 complaints in 2017/18 – up 88%
Both complaints about online and in-store shopping are on the rise.
If you've been sold faulty goods, you're protected under the Consumer Rights Act, which now includes digital content. Read more about the act and how to claim here.
Although not included in these numbers, Resolver received a further 11,382 complaints about package delivery, a 181% rise on the year before. So, if you need to return goods, this article will explain how.
Flights
118,995 complaints in 2017/18 – up 6%
If your flight is delayed for more than three hours, or cancelled, it is possible to get compensation – and an increasing number are choosing to do so.
Like PPI, flight delay compensation has been targeted by a number of claims management firms, which add very little to the process. In fact, according to Resolver, these firms have taken almost £750m in people's compensation over the past years.
Claiming what you're owed for a delayed or cancelled flight shouldn't cost you a penny.
As our guide explains, you can claim both a lump sum depending on the length of your delay, as well as expenses incurred during it. There's a letter template available from the Civil Aviation Authority and the number you'll need for BA.
Here's our guide to flight delays and when you can get compensation.
Packaged bank accounts
77,705 complaints in 2017/18 – down 10%
Packaged bank accounts are current accounts that involve a fee, usually between £10 and £25 a month, for which you get a range of benefits.
These could include travel insurance, breakdown cover or access to better rates on loans and savings. If you do the sums and see the savings will more than cover the fee, then great.
The problem is many of us simply don't need all the benefits on offer and just need a free bank account.
Not everyone with a packaged account has been mis-sold it, so we've put together a guide explaining under what conditions you can successfully claim compensation and how to do so.
Key scenarios involve being pressured into taking an account; you were signed up without being told and you weren't told you could get a free account instead.
Be the first to comment
Do you want to comment on this article? You need to be signed in for this feature