Printer helpline scam – how to stay safe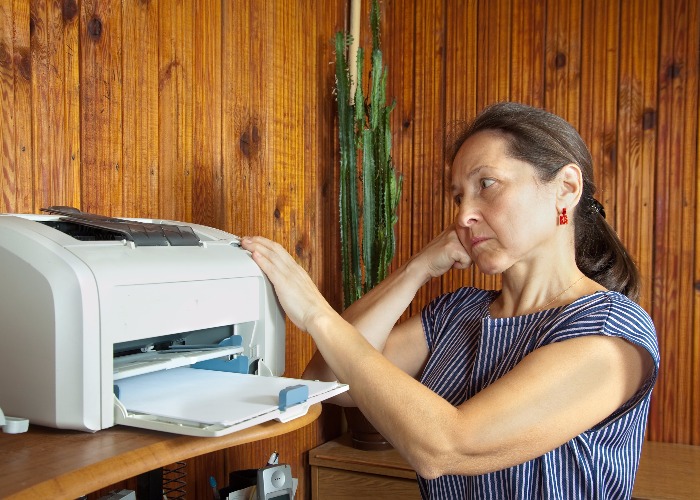 Warning over a new scam preying on people with printer problems looking for help over the phone.
The National Trading Standards eCrime Team is warning about a new scam targeting those that are looking for help with printer problems.
The 'printer helpline scam' involves fraudsters putting out fake helpline numbers online through social media and search engines, which trick people into calling up for assistance.
Typically fraudsters behind the 'helpline' ask callers to give them remote access to their computers to solve the technical issue.
They then use this access to steal personal information like bank details, while some even download malware onto the victim's machine.
The eCrime Team says one group – which claims to be part of a wide range of technology brands and printer manufacturers – takes over devices and demand payment before returning control.
In one case they tried to charge a victim £700.
Growing problem
Figures from Action Fraud suggest this type of scam is a growing problem. There were over 32,000 cases of computer service fraud, which includes printer helpline scams in 2016 – a 47% rise since 2014.
Mike Andrews, lead coordinator of the National Trading Standards eCrime Team, said: "This printer helpline scam is particularly pernicious because it encourages victims to unknowingly contact the fraudsters of their own accord.
"While victims expect they will receive help with their printer problems they have in fact been lured into a trap and find themselves at risk of losing money, important personal information and also have their computer security compromised."
How to stay safe
National Trading Standards is advising people to take the following steps to protect themselves from becoming a victim of printer helpline scam:
If you need technical support for your printer, make sure you use the contact details provided by the printer manufacturer. These can be found by visiting the manufacturer's official website or on product packaging and literature.
Be suspicious of helplines asking to take remote control of your computer to fix printer problems. They should be able to talk you through what you need to do.
Make sure that your anti-virus and online security software is kept up-to-date, to reduce the risk of unwanted pop-ups on-screen that may advertise fraudulent services.
You should also keep an eye on your credit report to spot signs of suspicious activity from fraudsters that may have got hold of your details and are using them steal your identity and take out credit in your name.
There are a number of free trials of this service but, for ongoing access to your report, you can compare prices with loveMONEY for the best deal.
If you have fallen victim to a scam or notice suspicious activity online, then you should report it to Action Fraud.
Keep safe with loveMONEY:
Nationwide text message scam: how to stay safe
Gmail phishing scam 2017: how to spot a fake email
Be the first to comment
Do you want to comment on this article? You need to be signed in for this feature