The Apprentice winner Ricky Martin's tips to start a successful business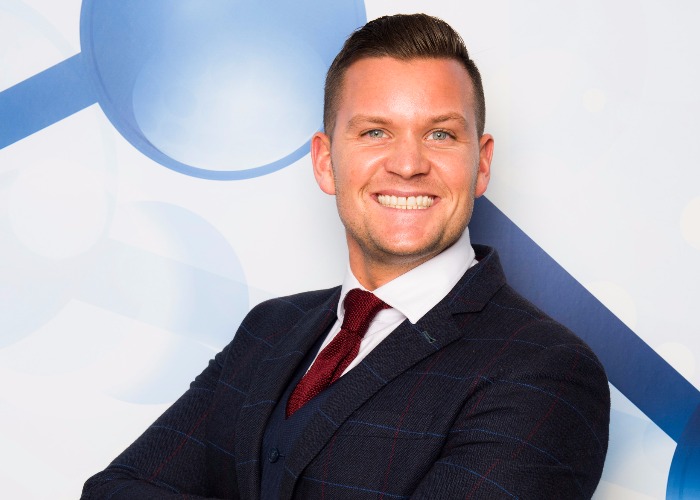 Thinking of starting your own business? We've got none other than former Apprentice winner Ricky Martin to show you how.
After winning The Apprentice in 2012, Ricky Martin teamed up with Lord Sugar to start his own recruitment agency for science-based careers.
Hyper Recruitment Solutions (HRS) combines Ricky's biochemistry degree and love of science with his 10 years of experience in the recruitment industry.
Just four years on, business is thriving and HRS has 25 permanent members on staff as well as support staff across Europe and south east Asia.
Here, Martin tells loveMONEY how you can set up a successful business of your own – whether you have Lord Sugar by your side or not!
Need a loan? Compare rates on loveMONEY
The HRS team (Ricky Martin, middle). Photo credit: Hyper Recruitment Solutions
Beat the fear
There's a lot of fear around starting a business. The UK is quite a private country, so people are scared to ask questions – maybe they think they're being rude.
They have so many excuses: money, the recession, marriage... there's never a good time to have a child, and there's never a good time to start a business.
Just go for it!
The key is to believe in yourself and to really love what you do.
Have a clear vision
At the same time, you need to be sure about what you want your business to be.
Do you really care about what you're doing? Don't set up something because it's a trend; it's got to be something you care about and what people would want to pay for.
Be realistic
This goes for both timescale and expectations. Factor in enough time to put together your business plan, find office space, get your finances in order and all of the other things you need to do before money starts coming in.
A lot of it depends on your business and how much money you have to invest in it.
Time is the biggest challenge when you start up a new business. You'll always want more time, and more money!
Loan rates hit record low! View the best buys on loveMONEY
Look to other people – they're the best source of inspiration
It's important to build a network. Some are put off by the idea of networking: it's just two parties coming together.
LinkedIn is a great tool to see how other people represent themselves and create a professional image.
Find investors to take your idea to as well as a mentor, if you can. it's worth paying for the expertise.
[Discover what grants, loans and other support you're eligible for at the Government website. Or dive straight in and apply for a Start Up Loan]
Everybody knows somebody or knows somebody who knows somebody who has set up a business. They can tell you how they did it and what to watch out for.
Write a business plan
A business plan is key to setting up a company.
When I ask people who want to start up a business whether they have one, nine out of 10 say no. I Googled 'business plan' when I started but that wasn't the best way to go.
Ask someone who has got a successful business if you can see their plan for some ideas, or at least a skeleton of it.
Research the industry you're interested in before you start. What do you need to do first? Who are your competitors? Are there any gaps in the market that you can fill?
[Read the Government guide to writing up a business plan]
If you've got the money, hire employees or outsource roles
Depending on how much money you have to invest, you could hire employees.
But when you're starting up your own business, you need to be able to wear every hat: the boss' hat, the cleaner's hat, the finance manager's hat. These are jobs I've done at some point or still do now.
Be honest about your strengths and weaknesses and hire someone to do the things that you're not so good at.
In my mind, you can train people to do anything. Hire the right personalities for different jobs – it's more important to have the right energy.
Go for people who have integrity and the same basic values and vision as you.
Review your business plan regularly
I wrote a five-year business plan and I set realistic yearly targets, which I review every month. Set challenges in line with your business plan.
Compare personal loans: rates from just 3.1%
Make the best use of social media
Social media is basically a free advertising tool, so put some time into it. Just know that it won't be your biggest revenue generator.
It's about building a brand, so don't just sell – offer advice. People should like the brand as well as the product.
Starting smaller? Read Selling on Facebook: 16 handy tips to get it done right for some more tips
Remind yourself of what you've achieved
Some days can seem hard, but if you don't hit the numbers it's not the end of the world. Be proud of what you've achieved, no matter what it is.
When people ask me whether my glass is half empty of half full, I say it's over-spilling!
Look after yourself
You need to keep positive and keep your mindset strong by focusing on your wellbeing. Starting a business looks more glamorous than it actually is!
Make sure you're reading, exercising, meditating and staying around positive people.
If you're struggling to wake up in the morning after a 16-hour work day and can only manage two hours the next day, cut back on work hours and sleep more.
You're better off working two 10-hour days than one 16-hour and one two-hour day.
Keep learning
We're all sponges. There's always room to learn, grow and evolve. There's never a point where you've 'made it'.
You'll find so many specialist events and conferences you can go to.
Have a look at what the industry people are doing. If there's a new product, go to the conference for that new product.
[StartUP Britain runs loads of events, many of them free, which are open to entrepreneurs]
Know when to get out
Your business will be important to you, but don't get emotionally tied to it.
If customers aren't buying what you're selling or you're missing targets, is there any way you can improve? If not, get out.
If you're spending an unsustainable amount of money, get out.
Or if you're not excited about doing what you're doing anymore, either get out or get someone in who is excited about it.
But as long as your business makes you want to jump out of bed in the morning and you're realistic about it, you're in a good place to get started.
What to read next:
Make free money: how to use cashback sites, cashback credit cards, cashback mortgages
Make money from video games: how to stream on Twitch
How to sell successfully on eBay
Be the first to comment
Do you want to comment on this article? You need to be signed in for this feature