Crash for cash: the hotspots, trends and victims of this terrible fraud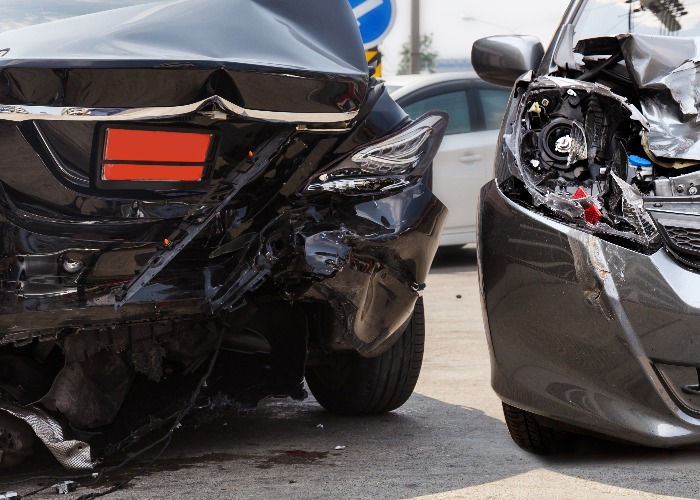 We delve into the world of crash for cash, looking at hotspots, consequences and the inner workings of this horrible crime.
It is one of the most common frauds in the UK, affects thousands of innocent motorists, costs a staggering £392 million every year and puts peoples' lives in serious danger: welcome to the terrifying world of crash for cash.
Road accidents happen on a daily basis. From low-speed bump-ups in busy town centres to high-speed motorway collisions, thousands of people are killed or seriously injured every year.
But while the majority are accidents, a significant number will be staged; enabling criminal gangs to make fraudulent claims for damaged vehicles, injuries to passengers and a variety of other costs.
Search for cheaper car insurance with loveMONEY
How do the scams work?
There are three main methods.
The first is the staged accident where two vehicles – both in the hands of criminals – are deliberately crashed. Increasingly, they are trying to make this less risky for themselves by smashing the cars up out of sight and pretending it happened on the road.
The second is the induced accident. This is where the criminal targets an innocent motorist and makes the accident seem like their fault. A prime example of this is slamming on their brakes and causing them to crash into the back of the car.
Finally we have the ghost accident. No actual crashing takes place because these are paper-based frauds in which fabricated claims are made for accidents that didn't happen – and sometimes for cars that don't exist.
Keep yourself safe on the road with a good car insurance policy. Get a free, no obligation quote from loveMONEY today
Where are these scams happening?
The bad news is these scams are taking place across the UK. In fact, insurance companies estimate that a staggering one in seven claims are linked to crash for cash frauds, and that figure could be the tip of the iceberg.
An analysis of crime statistics reveals there are also problem hotspots in certain parts of the country. Birmingham is at the top of the list, with six of the top 10 postcodes that have been linked with the crime.
Bradford is another troubled area with postcodes on the list, as well as Bolton. Other places that appear on an enlarged 20-strong hotspots list include Halifax, Manchester, Enfield, Ilford, London and Liverpool.
Who are the victims?
The general perception is that it's a victimless crime. That couldn't be farther from the truth as innocent drivers' lives are being put in danger, warns Detective Chief Inspector Oliver Little, head of the Insurance Fraud Enforcement Department.
This is particularly the case as gangs pick their targets carefully. Lorries will be avoided due to the dangers of braking sharply in front of them, as will anyone that might confront them physically or may not have valid insurance.
"Their best chance of success is to look for commercial vehicles as they are likely to be insured," he said. "We also see evidence of them targeting lone female drivers and the elderly. They are chosen because they are vulnerable."
These scams have already had fatal consequences.
A 34-year-old woman was killed five years ago after she was struck by a van moments after being involved in a deliberate collision orchestrated by a gang. The men responsible for the crash were each jailed for 10 years.
The simple fact is that all law-abiding motorists are affected by the actions of these criminals, according to Malcolm Tarling, a spokesman for the Association of British Insurers.
"Insurance fraud ends up being paid for by honest customers through higher insurance premiums," he says. "We used to say it added £50-£60 a year to the average premium but it's difficult to quantify in those terms as the figures are out of date."
Even so, a depressing one in 12 people would still consider taking part in a crash for cash scam in order to gain financially, according to shocking statistics published by the Insurance Fraud Bureau.
Why is it so bad in the UK?
The compensation culture we have is being blamed for the rising tide of fraudulent claims.
Insurance giant Aviva examined its own data on whiplash and found that 94% of all personal injury motor claims it had paid were for minor injuries such as short-term whiplash. In France, this figure is estimated to be around 3%.
"Financial incentives to claim for whiplash remain for both claimants and associated third parties such as claims management companies and personal injury lawyers," stated its report, Road to Reform. "These claims remain prone to fraud and exaggeration."
How is the industry fighting back?
The key tool in this battle is the sharing of information between industry groups and law enforcement agencies, according to Ben Fletcher, director of the Insurance Fraud Bureau, which was set up a decade ago to tackle the problem.
"We rely heavily on information from other organisations as well as the cheat line, which is an anonymous reporting service for the public to report suspected insurance fraud," he says. "We receive 4,500 reports a month in this way."
There are currently 133 live investigations in relation to organised motor insurance fraud across the UK. "Since we launched, more than 1,156 people have been investigated and there have been 439 convictions – equating to 395 years of custodial sentences handed down to crash for cash fraudsters," he adds.
Compare car insurance with loveMONEY
What are the latest trends?
However, enterprising criminals are not deterred.
They are now looking to profit from more than just the crash itself. In fact, a cottage industry has sprung up over the last few years with a network of solicitors, garages and physiotherapists all earning money off the back of such scams.
These so-called professional enablers, hiding beneath a cloak of respectability, use their status and reputations to make the scams appear legitimate, according to Ben Fletcher of the IFB, and it's a growing problem.
'Some knowingly take part in these scams to help fraudsters, while other organisations effectively turn a blind eye by not asking as many questions as they should be in these circumstances,' he explains.
Many of them end up in court.
For example, a consultant motor engineer was charged with 11 counts of conspiracy to defraud after he was recruited into a gang to write false vehicle reports for damage that had not occurred and for vehicles he hadn't seen.
He ended up receiving a nine-month custodial sentence, suspended for 12 months, along with a 12-month supervision order and a £1,000 fine.
Meanwhile, a 56-year-old doctor has been charged with fraud and money laundering offences following an investigation by the Insurance Fraud Enforcement Department (IFED), part of the City of London Police.
The charges relate to an IFED investigation into suspected false medical invoices linked to a number of insurance claims.
How can we protect ourselves?
The good news is plenty can be done to help prevent people falling victim to these criminal gangs.
The first, and most obvious, is to ensure you drive carefully and keep an adequate distance from the car ahead. This will make it more difficult for fraudsters to slam on their brakes and catch you by surprise.
Technology can also assist. Telematics, a blackbox installed in your car, can be invaluable if someone says a collision happened in a certain place and the blackbox can prove your car wasn't there. Dashcams, meanwhile, have also been successfully used in prosecutions.
What else can be done?
There's also hope that regulatory changes can help change the compensation culture that makes the UK such a fertile ground for this type of fraud.
The UK Government announced in its 2015 Autumn Statement an intention to transfer personal injury claims of up to £5,000 to the small claims court in order to remove excessive legal costs arising from minor soft tissue injury claims.
This move would also remove the right to general damages compensation for minor whiplash claims, according to the final report of the Insurance Fraud Taskforce, a group set up in January 2015 to examine how fraud can be prevented.
Its other recommendations include reviewing how fraudulent late claims can be discouraged; strengthening the fining powers of the Solicitors Regulation Authority for fraudulent activity; and tighter regulations for claims management companies.
This study also indicated that we could learn a lot from how other countries tackled the problem. In France, for example, there is an emphasis on objective proof. This means whiplash isn't recognised without evidence of injury, such as on an MRI scan or X-Ray.
In Sweden, a 'Whiplash Commission' has been set up to counteract spiralling claims. A time limit system for the onset of symptoms is used - and insurers generally reject cases where symptoms appear more than 72 hours after the incident.
There is also a more common understanding in Sweden of whiplash injuries, including how to detect, treat and rehabilitate them. Specialist guides have also been produced on the subject and been distributed to pharmacies and doctors.
The future
So are we winning the war against these criminals? Detective Chief Inspector Oliver Little insists significant progress has been made over the past decade but warns that it's far too early to claim victory.
"There is no silver bullet for something as big and as complex as this but we're fighting the battle on a number of fronts," he says. "People should have a very low regard for anyone involved in crash for cash and we'd urge them to give us any information."
Compare car insurance with loveMONEY
Get the most out of your motor:
Cheap breakdown cover: RAC vs AA vs Green Flag vs RecoverMe
How to say goodbye to car depreciation
How to find the cheapest local petrol and diesel prices and offers
Be the first to comment
Do you want to comment on this article? You need to be signed in for this feature