The happiest places to live in Britain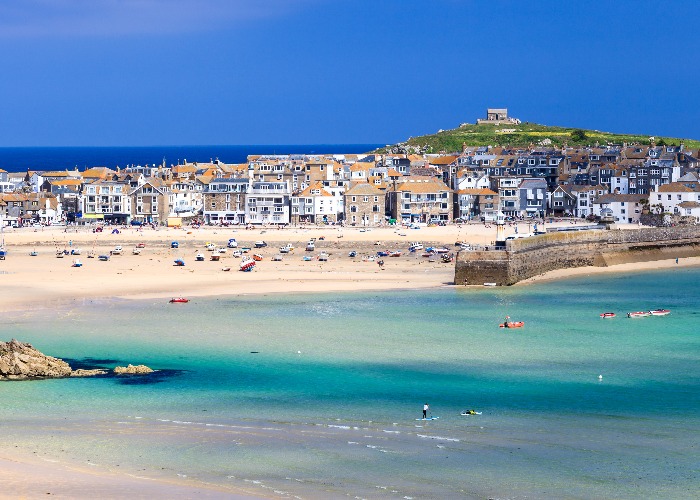 It seems that we do like to be beside the seaside, with the coastal town of St Ives ranked the happiest place to live in a new poll.
Are you happy with where you live? If you're in St Ives, chances are you're positively doolally with your lot in life.
That's according to a new study by property portal Rightmove, which looked into the places where local residents are happiest and put the coastal town top of the pile.
As part of the study, thousands of people across the nation were quizzed on how they feel about 10 factors so that each town could be awarded an overall score.
Those factors include:
Whether there is a sense of community spirit;
Whether there is a sense of belonging;
Are people friendly and polite?
Are there sports and recreational activities available?
Are there opportunities to develop skills?
The availability of essential local services and non-essential amenities.
And those answers were analysed by Rightmove to work out which towns have the happiest residents.
Looking to move or simply want a cheaper mortgage? Compare deals
Life is super in St Ives
The coastal town of St Ives topped the poll this year, with residents happier than any other community with their area's nature and green spaces.
They also ranked their neighbours as being the friendliest of any town in Great Britain.
It's certainly not a cheap place to buy a home though, with an average asking price of a meaty £413,414.
That's up by 5% on the typical asking price 12 months ago, while demand has also more than doubled in that period according to the property portal.
Jessie Wright, a local estate agent, pointed out that the benefits of living in St Ives have become even clearer over lockdown.
"The freedom to go for a swim in the sea or a run along the beach when we were only allowed one hour of outdoor exercise made lots of people realise that we have so much space to enjoy, coupled with wonderful countryside scenery and stunning beaches."
Oh I do like to be beside the seaside
It's notable that five of the top 20 from this year's study are coastal towns in the South West, suggesting a new appreciation for the benefits of living beside the sea.
Rightmove highlighted that people living in rural and coastal areas were overall found to be happier than those living in cities or urban areas, perhaps unsurprising given a year in which decent outdoor spaces have been more in demand than ever before.
Here's how the top 10 happiest towns shape up according to the Rightmove study:
| | | |
| --- | --- | --- |
| Town | Region | Average asking price |
| St Ives | South West | £413,414 |
| Skipton | Yorkshire & The Humber | £226,130 |
| Leamington Spa | West Midlands | £335,008 |
| Llandrindod Wells | Wales | £150,963 |
| Perth | Scotland | £163,303 |
| Kendal | North West | £231,597 |
| Stratford-Upon-Avon | West Midlands | £354,337 |
| Dorchester | South West | £325,903 |
| Harrogate | Yorkshire & The Humber | £336,968 |
| Richmond Upon Thames | London | £869,864 |
If you want to know how your area fared in the survey, head to this page and click on the relevant region.
Richmond once again won out as the happiest place to live in the capital, for the sixth straight year. Llandrindod Wells was also top for Wales last year, and managed the highest score across the country for residents feeling able to be themselves.
Meanwhile, Perth was the top performer north of the border, notching up a notably high score for community spirit according to Rightmove.
You have to go down to 15th before you find a town in the South East, in the form of Tonbridge.
What about the unhappiest places?
In previous years, Rightmove has published the full breakdown of towns in this study, allowing us to pinpoint the 'unhappiest' towns.
This is always a little unfair to be honest, since inevitably it's based on the thoughts of relatively few residents ‒ declaring Barking & Dagenham (which came bottom last year) the least happy town in the nation feels a little harsh.
Rightmove hasn't done that this year, instead preferring to publish a top five for each individual region which you can check out on its Happy at Home page on its website.
If your town doesn't make it into the top five, perhaps it's better to think of it as a 'runner up' rather than an unhappy place.
So what do you think? Are you happy with where you live? What do you look for from a town? Let us know your thoughts in the comments below.
Be the first to comment
Do you want to comment on this article? You need to be signed in for this feature