Scammers are targeting households struggling to pay the bills by falsely claiming to offer an energy rebate through the Energy Bill Support Scheme.
With the cold weather finally starting to bite after a relatively mild Autumn, and with energy bills roughly double what they were a year ago, many people will be worried about keeping the lights on this winter.
That's why these offers for of energy bill help can be so tempting, especially as the scammers have done a decent job of mimicking the Government's actual energy help programme (the Energy Bill Support Scheme).
But in the end, it's just a ruse to steal people's cash.
To help you stay safe, let's take a closer look at how the scam energy rebate scam works and how to tell it's a con.
How the Energy Rebate Claim scam works
The scam text messages are presented as if they come from the Government, and inform recipients that they are entitled to a discount on their energy bills.
The texts generally read as follows – although, as we explain later, there are likely to be different versions doing the rounds.
GOV: You are eligible for a discounted energy bill under the Energy Bills Support Scheme. You can apply here at: https://rebate.energy-uk-claim.com/
The link takes you to a fake page controlled by the scammers.
After receiving one such text, we clicked on the link from a burner laptop to learn more about how the scam works.
One unique aspect of this scam that immediately jumped out is that they had incorporated a fake 'captcha' page, so you're asked to confirm you're 'not a robot' before you can visit the scam website.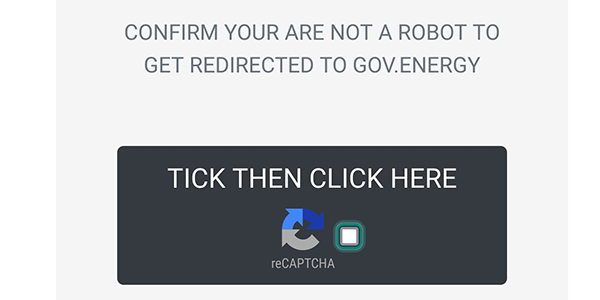 This can add an element of legitimacy to the con - after all, why would a fake site designed to steal your cash ask you to jump through additional 'security' steps?
Once you've done that, the link takes you through to an authentic-looking webpage.
In reality, it's just a scam to get you to share your personal and banking details, with the intention of then using those details to commit identity theft and rob you.
Below is a screengrab of the site (click on the image for a larger version).
As you can see, the crooks have incorporated some of the images, logos and general style of the actual Government site.
It asks you to enter your full name and postcode and from there you're asked to share additional personal information needed to carry out the scam.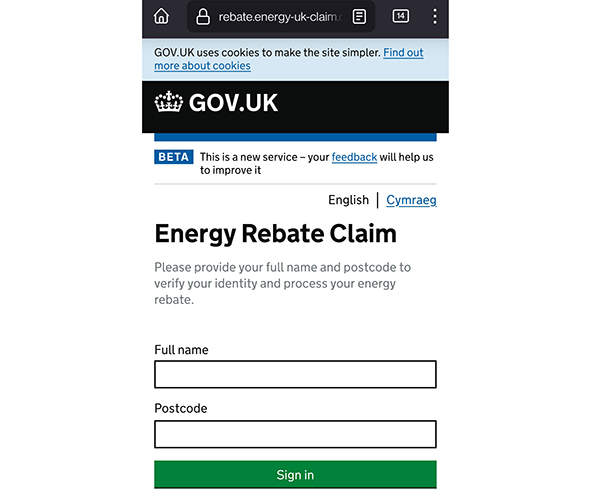 How to tell the energy rebate offer is fake
The easiest way to recognise that this is a scam is to understand how the Energy Bill Support Schemeworks in the first place.
Starting last October, the Government has been handing out an energy discount of £400 to every household in the country, but crucially you don't have to manually apply for that money.
Instead, our individual energy suppliers will handle it, automatically discounting our bills for six months.
As a result, you will already be seeing your bill reduced by £66-£67 a month, every month, until March.
The scheme does work slightly differently for those on traditional prepayment meters (the process for smart prepayment meters are automatic as above).
For these households, the support is sent out through the post in the form of a voucher.
The voucher can then be used wherever you'd normally top up your energy, like a Post Office or newsagent.
So if at any stage you're asked to apply for the energy rebate, know that it's a scam.
There are other telltale signs too ‒ the text message claims to be from the Government, but instead of linking to the Gov.uk website it instead takes you to https://rebate.energy-uk-claim.com/ - a page owned by the crooks.
There are many kinds of energy rebate scam
This isn't the only version of the scam to watch out for, as criminals will often send out various different versions.
They might use a slightly different URL or it might tweak the scam text slightly: we have already seen versions circulating that explicitly mention the offer of £400 help, for example.
There have also been emails which take a similar angle but claim to be from energy regulator Ofgem.
So just because you receive an offer that looks different to the one we've highlighted above, doesn't mean it's any more legitimate.
Exploiting energy fears
It's worth noting the scale of these scams, which look to exploit our concerns over energy prices.
According to data from the fraud experts at Action Fraud, in two weeks last August, the organisation received more than 1,500 reports of suspicious emails through the Suspicious Email Reporting Service.
This might not seem a lot on the face of it, but only a tiny fraction of dodgy emails are ever reported to the authorities.
That so many were reported, over such a short period, is a good indication that this was just the tip of the iceberg, with far more people not necessarily realising the emails were a scam.
Everything is an opportunity for scammers
It's incredibly depressing to accept, but virtually every newsworthy event presents an opportunity for scammers to try to catch us out.
The introduction of the pension freedoms, for example, was a fantastic boon for crooks who were able to talk victims into handing over their life savings.
Every April as we get towards the end of the tax year, there is always a jump in scams where people are conned into believing they can get a tax refund, if only they share some specific details with someone posing as the taxman.
It's no different now, with the energy crisis.
These thieves are only too aware that millions of people across the UK are feeling incredibly stressed about the prospect of paying their energy bills, even with the new energy price guarantee in place.
And with the vast majority of people not completely up to speed on precisely how each element of the Government's support package will work, of course, some will be duped by this scam, desperate not to miss out on the help available around those bills.
It can be exhausting to constantly feel like you have to live with your guard up, to constantly be aware of the risks being posed to your money.
And there will be times when you let the guard slip, when ‒ even for a moment ‒ you consider clicking that link and sharing your details.
However, dropping your defences can be incredibly expensive and stressful.
That's why it's so important to always take your time, to get truly comfortable with whatever you are being presented with and whether it has come from a genuine source.
There are only likely to be more scams of this kind in the months ahead as the cost of living crisis truly takes hold, so it makes sense to get up to speed today with how to spot them so that you aren't the next victim.