The best places to work in the UK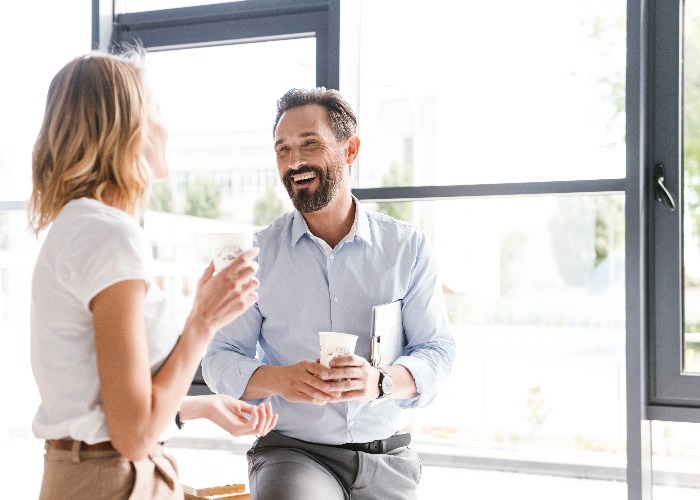 IT firms and management consultancies perform well in new breakdown of the best places to work.
It's an interesting time to be on the hunt for a new job.
There's certainly no shortage of vacancies; new figures from the Office for National Statistics show that the number of job vacancies in January to March of this year jumped to a new record high of almost 1.3 million.
This has been accompanied by surging wages, though when inflation is taken into account those beefier pay packets may not actually stretch any further.
With so many businesses hunting for quality staff, how do you determine where you want to work?
How do you identify the employers that will not just pay you well, but treat you well too?
A new report published last week may help.
Great Place to Work, a workplace culture organisation, puts together a list of ‒ you guessed it ‒ great places to work each year.
It is essentially a certification scheme ‒ businesses put themselves forward, but then their staff are surveyed on what it's actually like to work there, followed by a 'culture audit' where businesses have to provide details about their culture, practices and programmes.
Only the best firms that manage to achieve certification then make the annual list of great places to work.
The results are broken down, based on the number of employees in the business, with separate lists for small companies (20-50 employees), medium companies (51-250 employees), large businesses (251-1,000 employees) and super large firms (those with over 1,000 staff members).
What makes a great place to work?
Before we get into the results, it's worth noting that according to the organisation behind the report there are certain qualities that help businesses stand out from the crowd as being a great place to work.
They include:
Benefits tailored to employees' needs and wants;
Genuine thanks and recognition;
Opportunities for fun and social engagement;
Great employer branding that attracts and retains top talent;
Opportunities for professional growth;
Emphasis on creating and maintaining holistic employee wellbeing;
Strong focus on diversity, equality and inclusion;
Values-led behaviour at all levels;
Clearly embedded organisational strategy, effectively communicated from the top;
Outstanding communication channels that allow staff to ask questions, give feedback and share ideas.
Ultimately, there are a few key themes running through this.
Staff want to feel valued by their bosses, and that covers everything from their remuneration to being recognised for their achievements. They also want to know that their voice will be heard.
And then there is the question of respect. If you trust your bosses to do the right thing and behave responsibly, then, of course, you are going to enjoy your place of work more.
The best places to work
The full version of the report is available on the Great Place to Work website, but we are going to focus on the top five businesses for each size group, and their industry, starting with small businesses:
Small businesses
| | | |
| --- | --- | --- |
| Rank | Business | Industry |
| 1 | Ryan | Financial services and insurance |
| 2 | Happy | Education and training |
| 3 | Uptake Strategies | Management consulting |
| 4 | Pen Partnership | Management consulting |
| 5 | NOVOS | Online internet services |
Medium businesses
| | | |
| --- | --- | --- |
| Rank | Business | Industry |
| 1 | Tanium | IT software |
| 2 | Cvent Europe | IT software |
| 3 | Goodman Masson | Recruitment |
| 4 | Credera | IT consulting |
| 5 | Intuit Quickbooks | IT software |
Large businesses

| | | |
| --- | --- | --- |
| Rank | Business | Industry |
| 1 | NVIDIA | IT |
| 2 | The Sovini Group | Property management |
| 3 | CGI UK | IT consulting |
| 4 | Baringa | Management consulting |
| 5 | Adobe | IT |
Super large businesses
| | | |
| --- | --- | --- |
| Rank | Business | Industry |
| 1 | Salesforce | IT software |
| 2 | Cisco UK | IT |
| 3 | Hilton | Hotel resort |
| 4 | Admiral Group | Auto insurance |
| 5 | Home Group Limited | Non-profit/charity |
Looking at these tables, it's pretty clear that working for an IT business can be incredibly rewarding, irrespective of whether it's a small startup or a giant, well-established name.
There are also a few management consultancies on the list, again of varying sizes, which is notable.
Finding a good employer
It's important to remember that this report is based on businesses that have already put themselves forward for a 'great place to work' accreditation.
There will undoubtedly be other great employers who haven't heard of the scheme, or simply aren't interested in getting this little bit of recognition.
In other words, just because a business isn't featured in the report, it doesn't mean that working for them will be a miserable experience.
There are other ways to research what it's going to be like working for a particular company.
Obviously, it helps if you have friends or colleagues who have worked there, but it's also worth checking their reviews on sites like Glassdoor.
Glassdoor also produces a regular report on the jobs ‒ and employers ‒ which are the most rewarding, both in terms of satisfaction and pay.
We broke down the results of the most recent report in our article on the best and worst paying jobs in the UK.
Be the first to comment
Do you want to comment on this article? You need to be signed in for this feature