Fake 'notice of enforcement' emails: how to spot County Court Judgement scam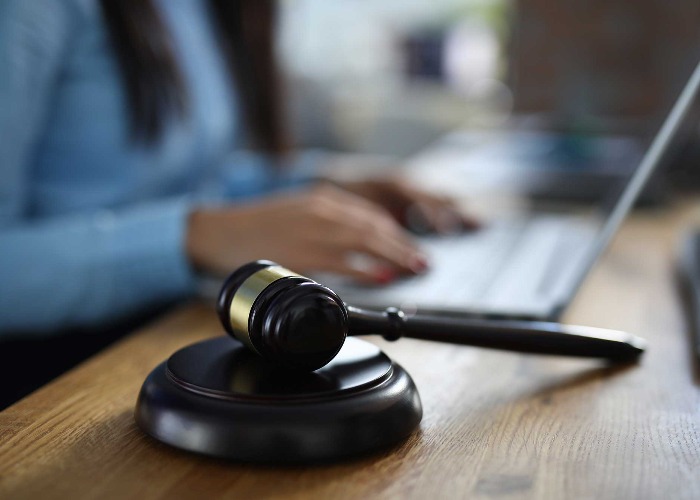 Fraudsters are posing as County Court bailiffs in a bid to scare victims into handing over their cash. Here's how to spot this fake 'notice of enforcement' scam.
Scammers are impersonating County Court bailiffs and issuing fake notices of enforcement, the Government has warned.
The fraudsters claim that they are serving the victim with County Court Judgement and that they should pay the money owed straight away to avoid their possession being seized.
They usually start by issuing the fake notice of enforcement by email and then follow up with a telephone call (assuming they have the victim's number) appearing to come from an official phone line.
In this article, we'll run through what this email looks like and how genuine bailiffs will act so you can avoid this devious scam.
HMRC tax evasion scam: how it works, red flags & more
What the fake notice of enforcement looks like
Below is an example of the scam email (click for a bigger image) that's the Government has shared.
The sender claims a bailiff needs to serve and register a CCJ against the victim. A CCJ is when someone takes court action against you and claims you owe them money – and you don't respond.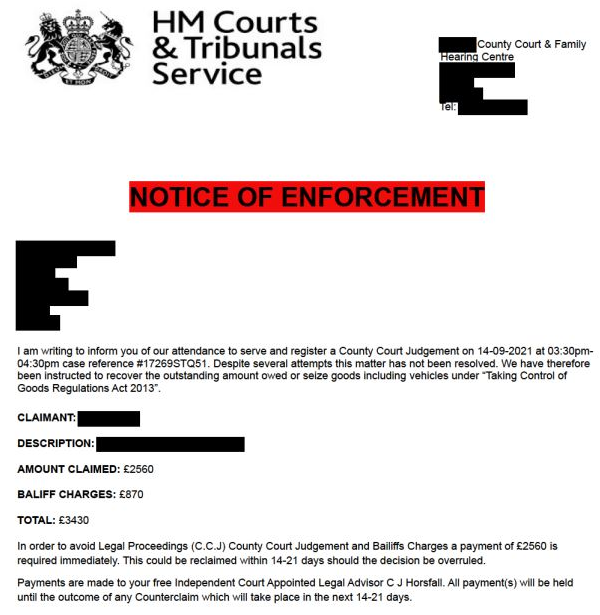 The email, which pretends to be from the HM Courts & Tribunals Service, claims that a bailiff has been instructed to 'recover the outstanding amount or seize goods.'
The victim is told to pay the outstanding amount, which will allegedly go to a court-appointed legal advisor, plus pay bailiff charges – it's claimed some costs can be reclaimed if the decision is overruled.
It's also alleged that once payment is received, legal action won't go ahead, and this will be confirmed via documentation delivered via recorded delivery on a certain date and time.
The Government says the fake letters are often sent by a Jack Hutchinson from the County Court & Family Hearing Centre, but it's possible other names are being used as well.
How to tell notice of enforcement email is fake
Crucially, this isn't how bailiffs operate – they will hand-deliver documents and will give you a County Court number if you need to make a payment. You can check the number provided here.
Also, genuine bailiffs will never take money when delivering documents and if you think you don't owe anything, they will advise you to call the County Court.
What to do if you receive a dodgy email or phone call
If you receive any suspicious emails, calls or texts concerning the above – especially if they're out of the blue – contact the HM Courts & Tribunals Service.
You should never click on any links ­or phone any number in the email. Rather, look up their details in a separate search online.
Similarly, if you receive any odd calls, politely hang up, find the genuine number for HM Courts & Tribunals Service and call them back after 10 minutes.
Sometimes fraudsters keep the line open and imitate genuine companies, so making sure the line is disconnected is vital.
It's also worth stressing that you can check your credit report to find out if a CCJ actually exists as it'll be registered here.
If you've sadly fallen for this scam, call Action Fraud and your bank immediately – check out this guide on how to get your money back.
'HMRC' tax refund scams: how to spot a fake refund email or text
What County Court bailiffs can do
For the avoidance of doubt, it's worth clarifying what bailiffs are allowed to do.
They will pursue debts where a CCJ has been registered, but as we already mentioned you can check your credit report to check this is genuine.
If you do check your credit report, look up the site yourself and don't use any links in dodgy emails or texts.
County Court bailiffs will never call or email asking for money or to transfer money, and will never offer pre-filled court forms to send in to defend legal claims.
Be the first to comment
Do you want to comment on this article? You need to be signed in for this feature