Funerals: how to register a death, what your options are and how to plan a funeral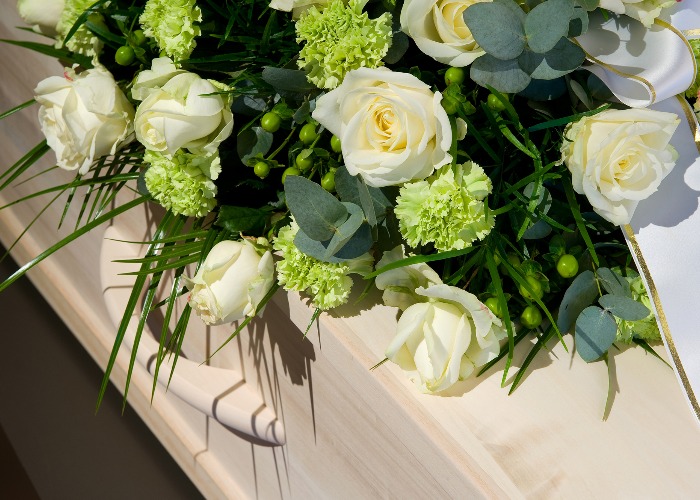 It can be very distressing when someone you love passes away and arranging a funeral is usually the last thing you want to do. Our guide will help you navigate this difficult process.
Traditional funeral service or cremation?
When someone dies, you need to decide whether to go for a traditional burial or cremation.
Traditional funerals usually include a church service before the body is buried in a cemetery, on church grounds or in a natural burial site (although you can go for humanist funeral services, which we'll cover later).
According to Co-operative Funeralcare, a burial can take place in a churchyard if the person who died is a local parishioner.
The Church of England offers funerals in the deceased's own parish, which can be held in a local church, cemetery, crematorium or green burial site – even if they never went to church.
If cremation is preferred, you can do the service at the crematorium, church or another location before having a shorter service known as 'committal' at the crematorium.
Ashes can be buried in a special place, kept in an urn or you could even use them to create coloured glass crystals, molten glass, a ring or keep a small amount in a gold or silver locket.
If you want to scatter the ashes, Co-op Funeralcare recommends getting permission from the landowner and choosing a secluded area away from other people and main pathways.
You should also avoid areas of special conservation, land where animals are grazing, windy days and ensure no one is walking underneath a cliff-top before scattering the ashes.
Funeral costs explained: from pre-paid plans to coffins, direct cremation and more
While the bulk of people were cremated in 2018 (over 475,000 out of 616,053 people) according to The Cremation Society, there are other options.
These include:
Humanist funerals;
An eco-burial;
Multi-faith funerals;
Burial at sea
We'll go through these options to reveal everything you need to know.
Get a life insurance quote with Active Quote
Humanist and multi-faith funerals
A humanist funeral is essentially a non-religious service as humanists believe science is the only reliable source of knowledge.
This type of funeral is usually led by a family member, close friend of the deceased or a humanist celebrant.
Unlike traditional funerals, funeral hymns or prayers, are generally not included but there may be readings from loved ones.
According to Dignity Funerals, a humanist funeral service can be held at a cemetery, woodland burial site or a crematorium if you decide on a humanist cremation.
A tribute section can last up to 15 minutes, which includes tributes from family and close friends, before an observed silence and 'committal' when the coffin is lowered, or the curtains are closed.
Similar to traditional funerals, a wake takes place after although a memorial ceremony can also be held at a later date to celebrate the life of the person who passed away.
If you're planning a funeral for someone with specific religious requirements, multi-faith funerals may be a good option.
You can incorporate arrangements for several religions into one funeral, including:
Buddhism;
Judaism;
Hinduism;
Jehovah's Witness
Prepaid funeral plans: what you need to know before you buy
Eco-burials
If your loved one was keen on protecting the environment, you may want to honour their life with an eco-burial.
There are many ways to make a funeral more environmentally friendly.
Dignity Funerals recommends considering:
A tree pod burial;
Using a biodegradable urn;
Burial shrouds;
Woodland burial sites, which is arguably a more natural place to be buried;
Eco friendly coffins made from biodegradable materials such as bamboo, banana leaf, willow, pine or cardboard;
Alternative transportation on the day of the funeral or lift sharing
Tree pods allow the deceased to be buried in a biodegradable egg pod, which is placed into the ground with a tree planted above them, acting as a memorial.
For more information, check out Capsula Mundi, a project working on the concept of tree pods that also hopes to change how we think about death.
If a cremation is preferred, you can opt for a biodegradable urn that decomposes when buried in the ground or a smaller egg pod, with a new tree seed planted above it.
A burial shroud is an ideal option not only for the environmentally conscious but also if the person who passed away followed certain religious practices.
Shrouds can be made from various fabrics such as linen or cotton, and you can decorate it as you wish.
You can even thread in mushroom spores into the shroud, which begin to grow once the body is buried.
Burial at sea
If you want to do something different, you could do a burial at sea, but the process works differently from traditional funerals.
It's vital you follow special requirements for the coffin to avoid the body returning to shore via tidal currents or being swept up by fishing gear.
The body of the deceased must:
Not be embalmed;
Be lightly dressed in a biodegradable material;
Have a durable identification tag with the funeral director's details
Before the burial, you will need a licence, which costs £50 and the burial must take place within three months of approval.
To qualify for self-service marine licensing, the burial place must be one of the below:
Off the Needles, Isle of Wight;
Between Hastings and Newhaven;
Off Tynemouth, North Tyneside
When applying for a licence, you must have a death certificate, a Certificate of Freedom from Fever and Infection and a Notice to a Coroner of Intention to Remove a Body out of England.
The latter two certificates are available from the deceased's doctor and the coroner, respectively.
If you have your heart set on a location that's not listed above, you can still apply for a licence.
But you might need to offer evidence that the proposed burial site is suitable, with water depth, currents, pipelines and fishing all taken into consideration.
Funeral plans: many pressured into policies which don't cover costs
What to do after someone passes away
When someone you love passes away, it can be extremely difficult to do anything, let alone plan a funeral to give them the send-off they deserve.
Before you even start planning the funeral, you need to register the death within five days, which includes weekends and bank holidays.
You will need a medical certificate from the GP or hospital doctor and permission from the coroner that you can register the death (if it was reported to a coroner).
In certain cases, such as an unknown cause of death, a violent or natural death, a doctor may report the death to a coroner to find out how they died.
If a post-mortem examination cannot figure out the cause of death, there may be an inquest – and the death cannot be registered until this is over.
Once the coroner is satisfied, you will receive a 'certificate for a burial' to hand over to the funeral director – if you're using one – or an application for cremation to complete and give to the crematorium.
But what happens if your loved one died abroad?
You must register the death with local authorities in the country where the person died, and in some countries, you can also register the death with UK authorities.
The Tell Us Once service can be used if the person died in a Commonwealth country, a country in the European Economic Area (EEA) or Switzerland.
If you want to bring the body back to the UK, you will need a certified English translation of the death certificate and permission to remove the body by a coroner (or equivalent).
You will also have to inform a coroner in England if the death was unnatural or violent.
Any further advice can be sought from the British embassy, consulate or high commission in the country where the person passed away.
Once the body is back in the UK, what you do depends on whether you're arranging the funeral yourself.
The death certificate needs to be handed to the register office in the area where the funeral is planned.
You should get a 'certificate of no liability to register' to give to the funeral director. If you're not using one, you need to give it back to the registrar within four days of the funeral taking place.
If you opt for cremation, a certificate from the coroner is necessary but different rules apply if you're bringing ashes home with you.
Get a life insurance quote with Active Quote
What documents do you need?
When someone passes away, you will need the medical certificate to register the death.
It's free to register a death but getting a copy of the death certificate will set you back £11 in England and Wales.
According to Money Advice Service, you need the following information for the deceased:
Medical certificate confirming the cause of death;
Full name, including any previous names;
Date and place of birth;
Occupation;
Last address;
Full name, date of birth and occupation of their spouse or civil partner if they were married
It may be helpful to get hold of their birth certificate, marriage or civil partnership certificate, National Insurance number, NHS medical card, roof of address, passport and driving licence.
You'll also need proof of identity to prove who you are.
The secrets funeral directors won't tell you
How do I plan a funeral?
Once the death is registered both with the coroner and with the UK Government (via the Tell Us Once service), you can start planning the funeral.
Whether you use a funeral director or not is your choice.
But you should make sure they're a member of the National Association of Funeral Directors or The National Society of Allied and Independent Funeral Directors (SAIF).
These organisations have codes of practice their members must follow, including providing a price list if requested, so you can shop around for the right price.
As funerals cost on average nearly £4,000 in 2018 according to Co-op Funeralcare, looking around for a competitive price is advised.
You can opt for a cheaper funeral or cremation package but should be aware of what is included.
The most expensive funerals ever
It's vital to understand that using a funeral director's services does not come cheap.
In some cases, funeral director fees can be as high as 49% and 65% of the total costs for burial and cremation, respectively, according to Royal London's National Funeral Cost Index Report.
If you're arranging the funeral yourself, you should get in touch with the Cemeteries and Crematorium Department of your local council.
One of the most vital aspects to consider is a burial plot either in a cemetery, on church grounds or in a green burial site.
You can buy a burial plot in advance from a local council via a funeral director, giving you the exclusive rights of burial for a grave for a set number of years.
You can also give your partner rights and make them joint owners, so they have the legal right to be buried in the same plot.
According to Royal London, burial fees (which usually cover the lease of a burial plot) can cost around £2,000 for local residents and over £3,000 for non-residents.
What needs to be considered for a funeral?
There is a lot of effort that goes into arranging a funeral, including:
Choosing a coffin;
Arranging transportation of the body of the deceased to the funeral director's premises or to your own home (if the death does not need to be referred to the coroner);
Caring for the deceased until the funeral – funeral directors can take care of this;
A hearse to transport the body to the burial ground or crematorium;
Flowers;
Press notices;
Embalming;
A wake after the service, including catering and venue hire
Funeral directors can take care of most of these things and extra services, or you may arrange this yourself.
There are many other additional costs you may overlook post-funeral such as buying the headstone and engraving a message, which can easily cost an extra grand.
Unfortunately, you will need to pay for cleaning and preparation, including fixing it to the grave.
Get a life insurance quote with Active Quote
*This article contains affiliate links, which means we may receive a commission on any sales of products or services we write about. This article was written completely independently.
Need life insurance? Get a quote by filling out the form below
Be the first to comment
Do you want to comment on this article? You need to be signed in for this feature